New-Book-Smell Air Freshener & Smell of Books Aerosols: from the Scent of your Grandma's House to that of a Jane Austen Novel {Fragrance News}
In attempts to compensate for the lack of olfactory intrigue of a Kindle, two different companies have come up with the same idea: to artfully re-inject the scents of books in order for your electronic device to not approximate
the scent of a watch
. You can now choose between an air-freshener shaped like a car-freshener called
New Book Smell
or explore a line of "aerosol e-book enhancer(s)".
British brand
Smell of Books
has come up with a range of five atmospheres for the book-smell connoisseur including, going beyond the smell of pages, a fragrance appropriate for a Jane Austen novel which includes notes of violets, horses and potpourri...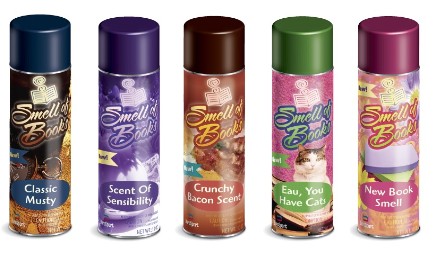 The Smell of Books company proposes
Classic Musty Smell
(the smell of vintage classics; it's like having the collected works of Shakespeare in a can)
, Crunchy Bacon Scent
(for the health-conscious book lover: smell it but don't eat it)
, Eau You Have Cats (
"Specially engineered from the concentrated aromas of 20,000 second-hand books" -- unfortunately your grandma takes a hit as the description tends to further the stereotype about "old-lady" smells)
, New Book Smell
("Do you love the fresh scent of paper, ink, and glue?") and
Scent of Sensibility
("Women will love this specially engineered designer book aroma. The scent of violets, horses, and potpourri. It's like living in a Jane Austen novel!")
Amongst the warnings issued by the company is the recommendation not to use the sprays on real books.
The New Book car freshener was developed using a molecule called Nerolidol.
Via
Fast Company
;
Smell of Books