Christina Aguilera By Night (2009): Inspired by the Color Red {New Perfume}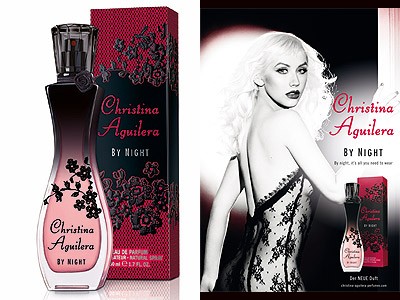 Singer
Christina Aguilera
will release a new flanker to her 2007
eponymous perfume
called
By Night
. Last year she introduced another fragrance titled
Inspire
. Christina Aguilera By Nigh
t
is said to be inspired by the color red. The singer explained why she chose it,
Red is THE color. It is unparalleled in its seductiveness and femininity. This is the reason why I have selected it for this perfume. Red stands for passion and warmth, red allows a woman to appear sexy to others and to feel sexy to herself.
..
The tag line is "
By Night, it's all you need to wear.
"
The perfume is a fruity oriental. Top notes are mandarin, red apple, freesia, almond accord; heart notes are vanilla flower, peach; base notes are amber and black vanilla.
By Night launches in October 2009.
Christina Aguilera BY NIGHT
Eau de Parfum, 15 ml ca. 16,00 Euro*
Eau de Parum, 30 ml ca. 24,00 Euro*
Eau de Parfum, 50 ml ca. 33,00 Euro*
Duschgel, 200 ml ca. 14,00 Euro*
Body Lotion, 200 ml ca. 15,00 Euro*
Deodorant Aerosol Spray, 150 ml ca. 12,50 Euro*
Via
Cosmoty.de