Christina Aguilera Inspire (2008) {Perfume Review} {New Fragrance} {Celebrity Perfume}
Christina Aguilera
is as it turns out a veteran perfume developer only press releases and articles usually are careful not to mention this somewhat attention-diverting fact. It might also not be the best of publicities to point out that a few other fragrances by her came before, that not too many people can actually remember. Her current
official perfume website
only mentions her two latest,
Christina Aguilera
and
Inspire
. Nevertheless, other names appear such as
Xpose
Passion, Xpose Desire,
Christina Aguilera
(by LR World).
Inspire
, according to the press release, and as can be expected for a celebrity fragrance is inspired by the looks and personality of Christina Aguilera, but also the pop art movement (Aguilera mentions Warhol) and Tokyo at night (because it is a favorite time and place of the singer's). It incorporates a central note of tuberose, one of her favorite aromas, and the packaging is red because it is her signature color...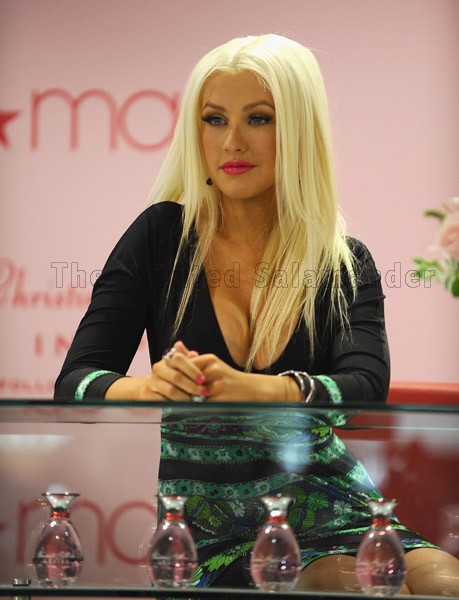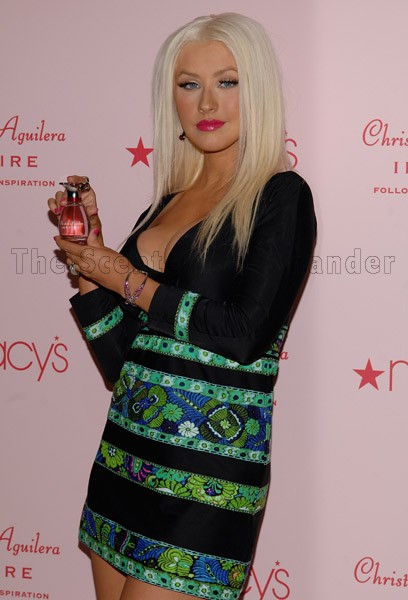 Inspire was created under the stewardship of perfumer
Will Andrews
from Procter & Gamble who said about the composition that tuberose was its hero, a tamed-down hero apparently as Christina Aguilera was reportedly ready for a much more destabilizing tuberose note. As it is, it is closer to the freshness and propriety of
Carnal Flower by Editions de Parfum
than to a really heavy-handed, narcotic tuberose as in, say, Tuberosa D'Autumno by I Profumi di Firenze.
The freesia and gardenia notes seem to be just as noticeable. In general, the white-floral accord is the predominant one, to a point where it is quite pure in this regard.
According to the copy,
"Christina is an artist whose image is constantly evolving and this fragrance embodies her inspirational new look - an edgy, contemporary twist to the iconic Pop Art era.

Christina's latest fragrance, Inspire, has been created to bring a little of her self-assured confidence and sexiness to every woman's life. A fragrance that will remind you not to drift along with the crowd, but will inspire you to stand up for what you believe in and strive for your dreams. A fragrance that celebrates being a woman, full of femininity and fun. With Christina's lust for life, it empowers and inspires you to be the very best you can be, feeling liberated to be yourself and create your own world on your own terms. Be inspired, be sexy and re-invent yourself."


I will say that yes, Inspire is feminine but much less eccentric than the singer and no, it does not particularly evoke pop art in olfactory form, except perhaps for a certain kind of boldness and single-mindedness to the white floral idea. I suppose also that one could detect a sort of glaringly clear quality to the composition that makes you think of the luminosity of neon and then perhaps by association of the neon colors used by Warhol, and come to think of it, of the neon signs of Tokyo by night. Independent from the copy, Inspire comes across as a very floral, very white bouquet, which is surprisingly well captured and outstanding for its naked clarity quality.
Top notes: hydroponic freesia, mango, citrus complex; heart notes: tuberose, rose, frangipani, gardenia; base notes: valencia orange, musk, sandalwood


Inspire reminds me of an anecdote; one time I happened to walk past a woman on a street of Paris and it was not until I had walked a few feet away from her rapidly dwindling silhouette that her sillage struck my nose. I then experienced a very vivid impression of a trail of white flower petals suddenly appearing on the sidewalk as if flowers had just blossomed under her steps. It was a beautiful illusion and I vowed to find that scent one day.
Christina Aguilera's new perfume is very close to that original sensation in the way it strikes you as a beautiful unambiguous white floral composition that goes all out. And it is perfect for what it is. It may be a tad more astringent in its tonality than a more artisanal or niche fragrance would be, especially if you smell it up close, but "normal" people usually smell perfume from a distance. The lasting power of the more intricate part of the composition seems to be more that of an eau de toilette than that of an eau de parfum although the simpler more abstract drydown is lasting. But overall, Inspire is a surprisingly well-put-together white floral bouquet that is exotic yet bears a classic all-American touch in this avowed taste for clean virginal white bouquets. The perfume manages to be pristine without being squeaky clean. It is creamy in a very light manner, that is creamy like a flower, not like a pastry. It is well-balanced yet pretty forceful in its engagement with the idea of a white bouquet. it is really of one-piece in this regard. No gourmand or fruity detours. Even the musk is not strong enough to turn Inspire into a musky-floral. Fresh it is and fresh it stays.


The hydroponic freesia must be the result of head-space recording because it is of photographic quality. The white floral accord in the heart is very fresh and sappy. Despite the presence of fruity notes like a soft and sweet mango note, Inspire is not a fruity-floral because the fruits are used to create nuances rather than change the character of the florals.
At some level it might remind people of a discontinued white floral perfume with mango, Ghost Deepest Night, but done in a more transparent manner.
Inspire strikes a good balance between light and lush. It is diffusive, that is it offers good projection. It is soft with a creamy buttery counterpoint tinged with a faint nuance of almond biscotti. It keeps its fresh character throughout thanks also to subtle nuances of crushed green leaves.
White floral lovers that are looking for the sensation of a succulent, fresh blooming white flower garden definitely ought to give it a go.
The range:
Eau de Parfum Spray 3.3 fl. oz. $59.00
Eau de Parfum Spray 1.7 fl. oz. $49.00
Eau de Parfum Spray 1.0 fl. oz. $32.00
Shower Gel 6.8 fl. oz. $20.00
Body Lotion 6.8 fl. oz. $25.00