Mary Katrantzou Fall/Winter 2009/10: Perfume-Bottle-Themed Dresses {Fashion Notes}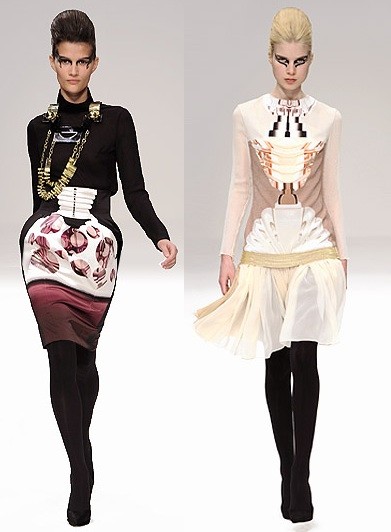 Designer
Mary Katrantzou
who is already well-known for her bold, graphic design applied to textile chose famous perfume bottles as sources of inspiration for her Fall/Winter 2009/10 collection. The tag line is Coco Chanel's oft-quoted pearls of wisdom, "A woman who doesn't wear perfume has no future."
While the printed flacons are recognizable, they were played with somewhat by juxtaposing them and showing only partial views of them. The labels are not reproduced in an apparent attempt to make the motif more universal...
For instance, Shalimar does not come with its leaf-shaped label. If one can identify iconic or relatively familiar fragrance bottles such as Shalimar, Trésor, Samsara and Dior
Midnight Charm
, others look less branded and more like generic, elegant, even showy flacons that could have been adopted by a label like Ulrich de Varens. Katrantzou is said to draw stylistic inspiration from constructivism.
Some of her dresses are now on display at Colette in Paris in window themed as the invasion of Shalimar bottles.
Photo credits: Mary Katrantzou, Colette