Chanel Spring-Summer 2010 Haute Couture Collection: Neon Baroque {Fashion Notes}
The
Chanel Haute Couture Collection for Spring-Summer 2010
illustrating the theme of "Neon Baroque" imagined by Karl Lagerfeld in "
three seconds
" offered a series of variations on pastel colors that seemed inspired by silvery
dragées
and other such angelic candies, and more...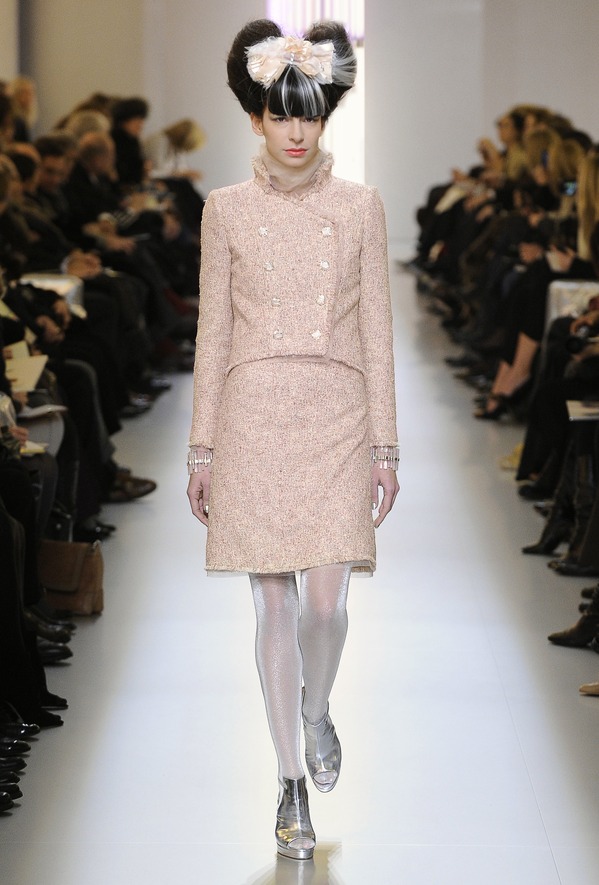 (the traditional tints of
guimauve
sweets found in confectioners shops in France; Easter eggs made of sugar). I am also reminded of the silvery sheen and retro pastel stucco effects of a baroque decor for Der Rosenkavalier by Mozart sung and acted by Elizabeth Shwartzkopf.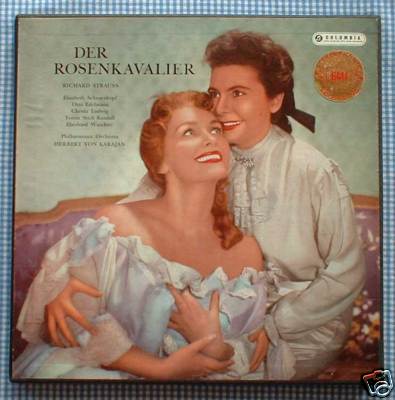 A layer of space age metallica added a clean futuristic edge. There was even an allusion to eco-conscious sun-panels as far as I am concerned in the bridegroom outfit capturing daylight to save energy.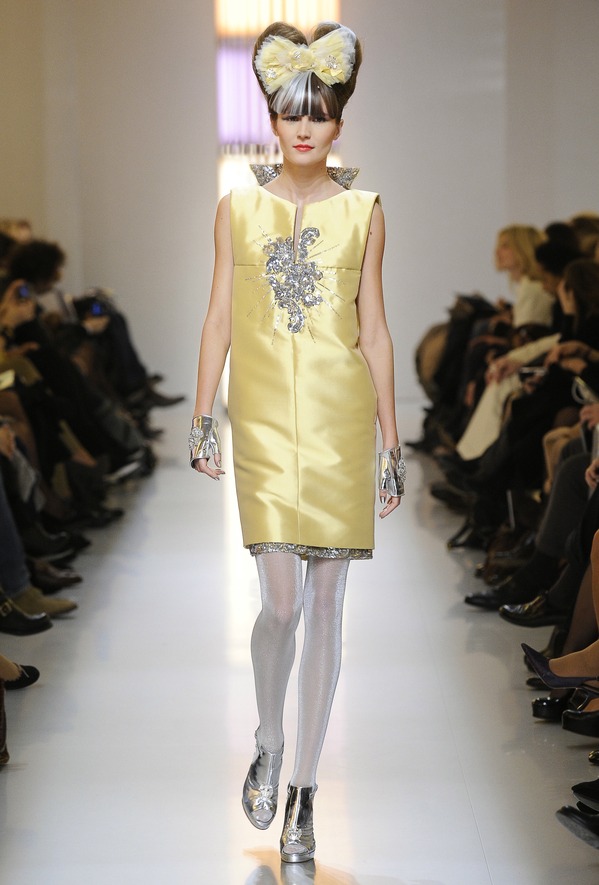 Cut-wise, there were contrasts between economical lines and frothy, flower-like appliqués on dresses that were still simple but changed the tone by making the women who wore them look cloud-like -even pastry-like - and like dreamy packages with a bow on top. Women as commodities? Women and their deep instinct to shop (instead of gathering and collecting)?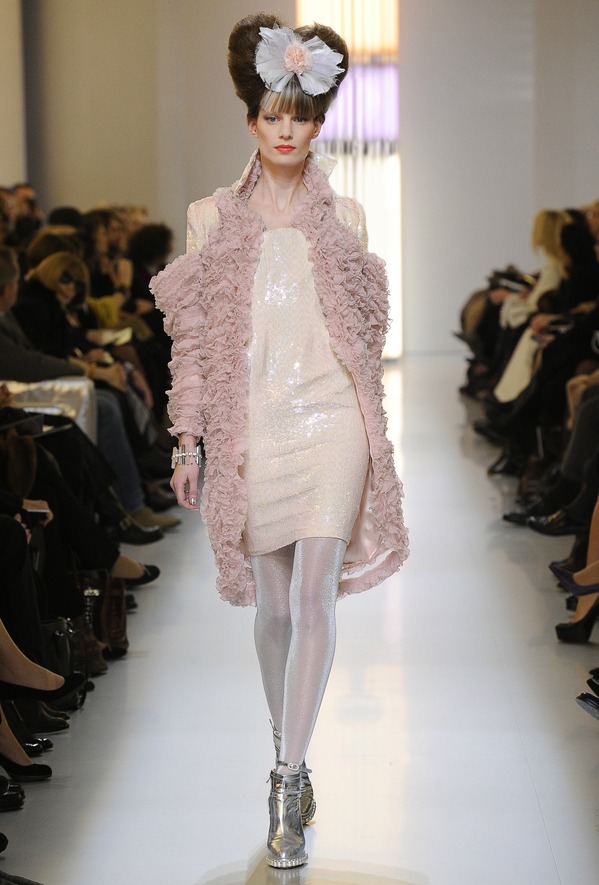 The classic Chanel tweed suit was made to look fresh and springy and also feel more equestrian with the substitution of the skirt with a culotte. Even the vest at times looked like a 19th century paletot that Sissi could have worn while horseriding.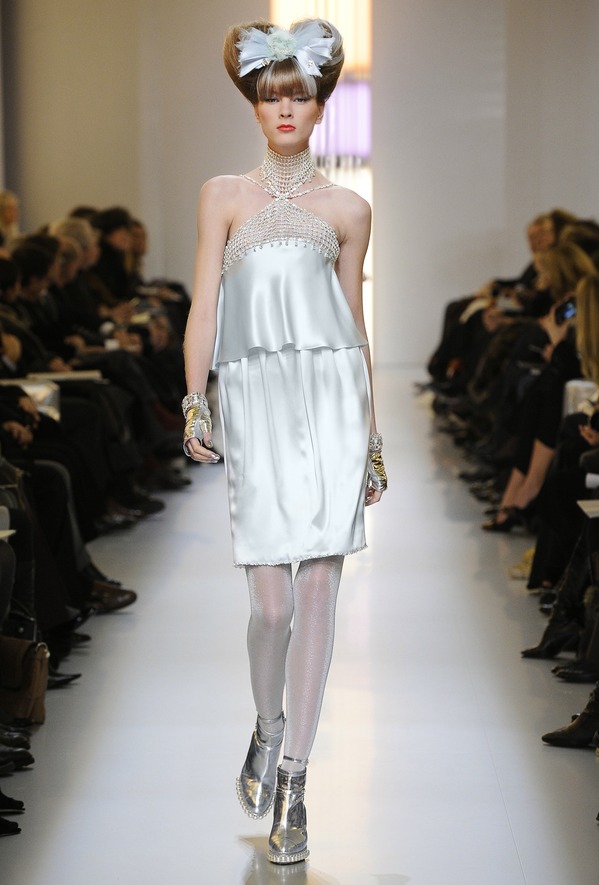 The 1920s Jazz Age references were obligatorily present in simple fluid satin strap dresses and low waists.
The hairdos were theatrical, oversized, and looked cute and dolled-up. There seemed to be a vague reference to 18th century heart-shaped wigs.
A unique shade of lipstick appeared on the models' pouts, a neon pink-orangey coral which was striking. One hopes to be able to try it.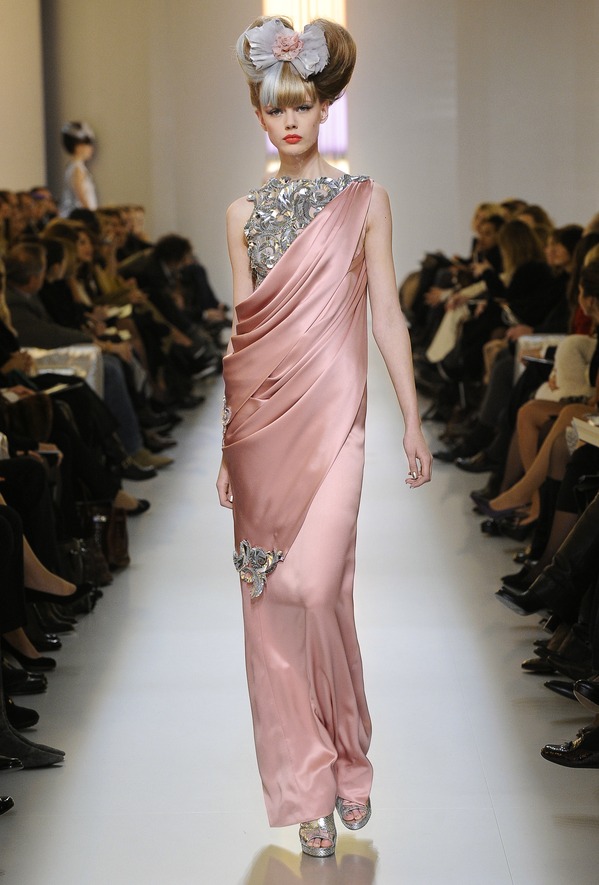 The haute couture feel was most perceptible with the evening gowns while the day outfits seemed almost as accessible as ready-to-wear especially with the recurring culotte. But the haute creative devil is in the details and the technical feats that were secretly applied to the outfits had definitely nothing to do with practical, easy-to-consume fashion.
According to the press release, the color effects that were sought were pastel and acid tones, silver lamé; materials that were used were satin, tweed, lace, chiffon and tulle.
Here's the real haute couture part, the finishings:
"Hidden" seams. It takes 3 hours to hand-stitch these seams along one meter of fabric. To make the "hidden seams" of some pieces took 35 hours of work in the atelier. Certain dresses are adorned with 80 buttons. Sleeves and hems trimmed with tulle."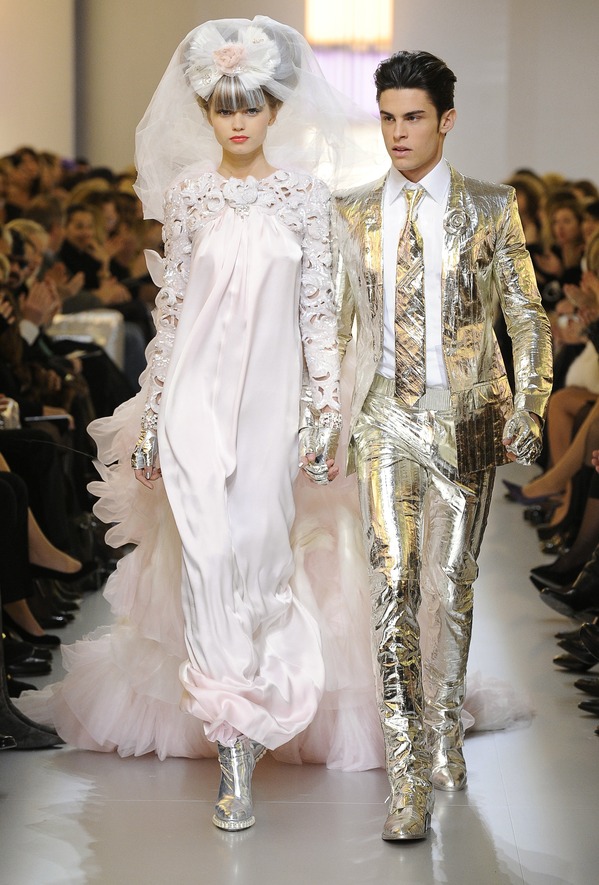 It reportedly took 1300 hours of work to make the wedding dress and cape. The cape was made out of 200 meters of tulle and silk
crèpeline
(800 hours of work). the dress itself was of satin and chiffon (190 hours of work) and embroidered by the Maison LESAGE (350 hours of work).
Via Chanel press release
All pictures except record picture are copyrighted by Chanel: please do not download