Maison Martin Margiela (Untitled) (2010): Sneak Peek {New Perfume}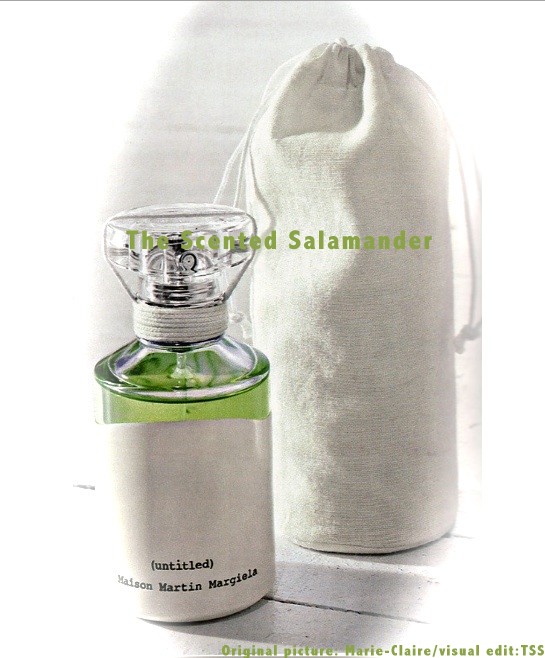 As announced earlier on (see
here
and
here
),
Maison Martin Margiela
has been preparing for the launch of their first perfume.
The print edition of French Marie Claire of February 2010 started to unveil the fragrance.
The upcoming perfume to be launched at Colette in Paris on January 25th forsakes the traditional play on semantics and simply wants to be called
(Untitled)
...
Martin Margiela initially considered a patchouli composition to tie in with the scent that is diffused in his stores but quickly became interested in the idea of a green fragrance, one that would feel like "
a flash of green, as intense as the crack of a whip
."
(Untitled) by Maison Martin Margiela was composed by perfumer
Daniela Andrier
of Givaudan. She describes Margiela as "a poet of clothing" and sees him as a creator who does not transform radically but rather tries to make you see things as if for the first time.
The fragrance idea came to her one night. The central concept is said to be "
a very 70s green note with the twist of a new sensuality
." The composition rests - like the great ancestor of galbanum and green perfumes Vent Vert de Balmain - on "
an overdose of galbanum, so chic and distinguished which is its supporting spine
."
The sillage was designed to be "
addictive
" and is said to be also "
tender, enigmatic and unsettling
,"
A simile used by the perfumer is that the scent is like "
a sap shooting up from nature; it is intense and not that well-behaved
."
When I reviewed the discontinued boxwood composition
Sous Le Buis by Gobin-Daudé
in April 2009 I remarked that all-out green perfumes had somewhat gone out of fashion and that new green compositions were few and far between. Smelling Sous Le Buis I said was like a reminder that freshness can be conveyed exclusively by a leafy green facet instead of New-Freshness, say. The second half of 2009 showed that this empty slot had seemingly been perceived by fragrance developers as well as a number of green perfumes started to enter the market. (Untitled) is part of this movement. Reminiscing about the latest Andrier composition,
L'Eau Ambrée by Prada
, which is remarkable for its elegance, I can only feel hopeful that the term "distinguished" (
racé
in the original French) will not be used lightly but to full effect.
Notes are
galbanum, a green note of boxwood, lentisc, carnal jasmine, incense, bigaradier, creamy cedar wood