Kim Kardashian Eau de Parfum (2010) {New Perfume} {Celebrity Fragrance} {Perfume Images & Ads}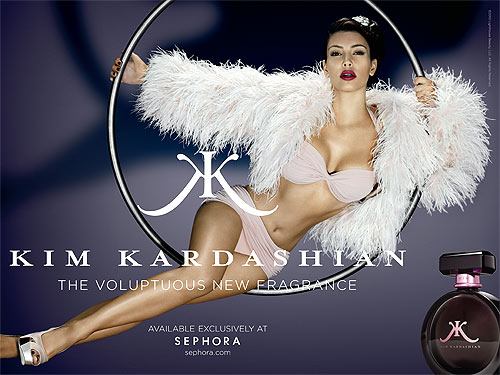 {A
fragrance review of Kim Kardashian Eau de Parfum
has been added to the blog!}
Reality TV name
Kim Kardashian
has launched her debut signature perfume called
Kim Kardashian
now exclusively available at Sephora with the tag line "
The voluptuous new fragrance
." Described as a floral scent it was created by perfumer
Claude Dir
of Givaudan and developed with Lighthouse Beauty.
The advert for the fragrance is filled with pop culture cues. It appears to channel a 1992 Jean-Paul Goulde ad for Coco by Chanel featuring Vanessa Paradis as a bird in a cage (see after the jump) as well as Moulin Rouge the movie by Baz Luhrmann featuring Nicole Kidman as Satine and finally good old American pin-up aesthetics.
"TV star, entrepreneur, model, actress, and trendsetter Kim Kardashian adds another accomplishment to her portfolio: a trademark fragrance. Discover the sensual scent inspired by one of the world's most idolized women."...

Kim Kardashian perfume notes are
Mandarin, Honey Suckle, Orange Blossom, Pink Jasmine, Tuberose, Sensual Spice, Lush Gardenia, Jacaranda Wood, Tonka Bean, Vanilla Orchid, Sexy Musk, Creamy Sandalwood
.
The scent comes in two different angular and round styles of bottles and shades of pink in a final bid to please both the celebrity and the fans who had shown
preferences for both a light and a dark pink
. A roller-ball is also a practical addition.
The 3.4 oz and 1.7 oz spray bottles in pink/plum retail for $65 and $50. The To-Go light pink version is priced at $35. The roller-ball is priced at $16. Available at Sephora.com
You can watch a video commercial for the fragrance,