Bath and Body Works Twilight Woods (2009) {Perfume Review and Musings}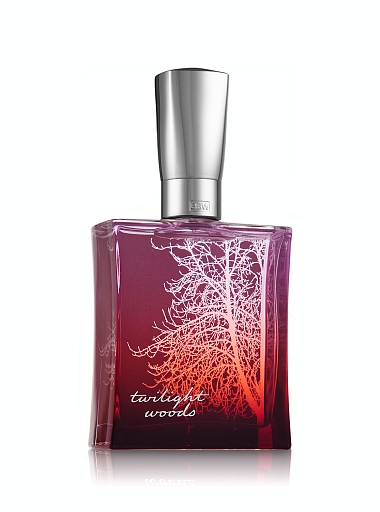 Twilight Woods by Bath and Body Works was launched last fall and since then it has become a bestseller of the brand. The new practical-minded
Scent Sampler
by the chain store showcases it as one of their top ten fragrances. In Copley Square in Boston, they revealed that it was their #1 bestseller. But initially the reason I wanted to test the perfume besides the fact that it is newish and therefore a good candidate for a review, is because it features a
fashionable oud wood
note. A mass-marketed oud wood treatment seemed worth checking out to me, even if just out of curiosity.
The ad copy says that "
this hypnotic fragrance [was] inspired by a romantic walk in enchanted woods.
"
The composition opens as - what for a lack of a set term I have called a
Milka
- but with a dark intensity and sugary fruity-loop overtone, at first; on paper it's prunier. Since the texture of the scent is quite thick, hesitating between the densities of a nectar and a syrup, you can only hope for one thing: that the brew will calm down on your skin and meld with it in the best possible way while waiting and crossing your fingers...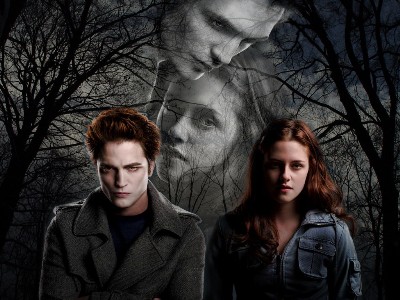 As the perfume develops, the milky and toffee-like notes reveal a trendy -perhaps even by current standards, classic -
lactone-rich scent
(coconut, creamy frangipani, vanilla milk). These notes tone down and the crystallized dark Christmas-y fruits of Twilight Woods even let out some tart nuances.
As I said in the beginning, I wanted to tun my attention to Twilight Woods because it is one of those perfumes that have been
popularizing the oud wood note lately
. From this angle, you would see it as mostly a fun oud perfume: it does not take itself seriously and clearly does not market oud as a luxury note. Nevertheless, since this is oud, it willy-nilly brings a richer, heavier texture to the scent.
Twilight Woods can also be seen as a dark fruity-floral, like you say a dark rose perfume. If there is any sly reference to the blockbuster The Twilight Saga New Moon, as they came out approximately at the same time, it is obvious that this vampire prefers to feed on apple slices dipped in caramel and sweet condensed milk. Since apple was a well-known visual symbol of the story - Stephanie Meyer says it symbolizes Edward's and Bella's love as well as the forbidden fruit - I am guessing that yes, after all, it could be a parallel take on the atmosphere of the novels and movies.
As the scent evolves further, there is now a more forest-y a nuance of oakmoss (I smell Evernyl) which would be appropriate to illustrate the theme of these twilight-y woods; a cypress tree note is listed. It brings a little chypre hint to the scent.
The conflation of a serious genre, the chypre, with a fun genre, the fruity-floral, and going further even at times a tongue-in-cheek ditzy genre, the
milky fruity-floral
, creates a certain sense of quirkiness for me, like the sight of someone attending a classical music concert playing Tchaikovsky in a marble hall in Saint-Petersburg dressed in Betsey Jonhnson leopard tights and pink bonbon garbs (I am completely rooting for young and rock n' roll grannies by the way.)
A darker, prune-y fruity accord emerges next which continues to make Twilight Woods a fruity-floral with a measure of gravitas and nocturnal flair.
After these mostly dark, mellow moments, the perfume starts - surprise! - to take on a different, more luminous aura. This stage takes you by surprise especially when you start smelling some exotic tuberose-y white flower; frangipani is listed. The composition lightens but now keeps a nice level of luminous intensity. At this point, the scent starts behaving more like an undercover chypre with its sense of lift and especially, radiance. The tartness that was just a hint in the beginning has now been unleashed. Light emerges from darkness. When you will reapply the scent, a night-and-day cycle will be reenacted.The drydown is woodsy rather than chypré showcasing creamy, caramel-y woods and sandalwood in particular.
Finally, I want to go back to this idea that oud is supposed to incarnate luxury and qualify what I said previously by adding that the note here does bring something opulent and rich to the scent, but without any hint of snobbery attached to it. If anything, it adds depth and a layer of fur to the milky fruity-floral genre making it it not only summery and flirty but fit to accompany you during the more reflective and contemplative months of fall and winter. In the end, I think that Twilight Woods is more of a wintry Milka fruity-floral than an oud perfume for the masses unless it is a first step towards a more oud-centric Bath and Body Works perfume. Since the brand lately has been releasing a number of flankers of their most popular scents, it is a possibility. But then, it could also be a perfume shadowing an enormously popular vampire romance story.
Perfumers: Harry Fremont, Jane Konnyu and Honorine Blanc.

Fragrance notes: Top: Juicy Berry, Sparkling Mandarin, hint of Coconut; Heart: Creamy Frangipani, Soft Mimosa Petals, Wet Honeysuckle, Wild Freesia, Apricot Nectar; Base: Oud Wood, Skin Musk Captive, Vanilla Milk, Warm Woods.