Etat Libre d'Orange Like This by Tilda Swinton (2010) {New Perfume} {Celebrity Fragrance}
Confidential, Paris-based-in-the-Marais-neighborhood perfume house Etat Libre d'Orange will launch, as
previously announced
, a new perfume whose muse is actress Tilda Swinton, from March 13, 2010 (the dates have been slightly changed)
It is called Like This.
Tilda Swinton herself turned for inspiration to Sufi philosophy and poet Rumi also called Jalal Ad-Din Muhammad Balkhi and Mevlana to chant the meaning of her perfume,
"Like this.

What does your fragrance smell like? Like this.

What does your fragrance feel like? Like this.

What do I do with this fragrance? Like this.

It's an idea that makes me very, very happy.

Tilda"....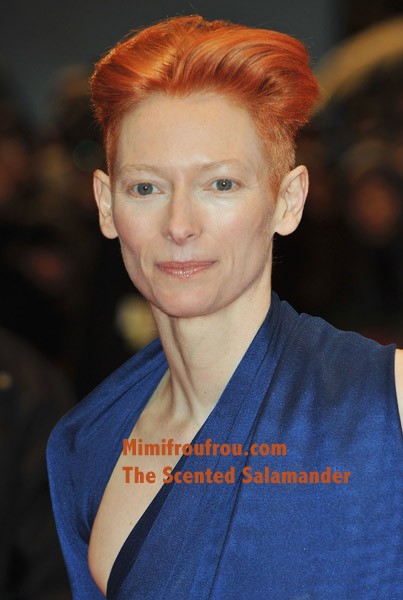 Excerpts chosen by Tilda Swinton from
The Essential Rumi
translated by Coleman Barks with John Moyne accompany the perfume.
The composition is signed by perfumer Mathilde Bijaoui.
Notes are: yellow mandarin, ginger, winter squash jungle essence, everlasting flower, Moroccan neroli, rose from Grasse, vetiver, heliotrope, musk.
It is the brand's fourth celebrity fragrance with two living celebrity-inspired scents now including the contemporary predecessor
Rossy de Palma Eau de Protection
and dearly departed
Tom of Finland
and the held-under-wraps underground celebrity inspiration for
Fat Electrician
.
Like This will be available as a 50 ml eau de parfum.