Etat Libre d'Orange Tom of Finland (2008) {Perfume Review & Musings} {Celebrity Fragrance}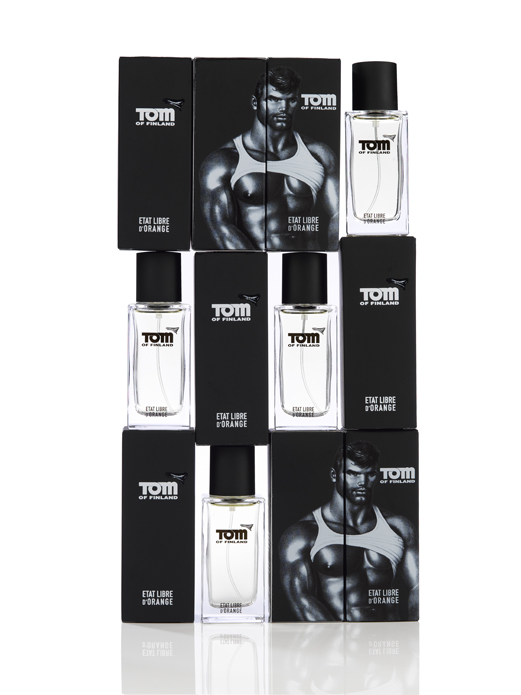 Photo © Etat Libre d'Orange
Tom of Finland is the latest fragrance to emerge from the "space of olfactory libertinage" created by Etat Libre d'Orange, a taboo-averse slightly iconoclastic niche perfumery located in Paris. Named after master draughtsman of homosexual eroticism Tom of Finland, whose real name was Touko Laaksonen (1920-1991), the perfume aims to instill the sense that to be,
"Gay or straight, it doesn't matter. The frontiers have expanded and barriers have faded to make way for a beautiful and original vision of masculinity."
It is a joint project undertaken with the Tom of Finland Foundation in Los Angeles which asked as main guideline that it "does not disturb the odor of men," (see previous post)
The problem from the start for founder and artistic director Etienne de Swardt was, if at all possible, to avoid clichéd representations of homosexuality,
"With Tom of Finland, the challenge was to avoid a purely sexual banality, a conventional story of propositions clad in leather and conducted in bathrooms. At the Tom of Finland Foundation in Los Angeles, I discovered a world that was highly erotic, but it was an eroticism presented as art, as a veritable religion. Tom's drawings have a fine, elegant beauty; they are never vulgar. They convey a happy sensuality, a light-hearted debauchery. The viewer is amused, entertained. To create the perfume 'Tom', I thought it would be interesting to go to the antithesis of the cliche, and assign the scent to a 'straight' perfumer, Antoine Lie, who has played up the contrast of subject and viewpoint, in his successful interpretation."
Antoine Lie, the perfumer, added,
"Although heterosexual, I must admit that many of the most beautiful souls I've met in my life have been masculine and gay. I'm fascinated by their culture, their talent. This perfume is my way of paying homage to them, to show the straight world that there is much to learn from gay society, to blend absolute purity with outright sensuality all the way to a sexuality without borders."
In a way, it can be seen as playing it safe to express these ideas through perfume. How far could it go in provoking sexual walls to fall? Tom of Finland the perfume, like the drawings of the artist, betrays a playful touch, that humor perceptible in the Kake comics characters, never going as far as the more seriously olfactorily provocative Sécrétions Magnifiques. It offers a simplified image of homosexuality, one that anyone can relate to and adopt as scent. It is understandable that the brand would not want to run the risk of putting out a composition that would be felt to be repulsive, like Sécrétions is often thought to be, as this might deliver a negative message about homosexuality and potentially trigger, willy-nilly, a homophobic discourse based on olfactive repulsion. Etat Libre d'Orange wants to bring you into their fold and so they have devised an appealing perfume that speaks to the cause of gay men but does not smell overly charged, and in particular, the ones that recognize themselves in the rather clean visual Tom of Finland archetypes...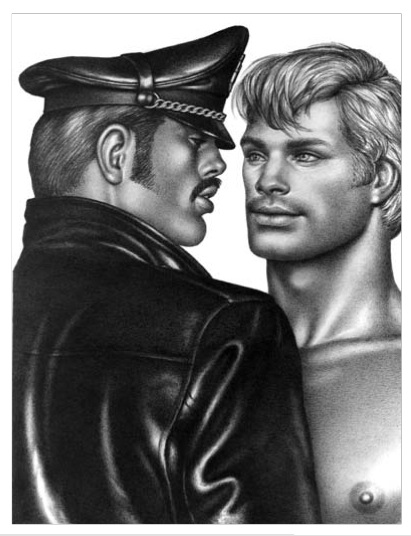 Image © Tom of Finland Foundation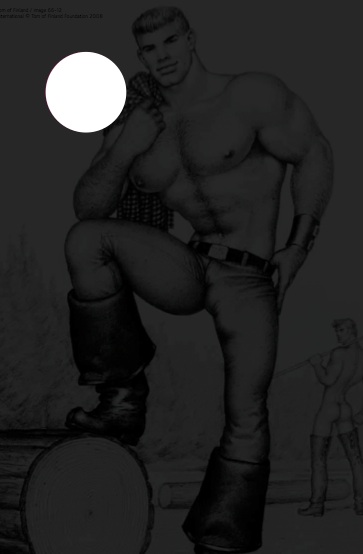 Image © Tom of Finland Foundation
A Masculine Aldehydic Perfume: Latent femininity and Blatant Super Masculinity
What is striking in this perfume is that perfumer Antoine Lie manages to convincingly translate homosexuality into perfume. By this I mean that he offers an interpretation of what it is to be gay that is probably shared by quite a few straight people. It is the perception that gay males are latently feminine while at the same time asserting a hyper masculine identity that seems to ultimately reject all feminine traces as if they had been sucked away into a vacuum. In other words, it is more the universe of Querelle de Brest by Fassbinder, Jean Genêt, or The Wounded Man by Patrice Chéreau than that of La Cage Aux Folles by Edouard Molinaro.
The perfumer's stated aim was to contrast purity and sensuality.
In this way, the Tom perfume plays with the notion of a masculine aldehydic perfume; the aldehydes (think Chanel No. 5) are more commonly connoted as feminine, but their intensity in this case suggests a much more masculine treatment than is usual, comparable in this respect to Royal Bain de Caron, an early unisex perfume (1923), where the aldehydes make a show of force in an eau often adopted by men.These top notes which are a signature for Tom of Finland give way to a leathery and clammy ambiance full of sexual innuendos. It is not certain that the perfumer avoided or wanted to avoid all the trappings of the homosexual universe à la Tom of Finland: the Jack leather boots, the leather caps, clinging pants, and the biker's ambiance. What it does succeed in doing ultimately is in being wearable by all the genders thanks to its fundamental duality and ambiguity.
The Body As A Source of Inspiration

If one were to choose just one contribution for which Etat Libre d'Orange should be applauded for, that would have to be to have enlarged the palette of the perfumer by adding a wider range of smells derived from the human body, while kicking a few social and olfactory taboos to the curb at the same time. The most common bodily smell used in perfumery must be musk, which can more or less realistically mimic the scent of human sweat. One also encounters fecal notes, often rendered by civet. Blood was used in perfumes in the middle ages. Before Etat Libre d'Orange there was Philippe Di Méo, but they have certainly managed to make controversial aromas more widely accessible. Sécrétions Magnifiques was more single-minded about the project of redefining the notion of a sexually attractive perfume with its sperm accord. Rossy de Palma Eau de Protection scent has a note of ferrous blood which meshes well with the metallic character of the rose.
Tom of Finland is more indefinite yet sexually quite frank offering a discreet exploration of the nooks and crannies of the gay male body. It suggests leather clinging on a perspiring skin, then being removed. Where Sécrétions made you think of a stark naked body, with Tom of Finland, you have a more erotic movement of the hidden and revealed body.
The Development

The perfume opens on fresh amped-up aldehydes made to feel cleaner, thanks to lemon; they were meant to conjure up a freshly showered body, but suggest also through their intensity a reckless, play-hard lifestyle. The overdose of champagne-like and nail-polish-like aldehydes combined with woody notes of iris (very perceptible), pine wood, and cypress, as well as resinous birch immediately establishes a dual ambiance of peripheral femininity contrasted with a wholly masculine atmosphere at the core. It smells a bit like clinging skaï pants. The Safraleine molecule was reportedly used with the pepper to create a metallic-belt-buckle accord, but it is not very pronounced as such. The Tonka adds a soft almondy touch at this point.
Tom then segues into a slightly fruity accord that reads a bit as pineapple which soon morphs into nuances of sperm, clammy skin, and leather. It is a bit sickening at first, recalling Sécrétions Magnifiques, but on a much more tolerable scale.
The discreetly powdery note of iris returns. The tonka bean feels like a wet kiss. An impression of acrid sweaty musk further reinforces the sexual atmosphere, which only becomes more explicit in the drydown, like a shirt with sepia sweat rings under the armpits. The styrax pyrogene note subtly evokes the exhaust of a motorcycle, or the hotness of asphalt.
The drydown smells very good. The lasting power of the scent is good but not extraordinary. It is a perfume with a discreet sillage.
Promiscuous and Aloof

If on one level Tom of Finland can be interpreted as a promiscuous perfume, it does so in such a way that the surface perception of the perfume is that it is predominantly elegant, even a bit aloof. This seemingly difficult-to-manage paradox of combined physical distance and bodily entanglement is supremely seductive. It is also meaningful as it can be interpreted as describing the type of quick sexual encounters that are part of gay culture, or as applying to the art of just raw seduction in general. No time for love, only just a little.
Top notes: aldehyde, lemon; heart notes: birch leaves, pine, safraleine, pepper, cypress, galbanum, geranium; base notes: vanilla, tonka, iris, vetiver, styrax pyrogene, suede, musk, gray amber.
Image © Etat Libre d'Orange & Tom of Finland Foundation