Etat Libre d'Orange will Release Tilda Swinton & Josephine Baker Perfumes {Fragrance News}
We have the scoop on exciting celebrity fragrance news from French label
Etat Libre d'Orange
. As
we indicated early on
in the process, indie perfume brands have become increasingly interested in the celebrity fragrance market, just like the big dogs, so to speak (Coty, Avon, Parlux, Elizabeth Arden/Unilever...).
You have to realize that this is a fun way to take a second, closer critical look at the notion of being an "independent" niche house, when you see that the movement was initiated by major fragrance labels first and that indies followed the lead. But as noted earlier, indies tend to pick celebrity personalities that are relatively more underground and quirky (as compared to Britney Spears, still quirky admittedly, and JLo)...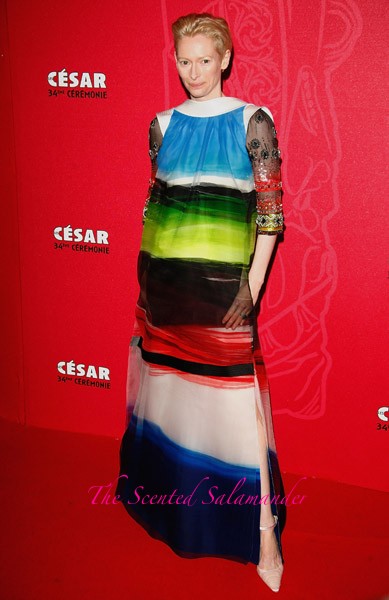 Expect to see a perfume inspired by
Joséphine Baker
in
March of 2010
. This is the second perfume inspired by the legendary dancer and exotic beauty as she was perceived to be in the 1920s after
Byredo Bal d'Afrique
in the recent period. Josephine Baker in her era did launch her own fragrances, but none have survived as a brand today.
Next, Etat Libre d'Orange is currently working with actress
Tilda Swinton
on her signature fragrance. This is bound to excite the curiosity and interest of many people from the fashion world, film world, beauty one not to mention the perfume world. Great choice! Swinton is renowned for her very individual sense of style. We hope this will be translated effectively into a great Tilda Swinton scent. The perfume is said to be set for a
summer 2010 launch
.
Both perfumes names have not been disclosed but are said to be "quirky" and "witty".
Etat Libre d'Orange have already released two official celebs scents:
Rossy de Palma
and
Tom of Finland
.
Fat Electrician
is unofficially inspired by an underground gay celebrity as well (don't ask me more -- trademark issue).