Cowboy-Boot Maker Back at the Ranch Mixes Beauty, Perfume & Fashion Senses {Fashion Notes}
After reading an interview with
Back-at-the-Ranch
founder and owner Wendy Henry and getting a little lost in my contemplation of her fabulous cowboy boots, I had to go back to one important mention in the article published by
WWD
this morning. Important that is for beautistas, perfumistas, fashionistas. In it Santa-Fe based Henry mentioned in passing that some of her boots are inspired by, guess what, nail polishes and perfume!
"I've been inspired by [everything from] rodeo queens to Ralph Lauren. I'm very visual and love fabrics and textures. I've created new styles from nail polish colors and perfume bottles."

It is true that many of her boots feature highly saturated lipstick red color and that one can spy roses on several models. But in fact it was a good idea to ask her because as it turns out, it's a different line than the one I thought might be the obvious candidate, plus the perfume-inspired boots are still upcoming. So here's the scoop...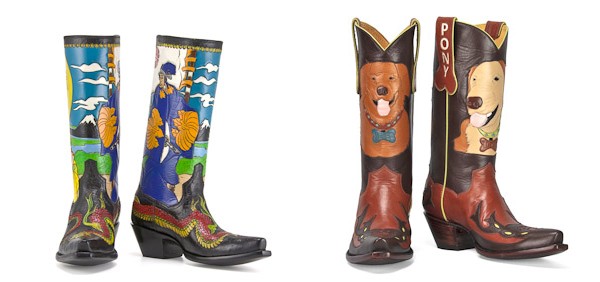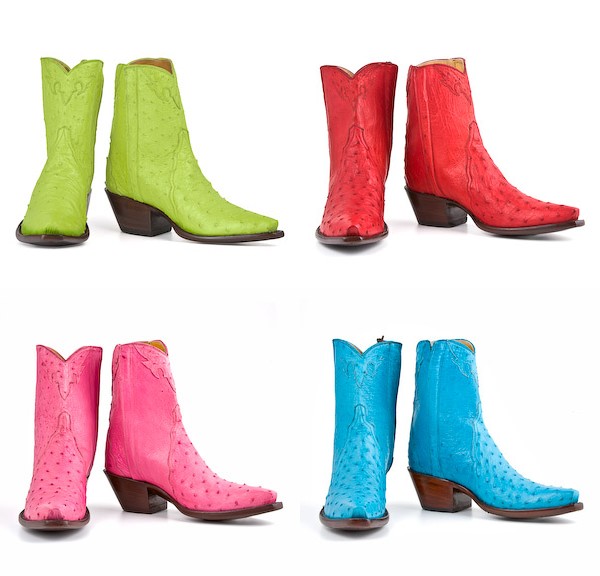 These could also be called Drugstore Cowgirl boots for the nail polish addict
Wendy Henry told Mimi Froufrou that,
"
Opi and Sally Hansen colors have inspired the Wendy ankle zippered boot
,"
Back at the Ranch specially designed ankle boots zippered at the back so that women could wear them under their skinny jeans. The Wendy collection in particular is made out of bold, vivid almost neon-like colored ostrich leather.
The inspiration for the soon-to-be-launched Monet boot
She added that, "
The Clinique fragrance that has been advertised for the last couple of months,which unfortunately I don't remember the name, which is bottled in green and pink, has inspired me to design a boot called the Monet which will be introduced this spring
."
We think this must be the new limited-edition Clinique Happy in Bloom with Mod florals on the flacon.
Finally, the Japanese- and dog-themed boots above are custom orders. So, if you really want to have a lipstick tube or perfume bottles on your cowboy boots, it can be done.