Viktor & Rolf Order Cake for Flowerbomb's 5th Anniversary at Hotel Le Meurice {Fragrance News}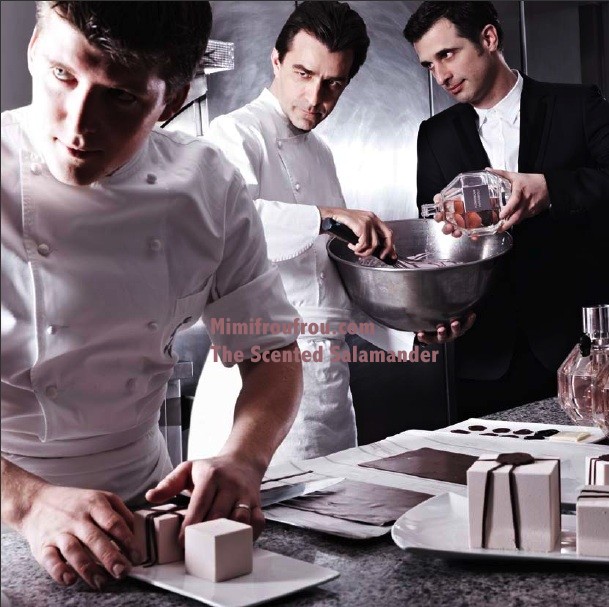 From left to right: pastry chef Camille Lesecq, head chef Yannick Alléno, perfumer Olivier Polge
Dutch fashion designers Viktor & Rolf decided to take the opportunity of Paris Fashion Week to celebrate the 5th anniversary of their star fragrance Flowerbomb. They threw a party at Le Meurice on March 4, 2010 which featured Grace Jones singing La vie en rose like a showgirl as well as the presentation of a limited-edition pastry co-created by the hotel's head chef, Yannick Alléno, and its pastry chef, Camille Lesecq.
The cake which is called My Sweet Flowerbomb was inspired by the perfume and its pink ribboned and sealed packaging. The jus itself is a work co-signed by perfumers Olivier Polge, Carlos Benaïm and Domitille Bertier. You can see 2009-best-perfumer-of-the-year recipient Olivier Polge pretending to pour some of the fragrance in a mixing bowl held by Yannick Alléno looking on toward Camille Lesecq in the advertising visual shot in the kitchens of the Parisian hotel...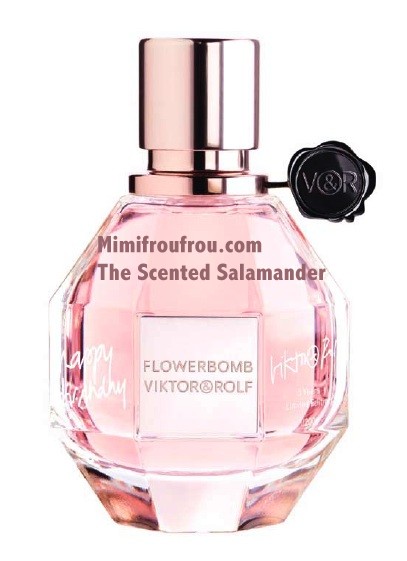 The Flowerbomb-inspired cake My Sweet Flowerbomb is a
millefeuille
which emphasizes floral tonalities while playing on textures, even a surprising one in an attempt to mimic the experience of an explosion in the mouth.
The pastry features tasty notes of "praline, rose, lime with bergamot, jasmine sprinkled with some vanilla notes. The green tea-flavoured sponge base contrasts deliciously with the crunchy chips of praline biscuit. Take a bite and there's a surprise! The cake fizzes in your mouth as a result of a magic sugar recipe, an explosion of addictive sensations. Atypical and unique, Flowerbomb, quite simply."
You will be able to satisfy your sweet tooth until June 30, 2010 at restaurant Le Dali at Le Meurice. Spritz on some Flowerbomb and dig in!
228, rue de Rivoli
75001
Tel: 01 44 58 10 55
To further commemorate the event, a 5th anniversary limited-edition bottle signed by both fashion designers is available in 2000 copies and only at viktor-rolf.com
And here's Grace Jones singing Happy Birthday to you Flowerbomb,