Elizabeth Taylor Violet Eyes by Elizabeth Arden (2010): It Begins with a Look {New Perfume} {Celebrity Fragrance}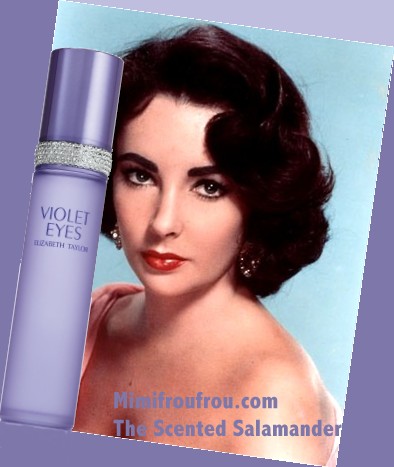 {A
fragrance review of Elizabeth Taylor Violet Eyes
has been added to the blog!}
The cinematic amethyst-colored eyes of actress Elizabeth Taylor are legendary. Elizabeth Arden have paid homage to their beauty and iconicity by releasing a new perfume in the star's portfolio called Violet Eyes. The tag line is "It begins with a look" and it indeed began with a look as stage mother Mrs. Taylor made sure her daughter wore the velvet cape in the shade that was needed to make her daughter's eyes stand out.
Liz Taylor fans will be interested to know that this is however not exactly the very first time that a fragrant homage is paid to her purple eyes. Not long ago in fact, last year, designers Bagdley and Mischka launched their perfume
Couture
which contains a note of violet in reference to those famous eyne, as the whole composition was conceived like a bouquet of olfactory references to their best female friend stars...

Elizabeth Arden might have got some inspiration from their idea.
The new Eau de Parfum is described as a woody fruity-floral. It is constructed like a classic olfactory pyramid with each tier representing a facet of Elizabeth Taylor's persona.
The top note is dubbed The Ingénue: "
This fresh scent of Lush White Peach bursts onto the scene, causes a stir and leaves you wanting more."

The heart notes are about The Star:
"
Voluptuous Jasmine Flower and Rich Purple Rose create an unforgettable aura."

Base notes are titled The Icon:
"
Delicate Violet Peony, Cedar Wood and Warm Amber are long lasting and memorable.
"
The bottle is the same as that of
White Diamonds
reportedly the #1 bestselling celebrity fragrance, except it is in frosted mauve glass.
A 1.7 oz fl. bottle is priced at $52