Bulgari Blv Eau d'Eté (2010): Violet-Mint in the Summer {New Perfume}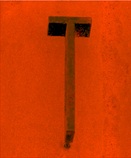 They had me at "violet-mint"; so refreshing! It also makes me curious, reminding me of the violet-mint accord in
Jean-Charles Brosseau Fleurs d'Ombre Violette-Menthe
(powdery) - and how could I forget? - the original and unique
Caron Aimez-Moi
which mixes violet, mint and anise with rose...
Blv Eau d'Eté
Eau de Toilette
(Blv Summer Water) is the latest flanker to
Blv II Eau de Parfum
, launched in 2009 and fronted by model
Laetitia Casta
. It sounds like both the top notes have been freshened while the drydown has been made to feel solar-ambery which usually means "beachy" as in a suntan lotion oil.
"
Capture the luxurious feeling of summer on skin with this violet-mint eau de toilette. This irresistibly sparkling fragrance is at once bright and sunny, natural, and absolutely sophisticated. Fresh top notes fuse with a vibrant and subtle floral-amber heart. Sensual radiance permeates the solar-amber drydown.
"
Notes: Crisp Mint, Italian Lemon, Star Anise, Italian Mandarin, Iris Absolute, Drenched Violet, Jasmine Petals, Cinnamon, Siam Benzoin, Fir Balsam, Cistus, Ambergris, Musk.
Price: $62 for 1.7 fl. oz.
Via Sephora.com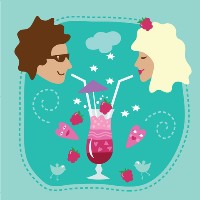 Perfumed Beverage Tip: You can recreate a simplified drinkable version of this perfume by adding some Monin Violet Syrup
(
americas.monin.com or amazon.com) to sparkling water then add a sprig of mint and maybe a drop or two of mint syrup or Ricqlès peppermint cure drops (eyanghealth.com).