Thierry Mugler Womanity (2010): Sweet and Savory {New Fragrance}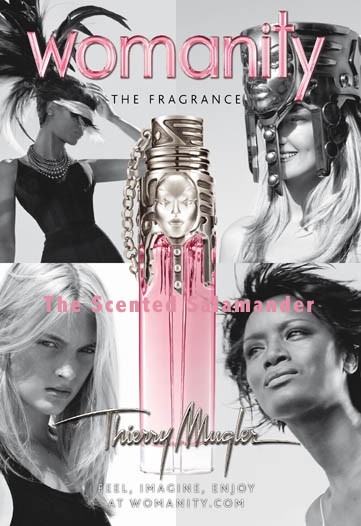 Thierry Mugler Parfums
whose inventiveness and creativity have ensured a steady stream of out-of-the-ordinary fragrances since Angel in 1992, is preparing to release a new perfume from June meant to break the mold once again. Called
Womanity
(humanity + city + femininity), it is a homage paid to women's creativity and connectedness. Mugler feels that the more women connect with each other, the more creativity is released and thus the tag line is "
The invisible bond between women
."
The fragrance itself picks up the challenge of smelling both savory and sweet, a technical hurdle which was overcome thanks to a new molecular extraction process lifting the savory note out of caviar and the sweet one out of fig (I am personally very interested to see if the fatty facet of caviar will be present as I've noticed it is lacking in some renditions of naturally salty and oily flowers)...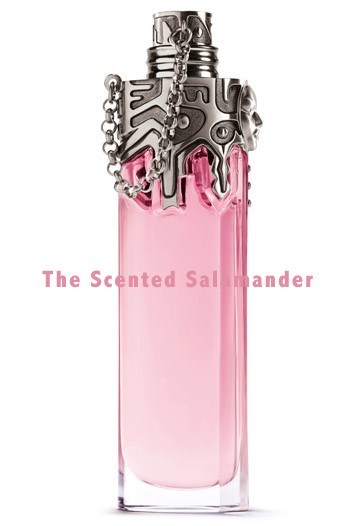 Thierry Mugler usually goes where nobody else dares to go: he also had the great inspiration of
aging perfume like Cognac
which gave a truly
delectable version of Angel
.
The design of the refillable flacon which is very Mugler-like revealing his lifelong taste for statuesque Walkyrie-like women is also meant to feel like a synthesis of various style periods (Gothic, Art Deco, to which I'd like to add hippie, Balinesque, Teutonic, extraterrestrial, biker etc.) to please different generations of women, although the young demographic was kept in mind as the price of the perfume has been lowered to make it more accessible to them.
womanity.com
is a dedicated site which was launched on International Women's Day on March 8th, 2010 on which women are invited to finish the story of the scent/their lives by themselves.
"The opening price point in the U.S. of the eau de parfum spray is $58 for a 1 oz. size. The 1.7-oz. size is priced at $78 and the 2.7 oz. is $98. There will be three ancillary items as well -- a perfumed shower gel for $40, a body milk for $5 and a body cream for $55. All are 6.8-oz. bottles."
Via
WWD