Body Fantasies Vampire (2010): "I've had the scent of you in my head all day" {New Fragrance}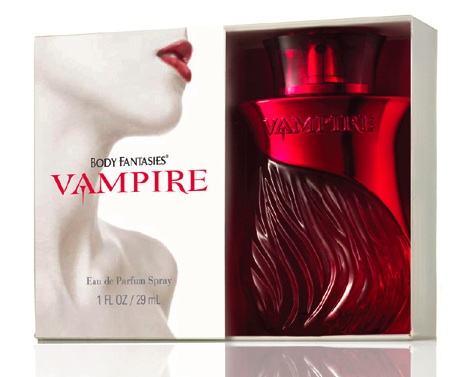 With the phenomenal success of the Twilight saga by Stephenie Meyer, vampires who had never really left our imaginations via books, films and TV-shows, have made a comeback en force. A
Twilight Beauty
brand was created to reflect this interest. National chain store Bath and Body Works managed to insert the word "twilight" in one of their perfumes
Twilight Woods
which was it seems vaguely inspired by the freshened up vampire mania. In 2009, the first ever vamp-pop convention was born,
Vampire-Con
. But perhaps most revelatory of all is the fact that the
two most popular baby names in America are Jacob and Isabella
with Cullen having jumped nearly 300 spots since 2008, according to the NYT, although Jacob has been a favorite for 11 years.
Vampire
by
Body Fantasies
is directly inspired by this new craze and is due out online initially on May 19th, 2010. The launch is associated with an advertising campaign encouraging you to "
confess your darkest secret
"...
The company which created the scent is Parfums de Coeur. The fragrance is accompanied by a quote from Twilight, "
I've had the scent of you in my head all day
."
"Vampire Parfum is a unique new expression of female sensuality. Intense and long-lasting, put it on any time of day and it always lingers until sunrise. Vampire incites notice, comment and, inevitably, desire."


And from the website:



"A spellbinding top note of luscious fruits and flowers lurks with desire. Velvet petals saturate the heart with their seductive powers. Finally, an intoxicating creaminess intensifies her charm and lingers with its warmth, like a soft breath on her skin.

Be intrigued by its delicious allure, as tempting and mysterious as she. Be lost in her spell."

Notes are: clementine, plum flower, wisteria, violet, chocolate cosmos, sandalwood, sultry musk, amber, Gianduja accord.
More information at vampirefantasies.com Also stay tuned for an upcoming giveaway of 5 bottles of the fragrance!
Via press release