Marc Jacobs Sees Codpiece Usage for Bang (2010) {New Fragrance} {Men's Cologne}
Marc Jacobs
is preparing to launch a new men's fragrance called
Bang
from July 30th 2010. It's his first men's cologne since 2002 when the designer introduced Marc Jacobs for Men, a fig-centered composition.
The added twist here, visually speaking, is that Marc Jacobs himself will lend his physical appearance to the advertising campaign for the scent, bringing the celebrity factor to bear on the destinies of the scent. He appeared wearing makeup last year in a nude picture for the 15th anniversary book for Nars (see below).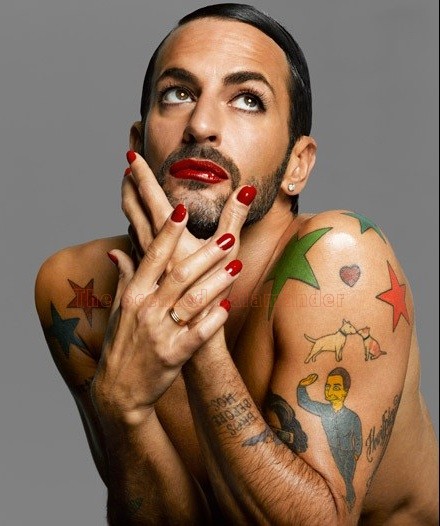 This year, he will be lying on a silver Mylar bed holding a strategically placed giant bottle of Bang so as not to offend public morality. Tom Ford also thought that the best attention-catching spot to present a bottle of perfume to the public is the crotch and the
cleavage
. This has been called the Crotch Pose in advertising agencies since then (it's a just a guess.) Jacobs's business partner Robert Duffy is the originator of the advertising concept,
'Marc, you look so great now -- you should be the model for men's fragrance.' My immediate reaction was, I don't know. But then I came to see that it made sense. Men's fragrance, unlike women's in a certain way, is very personal. It's a layer on top of skin -- for women, it can be like changing a makeup color, but not for men...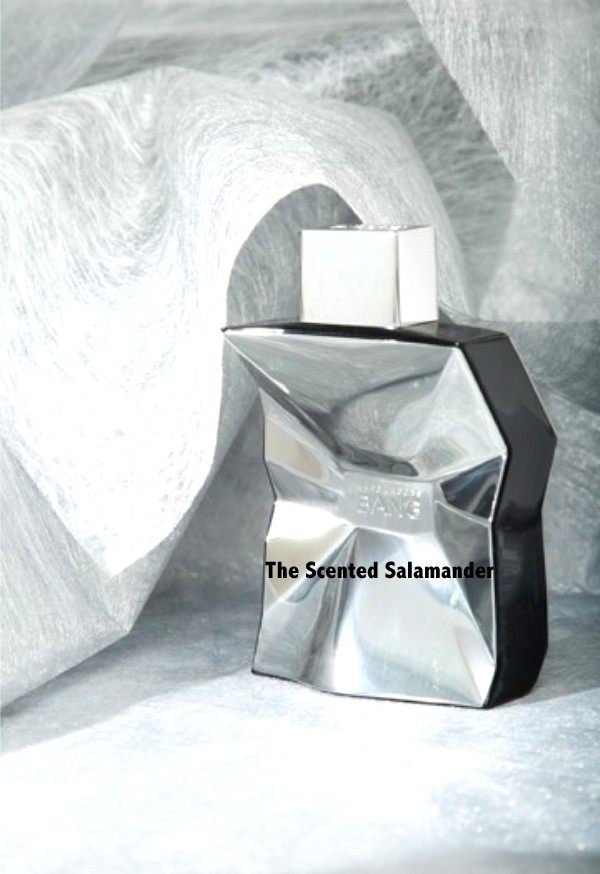 The tradition of couturiers taking their clothes off to advertise their fragrances was started by Yves Saint Laurent in 1971 who got naked for YSL pour Homme in front of the lens of photographer Jean-Loup Sieff.
There will be a Midwestern version of Bang where Marc Jacobs is cropped at the shoulders with the bottle of fragrance near his face as well as a Middle Eastern version where only the flacon will be advertised.
The name of the cologne popped into Marc Jacobs's head while he was practicing at the gym; he likes the "immediacy" that the word conveys. As Bang targets men 25 and older, the designer very much has in mind the generation that twitters and hangs on Facebook like there is no tomorrow. After finding the name of the perfume, they decided to start the project with a favorite perfume note of Marc Jacobs's, spicy pepper.
Bang was developed by perfume company Givaudan and fragrance consultant Ann Gottlieb. It has "top notes of black, pink and white peppercorns, a heart of primal masculine woods and a drydown of hypnotic elemi resinoid, aromatic benzoin, vetiver, white moss and patchouli."
"Eaux de toilette in two sizes, 1.7 oz. for $55 and 3.4 oz. for $75, will be offered, as will a 5.2-oz. aftershave balm, $40; a 6.7-oz. hair and body wash, $25, and a 75-g. deodorant stick, $22."
Bang will debut on July 30 at Bloomingdale's and Marc Jacobs boutiques while the ad campaign starts in September.
Source:
WWD
Added:
Marc Jacobs did it before, the naked ad picture
. He is what you would call a pro, in fact. So, where is the provocation anymore at this rate of divestment?