Armani Acqua di Gioia (2010) - Jukebox-Fragrance {Perfume Review & Musings} {New Fragrance}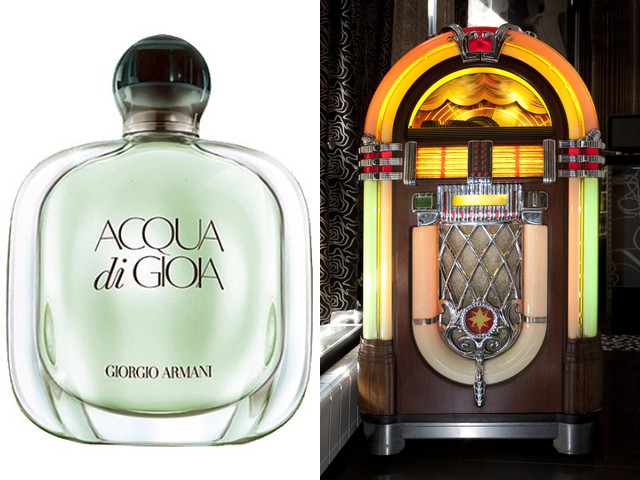 Acqua di Gioia by Armani - Perfume Review & Musings
Armani's latest launch is Acqua di Gioia, the soul sister to Acqua di Gio a perennial masculine bestseller. Offering a less neutral image, it may come across as a limited-edition marine for summer while in fact the rain-forest and sea backdrop are arguably more like the creation of the conditions of mental escapism to be experienced at leisure. What struck me the most about this work is the sophisticated fragrance structure and its ability to please the senses each time in a varied fashion - something that has less to do with natural raw materials as is traditional than with precisely the structure of the scent.

Notes: crushed mint leaves, Calabrian Limone Primo Fiore Femminello / pink pepper, aquatic jasmine and dewy peony / cedarwood heart, brown sugar and labdanum.

Marine, aquatic fragrances can suffer a priori from the perception that they have issues with paleness, lack of substance and the suspicion that like milk during WWII during the occupation of Paris, they are watered down. Unless their very temperament is exaggerated and idealized so as to become pure-style, they will always appear to feel a bit famished and vanquished next to their richer sisters.

In a certain sense, introducing the idea of water into the palette of sensations covered by perfume is going against the ages-old ideal representation of a fragrance as a special quintessential distillation meant to intoxicate the senses thanks to its sheer complexity and opulence. Water is traditionally the refuse and by-product part of an essence-extraction process, you turn it into a floral water, not perfume actually. Fy!

The relationship of wine to fine perfume therefore reveals probably materially more affinities than that of water to perfume (see Kyphi), unless we are talking about archaic symbolism translated into fragrance motifs and effects, something I could experience when reviewing L'Eau by Serge Lutens.

Although I am not averse to watery perfumes, I can feel less urgency when spotting a new fragrance which is clearly going to replay the water-fall theme in any obvious manner. The fact that the print advertising for Acqua di Gioia is like a feminine version of Homme by Guerlain (same color palette, same jungle thematic) did little to make me feel this could be a distinctive launch. The TV advertising is more atmospheric and soigné and better conveys the desire of the fragrance to be lasting and timeless. There was also a bus-shelter ad campaign in France...


But finally I am glad I went to check out the new jus as it does feel cutting-edge in the sense of having integrated well the recent contemporary language of perfumery while nudging it a bit farther ahead. Granted, it remains a commercial object, like a design object is, a design car is, but it does manage to convey the sense that technologically speaking and in terms of a sense of scientific progress it is saying something noteworthy.

This is a feeling I live for as a perfume blogger. Or perhaps better said, it is an experience I cannot escape. When you smell Acqua di Gioia next to other fairly recent fragrances and notwithstanding their respective aesthetic and hedonistic qualities, the most recent one does feel like it is benefiting from a more modern design which makes the latter feel a bit peasant-like and like good oldies. This unjust feeling will pass as soon as you take out the most recent jus out of the picture. But if you insist on comparing, you will get a sense that we're already dealing with a new-generation perfume with better diffusion, greater precision, and especially, a state-of-the-art fragrance structure.

The work on structure in a fragrance - I do not mean the old-fashioned 3-tiered pyramid - is one of the most invisible parts of a perfume, more abstract than any particular note or ingredient included and probably the most futuristic aspect of fragrance creation. Some perfumes aim to recreate a spiral (Guerlain Insolence), or a star (Humiecki and Graef Skarb). With Acqua di Gioia, no clue is officially given, yet the behavior of the fragrance is uncommon.

The best analogy I was able to come up with spontaneously is to think of it as a "jukebox-fragrance" whereby each separate accord seems to escape from the blend in turn to play a single. This gives the result of a very disembodied perfume with a sort of multiple-personality disorder. But better said, the fragrance is like a jukebox and each time, a separate record gets pulled out automatically and then played. At one time you hear a fruit tune, at another, a labdanum one, a third time, a rose-and-vanilla one, a fourth time, a citrus one. The melodies are distinct, do not seem to overlap but are indeed played by the same jukebox - and they always smell darn good as they twirl around in the room, come closer to you yet feel like they belong to someone else. You become the spectator of your own fragrance instead of being one with it. Instead of making the perfume sing on your skin, in stereo or not, you are compelled to listen to its sequential tunes.

This phenomenon is a complete reversal of the conventional approach which ascribes a more or less strong personality to a perfume. With the jukebox-type of fragrance, you get multiple-choice, and the fragrance does not claim to have any personality. It is actually impossible to pin down. Even the "marine" descriptor is only partial and soon contradicted by other noteworthy elements taking flight from the traditional hierarchy of the composition.

Is it a post-modernist approach? Is it a tip of the hat to the multiple-personality disorder as romanticized in stories/TV shows like The United States of Tara? It is certainly originally a commercial device for lassoing in a maximum of customers. But whereas Christine Nagel devised a classic version of this type of all-you-can-eat buffet fragrance with Lalique Encre Noire pour Elle, perfumers Loc Dong, Anne Flipo and Dominique Ropion have taken the concept a step or two further and thereby created a new experience in fragrance.

Acqua di Gioia does not smell of everything nor does it smell of nothing. The reason why I went past the top notes aside from my blogger consciousness is that the perfume opens on the unexpected realistic and fleshy scent of a mango making me think of the search for new depth in perfumes currently.

It is actually Limoncello, which you will also be able to smell once you make the translation in your mind, but it still smells also like mango due to the natural porousness of so-called units of smell, i.e., notes. The labdanum which was underlined and incorporated for it animalic facet is indeed one of the tunes that gets played. When it does, it will make you think that you are wearing an altogether different perfume, or as I myself started catching on, make you wonder "From where is this pure scent of labdanum coming from" in the car you are riding? There is also a tender rose-and-vanilla tune. Once, I also heard an air of compelling and precious boudoir powderiness. At another time, the lyrics were that of a musky-floral.

The only thing I can say in the end is to just drop your coin in the jukebox and let it play. Wear it for several days and see how it serenades or baffles you.


For an alternative lifestyle fragrance review of Acqua di Gioia, please see here.