Francis Kurkdjian Elle 25 (2010) {New Fragrance} {Contests & Giveaways}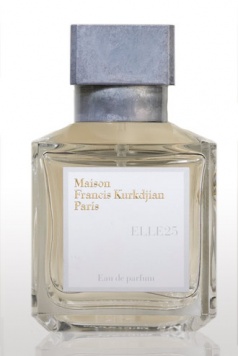 Only 25 happy fews will be able to own a bottle of
Elle 25
, a special perfume creation signed by perfumer
Francis Kurkdjian
, the author of Le Mâle by Jean-Paul Gaultier.
The hyper exclusive scent, under the label
Maison Francis Kurkdjian
, was composed to fete the 25th anniversary of British Elle...
You won't be able to buy it, nor bribe magazine insiders. What you need to do is enter a contest,
"To enter, write your own brief for bringing ELLE to life as a scent in under 70 words and email it to elle25@hf-uk.com by 1st October. The best 25 entries will win a bottle of ELLE25 signed by Francis."
OK, so it's rare, but before you get hold of your lap top, what does it smell like? In the words of Francis Kurkdjian,
"British ELLE inspired me to create a scent for a woman who, in my opinion, was free as air,' Francis explains. 'She is a woman of many emotions who is liberated, humorous, tender and elegant. Bouquets of flowers, cedarwood essential oil, musk and a Chypre base all helped me capture these traits.' "
This is not the first time that Kurkdjian creates a custom perfume for a brand other than his own. See
Trianon Palace Versailles
.
Via
Elle UK