Aubrey Organics Musk - Musc: Musk in its Vegetal State {Fragrance Review} {Green Products}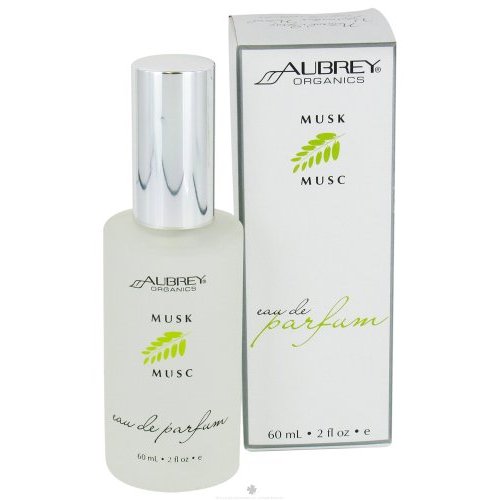 Aubrey Organics Musk / Musc Eau de Parfum Review
As a patented musk fiend*, I am always interested in trying out a new straight-up musk blend. Some drink whiskey as a habit, I like to think that my recurring scent addiction leans in the direction of a shot of musk.
In the case of the Musk or Musc Eau de Parfum by natural brand Aubrey Organics founded under the name Aubrey's Nature Labs in 1967 by Aubrey Hampton (1934-2011), who was also a beauty author and a playwright, it becomes even more interesting to test that proposition as the musky effect is entirely derived from other sources than real or synthetic musk. The composition is based on the use of natural musky nuances found in vegetal materials and the result is worth considering, if like me, a simple but well-made musk oil can become your Joy de Patou du jour...
Aubrey Organics Musk - Musc is based on an official pyramid of notes: top notes are neroli, bergamot; heart notes are Siberian fir needle and petitgrain; base notes are cedarwood and sandalwood. The scent si carried by lavender alcohol (38b Lavender.)
What the composition does is to play up the "dirty" nuances of all of the natural perfume notes, nuances reminiscent of animalistic yet clean perspiration or skin. A fragrance note, is to some extent, subject to interpretation and being multi-faceted, the perfumer may choose to either play all of the nuances of the note in a perfume composition or on the contrary isolate and characterize one nuance which interests her or him more particularly.
The overall effect here is convincing, bringing an unusual tonality to the musk-oil regimen. It's a musk which goes in the direction of the liquorish-y ambrette seed, another vegetal musk which is not used here. After the initial slightly Badedas-like nuances due to the evergreen note of fir needle, the perfume settles into a linear, musky mode where the woods are lightly dusty, but most of all forsake their woods nature to let out their musk nature.
The scent, like an arrow, becomes more and more focused on its goal of being a musk perfume. It then morphs into that high, mellow note of musk which is like a high-pitched, yet discreet love call. I tend to think of this musk rendition as one with a phantom woody impression superposed on top of it: it does not smell of woods, but somehow it feels like the scent comes from tree logs. The sandalwood creates a slightly creamy, cumin-y impression together with neroli, bergamot and petitgrain. Cedarwood can be very animalistic, especially when wet. The woods are perspiring under the heat but fortunately for ease of wear have not let the big cats loose.
The lavender, petitgrain, bergamot and cedarwood are organic grade alcohol and essential oils while the other ingredients are just natural grade.
You can find the perfume for less than $18 at luckyvitamin.com. It is currently sold out, along with the other perfumes in the line, on the brand's website.
*See also:
The White Musk Trend in Paris...Really?
Top White Musk Trails to Try Out
The Return of Dirty Musks: 6 New Ways to Musk Up for Summer 2010
And again: