Editions de Parfums Frederic Malle Eau de Magnolia by Carlos Benaïm (2014) {New Fragrance}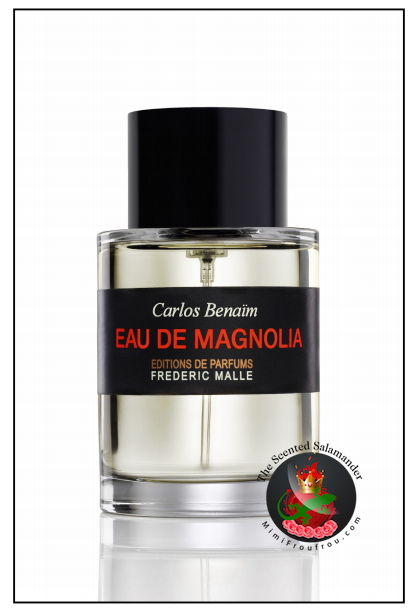 How Perfume Ideas Mature Over Time
Editions de Parfums Frederic Malle will launch a new unisex perfume from June 2014 called Eau de Magnolia, bearing perfumer Carlos Benaïm's signature...
This is the first time that Carlos Benaïm - the author of the modern classic Polo by Ralph Lauren - signs a fine fragrance for the house. He's already contributed to the Fleurs Mécaniques collection of home fragrances with Rosa Rugosa, Rubrum Lily and Jurassic Flower. It is the latter which is the source of inspiration for Eau de Magnolia.
Frederic Malle explains in detail about the creative process which led to the idea of composing the new magnolia perfume. Among other things, the initial creative spark was ignited when Malle was conversing with Benaïm and the perfumer remarked that the evaporation curve of the headspace capture of the magnolia scent by Braja Mookherjee resembled that of an eau de cologne more than that of either a white floral or a rose one. This observation gave then the motivation to create a magnolia composition where the hesperidic facet would be exaggerated.
The eau de parfum opens on Calabrian bergamot featuring then the magnolia headspace in the heart followed next by coeur de vétiver (Lmr), Patchouli coeur (Lmr), cedar wood, ambre extrême, tree moss DM.
Prices: 115€ for 50 ml and 165€ for 100 ml.
Via press release