Thierry Mugler Avant-Première Les Exceptions Cuir Impertinent (2015) {Perfume Review & Musings} {New Fragrance} {Fashion Notes}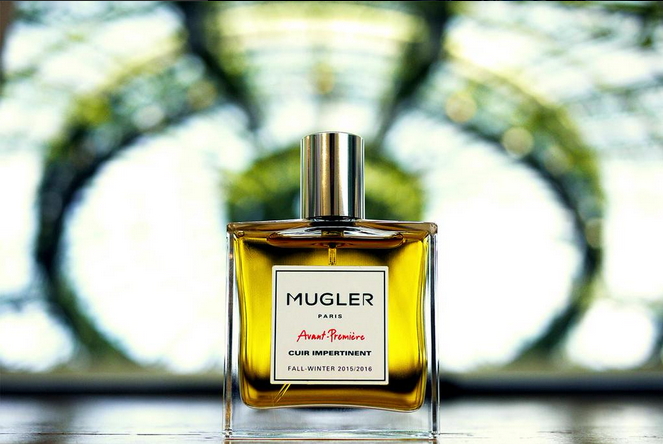 Perfume Review of Thierry Mugler Cuir Impertinent
Cuir Impertinent is the latest one of Les Exceptions, just launched by Thierry Mugler.
In France, the fragrance benefits from a different, inaugural launch packaging and marketing ; it was introduced as a gift for the press invited to the Mugler Fall - Winter 2015/2016 fashion show, part of a new series called Avant-Première (Preview).
The collection will continue to be pre-launched by the catwalks. It is a sign that the brand wishes to reinforce the association between their reborn fashion and perfumes...
Other perfume houses in the last couple of years have been keen on perfuming the podiums, like Penhaligon's, or like Viktor & Rolf who made a fragrance pre-launch be an integral part of a fashion show, with BonBon.
Those are pre-launches rather than launches which have the benefit of projecting an image of exclusivity for the brands in an era where perfume has become too democratic for some.
How Does it Smell Like?
Cuir Impertinent is a very sweet and powdery leather scent, with a nice scorched and burnt quality recalling some of the best "campfire leathers" you might have inhaled next to - as we can well envision - groves of birch trees. It could be the American West or the original Russian plains teeming with Cossacks.
The perfume prolongs itself into a sweet ambery impression rather than persist thanks to wilderness and naturalistic accents. There are nuances of blonde hay and honeyed tobacco.
In fact, upon smelling the scent from the bottle, the tobacco snuff accord was most obvious.
The composition traces back to that initial sensation of powdery amberiness and burnt pyrazines. The blend seems to settle into a quiet impression of smoky powderiness on your skin rather than diffusing strongly. As with many ambery perfumes, Cuir Impertinent takes on a glowing cast recalling smoldering embers as well as the glow of resinous amber.
Mugler Parfums stated what it was about the scent that was special,
"The smokiness of tanned leather meets the unexpected explosion of star anise to create a unique scent. Perfume yourself with bold, brazen sensuality."
For the longest time, the star anise is a no-show, or a very subtle one. Yet, it does come into play in a delayed manner which invites you to think that Cuir Impertinent is a particularly qualitative perfume because it possesses that ultimate luxury item: Time.
We invite brands to think about this notion of luxury and apply it to contemporary perfume developments. If a fragrance is not only lasting - in a monochord manner - but makes the perfume unveil its personality in a much delayed fashion, then you have that sense that there is no rush, there is no hurry, a sensation rarer than most precious goods.
Your perfume will reach full development after, say, 45 minutes, or an hour. The perfume wearers have no idea what they will get in advance. Or if they knew, they have the time to forget. Oh, but now they smell that promised accord of tanned leather and star anise. And they had all but forgotten about that spicy twist.
Discreet touches of red fruits underline the main accord as a reminder of the Mugler perfume of origins, Angel (1992). The composition is sweet too, which is a trademark of the house. While the star anise appears late and to best effect, the drydown and long-distance drydown are not complex. In fact, it is too bad that the perfume does not continue to surprise and evolve all along the course of its existence because there is a bit of the impression that something fell off the cliff into the deep green sea really a bit too quickly.
The drydown is professionally adequate with a marked suggestion and then a lingering tinge of cheapiness. It is a bit jarring compared with the previous stages of the composition which were more qualitative.
Karlie Kloss in a Mugler dress - Fall - Winter 2015 © Mathieu Cesar
Fashion & Body Image as Shapers of Perfumes
Is contemporary perfumery condemned to only allude to luxury? Are we in for the longest ride destined to smelling perfumes wafting of constrained budgets and wearing financial corsets even though fashion is supposed to have eliminated those tight, tortured spaces for the human body? Wait, no, now the corset is back and it's part of a new phrase where the word "training" appears.
Perhaps such lack of balance in a fragrance composition is a sign of the times more than a sign of monetary strife: a pop personality like Kim Kardashian publicizes herself as both eating high-calorie, greasy junk food and training in a strangulating corset at home. Model Karlie Kloss seems to be wearing a corset in the Mugler fashion collection for Fall-Winter 2015 only to reveal the shadow of her own ribs in need of no corset at all. There is no flesh to compress, only a rib cage to underline and empty spaces between the holographic corset and the real body.
Cuir Impertinent might be picking up on our contemporary contradictions which is that we love indulgence and overabundance yet do not want to feel that we are heavy or other than waifer-thin in some parts of our psyches. We slather rich, drippy oils on our faces and bodies. We dream of creating double-whammy foods called Cronuts. People sigh with rapture at the mere, daring thought of deep-frying a Mars chocolate or caramel bar rolled in batter, which sound like the new Russian roulette games for our health.
In these visions worthy of a hellish Hyeronymus Bosch painting - were the painter had been born in our junk-food-loving era - there is the revelation that we crave more the sheen and garishness of empty-rich calories, than the truly satiating sensation of satisfying food.
Likewise, and to some extent, Cuir Impertinent mimics luxury and abundance, not being able to satisfy you till the end of its story line and development. It might be due to budgetary constraints, or it might be due to cultural contradictions, or both. It is terrible that perfumery has to choose and maime their own work in such a way.
And old idea of luxury and abundance comes dying, slowly, at the feet of a divinity with plastic-cup feet and take-away trainers.