Invitation to Attend the Tsi~La Organics Trunk Show at Bendel's Nov 26th-Dec 1st 2007 {Scented Paths & Fragrant Addresses}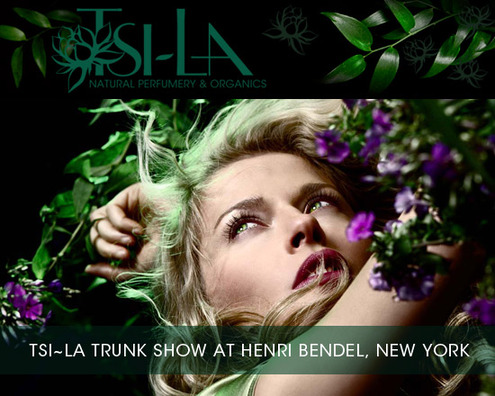 You are Cordially invited to the Tsi ~ La Trunk Show

November 26th through December 1st

Monday - Friday 10am-8pm Saturday 9am-8pm

712 Fifth Avenue
New York, New York 10019
Model Annie Morton and long time friend Natalie Szapowalo founded Tsi ~ La to create pure and natural products beneficial to your overall well-being. Working in the fashion and beauty industry for many years and drawing on knowledge from their extensive studies in natural health sciences and aromatherapy has enabled them to work side by side with renowned natural perfumers and cosmetic chemists to create this "Green Luxury" product line.
Tsi~La, (pronounced chee-la), is the abridged version of the word "atsilvsgi", meaning "flower" in Cherokee.
Tsi~La is the essence of nature – a marriage of organic freshness and pure plant botanicals.
You can read more information about the Tsi~La perfumes here