Trademark Questions Over The Use Of The Word "Peace" {Fragrance News} Q & A with Laurice Rahme of Bond No.9, Liz Zorn of Liz Zorn Perfumes, & Sarah Horowitz -Thran of Creative Scentualization {Perfume Q & A}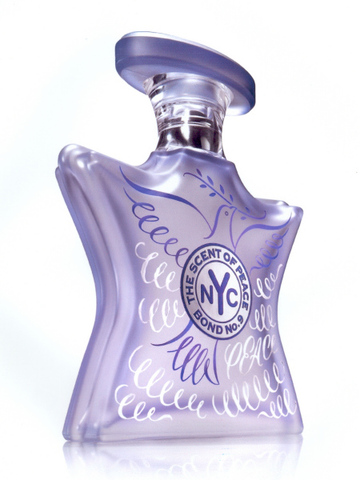 The Scent of Peace by Bond no. 9 was released in March of 2006

The internet is -- we perhaps tend to forget this in our daily practice of it -- a fascinating, revolutionary medium of communication. It is the most democratic source of unfiltered up-to-the-minute news -- the simple citizen can now access the type of information that was in the past only available to powerful professional or government agencies signed up for example with press wire services such as Reuters or AFP, and then some more -- and at the same time it is an infinitely more reactive one. News but also rumors and gossip can spread like wildfire and nowhere more efficiently than within a community of like-minded people who are passionate about the same thing, in this case perfume.
Online perfume communities were somewhat shaken last week by discussions over the trademark infringement upon a Bond No. 9 perfume called The Scent of Peace, a technical and legal debate a priori that hit on a nerve and was echoed from blogs to forums and back to commentary forms. The issue was, interestingly enough, quickly and mainly framed in terms of social justice as it was felt that a small artisan perfumer, Liz Zorn of Liz Zorn Perfumes based in Ohio, had been unjustly attacked by a bigger company, Bond No. 9 from New York city. The public outcry was also fueled by the symbolic significance accorded the word "peace", which many people felt, ought not be reserved for a private party given its universal connotation.
It might be useful to offer some context. Bond No. 9 had also been singled out last year by members of online perfume communities for having, supposedly, single-handedly deprived many perfume collectors of the possibility of purchasing cheaper perfume decants on eBay than what full bottles cost. We will not go into the questions generated by this type of issue. For some reason, people thought that the decanters' shutdown on eBay was principally due to Bond No. 9 and this probably added to some of the animosity felt towards a company that is perceived as being particularly aggressive and unsympathetic to the "little guy" although unofficially made decants are in fact very expensive. By contrast, Bond No. 9 offer, for themselves, a cheap sample program and even the possibility of purchasing their scents in less pricey bottles and decanted in smaller quantities. This antecedent nevertheless helps to explain why many people were quick to react negatively this time around based on popular perceptions, although Laurice Rahme of Bond No.9, when we asked her about the eBay issue pointed out that they were not the only company involved, which sounds like a reasonable statement.

We decided thus to ask questions directly to three persons who might help shed further light on the issue, namely, Laurice Rahme of Bond No. 9, Liz Zorn of Liz Zorn Perfumes, and Sarah Horowitz-Thran of Creative Scentualization. Additionally, we contacted Avon and might get a comment from them and if we do, will update this post. Their common point? They all have a perfume containing the word "peace" in it, at some point in time; Liz Zorn has now decided to give up her "Peace on Earth" title at Bond No. 9 legal team's behest and replace it with "Solstice" but some of her unofficial supporters publicized the event enough that it came to the wider public's attention.
It all started from our standpoint with a post by Liz Zorn who was describing her current predicament as a small artisan being attacked by the aggressive legal team of a bigger company, Bond No. 9, over her use of the word "peace" for one of her fragrances. Since then, she has decided to remove all of her posts, but we have kept one quote that you can read below. Liz Zorn released a holiday fragrance titled "Peace on Earth" at the end of 2007. Bond No. 9 had issued a well-publicized fragrance in 2006 called "The Scent of Peace" which, in an innovative take, was linked to UNICEF and a charity organization called Seeds of Peace. Liz Zorn expressed herself eloquently and concluded by announcing publicly that she had decided to change the name of her perfume in order not to fight over the very word that meant the opposite of that type of action.
She wrote on her blog,
"If it had been something else like the word yellow or flower. I might have considered taking them on. But to go to war over the word "Peace" is to me an abomination. To even think such a thing, is unthinkable. And the bad, karma, Ouch!......gives me the willies." .......

Peace by Pablo Picasso. The Picasso dove was an inspiration for the design of the bottle of The Scent of Peace by Bond No. 9

A visitor to her page, now defunct, could discover that reactions to her article were swift and strong. Some bloggers and potential Bond No. 9 customers decided to boycott the company, starting immediately. The incident was framed as a David-and-Goliath battle; perfume lovers and peace lovers did not like the fact that the word "peace" could be denied to anyone and in particular to perfumer Liz Zorn whom they felt were being attacked because of her vulnerability to pressures from a bigger company doubting very much that Bond No. 9 would attack a large corporation or a more established business. An article in the New York Times from Feb 23, 2006 however shows that Laurice Rahme is by her own admission a "tough" customer and that she was then in a legal suit with Creed, a prestigious niche perfume house patronized by celebrities and royals and nearing its 250th anniversary.

This interpretation therefore called for further clarification. The sudden visibility of this incident within the perfume communities made it look like a unique case, but was it? Commentators' reactions revealed that it was assumed that Bond No. 9 would not go after a big player. A standard PR release from Bond No. 9, posted on Liz Zorn's blog, further antagonized everyone involved as it was felt that no satisfactory specifics were offered. In this emotional context, we decided to turn to the actors involved.

Since then Liz Zorn told TSS that she has withdrawn her membership from the Natural Perfumers Guild where she posted initially about her trademark issue in a relative atmosphere of confidentiality, she believes, and who started spreading the news of her entanglement with Bond No. 9 outside of its circles. She says that she did not mean for the issue to travel beyond the limits of this group and that she sees this as a breach of trust. As news of this incident were spread across several blogs and forums where perfume aficionados gather, she felt she needed to express herself publicly on her own site. All the sum of this activity was ill-taken by Bond No. 9 who commented by writing that, " In response to standard actions regarding a Bond No. 9 trademark infringement, Ms. Zorn has personally waged war on us by Internet and by telephone."
From discussions with both Liz Zorn and Laurice Rahme it turns out that supporters of Liz Zorn have been flooding Bond No. 9 with protest emails and the latter even received an abusive anonymous phone call from an irate woman. At the same time, Liz Zorn's telephone was besieged and she could not understand why since her number is unlisted. It turns out that a letter sent by Bond No. 9 containing a legal document sent by Zorn is being circulated over the internet with her home number and address in it.

Regarding the very problem of the use of the word "peace" in a different phrase and on a different perfume, the protection of the word "peace" may feel excessive a priori. With so many perfume names resembling each others, why couldn't a different phrase with the word "peace" in it be used? Why are perfumes titled Outrageous! and Outrageous left to coexist side by side and why "The Scent of Peace" and "Peace on Earth" would not be able to do the same? A good number of perfumes for example have the term "love" in them: YSL In Love Again, Anna Sui Oooh La Love, Nina Ricci Love in Paris, Love Comes From Within....What about the Kenzo perfume, Time For Peace (1999)? And what about Peace Comes From Within (2006) by Creative Scentualization? Could Avon who are currently releasing Wish For Peace (2008) be potentially sued as well?
Answers show that the situation is both a bit more complex and simpler than the way in which it was presented initially. It is more complex because the success of The Scent of Peace, Bond No. 9's best-seller, will probably be taken into account by the house and potential competitors and is likely to make Bond No.9 act in a more protective manner than ever, today than yesterday, ca. 2006. This may explain why Creative Scentualization has a perfume called Peace Comes From Within ™, which was released at about the same time as The Scent of Peace. It is simpler than anyone thought because Bond No. 9 just implemented their automatic standard legal action.

First of all, although Bond No. 9 has an aggressive stance, arguably in the positive American sense of the term from their own standpoint, they are not afraid to take on both little and big companies. The letter Liz Zorn received is reportedly the standard letter they send to everyone, which may feel like overly big guns for a small company but may be appropriate in the context of a big corporation whom they want to make them listen to their case. Laurice Rahme stressed that Bond No. 9 is a small company with only 6 employees although their international distribution network and budget size make them probably a bigger business than just their number of employees indicates. She told TSS that Avon were sent the same documents and so has in the past "a very big company" who wanted to use the name "Hampton". Bond No. 9's position is that it is all a matter of class 3 trademark action, protecting their assets and making sure that no other perfume and beauty products re-use a name that they have made popular through their line of perfumes featuring names borrowed from New York city neighborhoods or through their charity initiative. In a document that was sent to people who requested an explanation, Bond No. 9 wrote that,
"Bond No. 9 is a small, entrepreneurial company run by one woman who spends a lot of time and money protecting it—her life's work—and the scope of this company includes her trademarks. As a small business owner, and given the significant portion of her budget required to secure the names and phrases that are essential to the success of her business, she strongly defends them all.

The creative spirit of Bond No. 9 is copied every day by various companies, large and small, and we protect our rights in all cases. Laurice encourages everyone to be creative and to protect their ideas.

Two Springs ago she had the idea to launch a Peace fragrance at the United Nations and donate to UNICEF for that first year. Since 2007, the donations have been to Seeds of Peace (http://seedsofpeace.org), and Laurice continues to donate for Peace. The Scent of Peace is a top selling fragrance which allows us to donate a large amount of money to charity, and we're very pleased."

We put some questions to Laurice Rahme over the telephone and here is a quote from the conversation summarizing her company's position with further details,
"It's very complicated you know... business, and we have a specialized trademark attorney, so we have never trademarked the name "peace". Everyone on the internet is saying that I cannot own the word "peace" . Nobody can, of course nobody [laughter] but we did a trademark that costs hundreds of thousands of dollars -- it's a lot of money -- for the words "The Scent of Peace". But what I want to say is that it goes by industry and there's an industry called the "class-3 industry" which is the beauty industry and we trademark it as a fragrance and only on a fragrance and body cream, body lotion, you know...and we do not own that for any other product. We were the first ones to do a fragrance for peace, for UNICEF, Seeds of Peace.
Trademark lawyers, my lawyers, send this literature to all companies whether they're big or small or medium or black or what [laughter], of course, we're doing this...We're what you call "on the watch", it's on the computer, you subscribe to the "Trademark Watch" so every time somebody uses this for the beauty category, my lawyer receives a computer alert. "Look here, Avon and this one and this one..." and it's his job to send a letter to this company. We've been doing that for the last two years -- I don't know this lady. [...]

It's not only for "peace"; we do this for all our trademarks: Wall Street, Broadway, Hamptons, Gramercy Park, Central Park, you know, I don't own the park [laughter] but I was the first one to have the idea to do a Central Park fragrance so we have a trademark registration with the government and we have a number and all this costs a lot of money."
Laurice Rahme further commented that the government does not grant a trademark if one is deemed unworthy of it. After we asked, she confirmed that the trademark existed for other markets such as Russia and the Middle East, in the relevant languages.They feel that some companies are now trying to ride on their tail as Rahme made important advertising investment for her niche perfume house, in particular as she specified, in the New York Times. Because they rely on creativity to remain in the competition faced with bigger players, they are protecting their main assets. It might also be of interest to remind ourselves that trademark rights go both ways and that Bond No. 9 were asked in May of 2007 by fashion brand Pucci to take out the initial design for their bottle for Bryant Park, which was directly inspired by one of their patterns; Bond No. 9 complied and changed the design on the flacon.

Regarding Creative Scentualization Peace Comes From Within, Laurice Rahme confirmed that they had negotiated with them as well. We asked its founder and owner perfumer Sarah Horowitz-Thran to comment on the use of the word "peace" in Peace Comes From Within ™ (filed March 27, 2006, published for opposition Jan 9 2007, registered March 27, 2007) which as we learned from her was released at about the same time that The Scent of Peace™ (filed June 6, 2005, published for opposition June 6, 2006, registered May 22, 2007) was, that is in March of 2006. She confirmed to TSS that Bond No. 9 had contacted them based on a piece run by Women's Wear Daily and that they decided to drop the original name of their perfume which was then just "Peace". They thought of associating it with the name of the series, "What Comes From Within" transferring it onto the perfume label on the bottle, which now reads "Peace Comes From Within". The change took place with their second production as they had already started selling their new creations at Barney's when Bond No. 9 contacted them. Sarah Horowitz-Thran commented that they felt "comfortable with the concession" as they "didn't want to go into a law-suit" being a "small self-funded company".
The reason why this case might be different from the Liz Zorn case is that at the time, Bond No. 9 had barely debuted and that it would have been more difficult to prove that there was an influence and a borrowing since apparently both Creative Scentualization and Bond No. 9 came up with a similar idea around the same time although arguably Bond No. 9 structured the idea beyond it just being a perfume name and associated the concept with an annual charity event. The Kenzo Time for Peace (1999) finally was not a problem according to Laurice Rahme because the perfume is discontinued.
In conclusion, although Bond No. 9's trademark actions remain standard, it is more likely to, de facto, immediately discourage small companies from putting up a fight. On a subjective level too, a small company owner is also more likely to be taken unaware by this type of action and feel more strong-armed. Laurice Rahme told us that a "very big company" had complied to, but that it usually takes more time. Avon is said to have been contacted and Rahme at this point feels no doubt -- and has more objective grounds to think so obviously now -- that they are inspired by her successful concept.
Can such broad, universally appealing humanistic terms such as Happy, Joy, Love, and Peace be rigorously trademarked? Apparently it can if we look at perfumes called "Happy" and "Joy". For Laurice Rahme it depends on the company and on how seriously they take their personal trademark assets.
A note to our readers: Sarah Horowitz-Thran will be pleased to offer a free sample of Peace Comes From Within to anyone who requests it.