Paco Rabanne 1 Million Teaser Campaign {Fragrance News} {Scented Paths & Fragrant Addresses}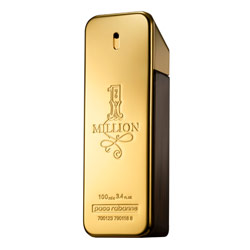 Although the new
Paco Rabanne 1 Million
fragrance for men is already available at Sephora in France, the publicity campaign in the UK is only just kicking off. Yes, I know, we already showed you the
TV commercial
and I have a great-looking advert somewhere in my files to boot, but let's take things more slowly for a minute, shall we?
At least, this is what an early chapter of the campaign imagined for the British market reveals with the setting-up of a micro-website dedicated to making you feel great about yourself, in other words to feel like a 1-Million-Dollar man. How so? The creative focus here is on "
opening the doors to virtual celebrity
", to anyone willing to play the game. As you know, to attain celebrity is the new idea paradisiacal ideal of the early 21st century, an impression not disproved by the inflation of celebrity perfume launches...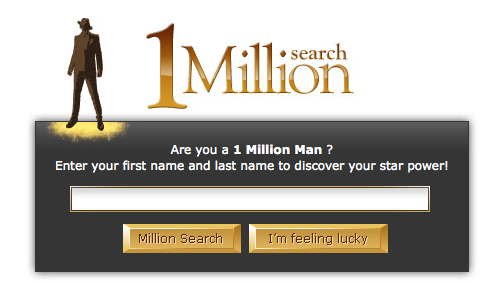 And it's only a click away. Just enter your name in the 1 Million search box on the
1 Million Search
campaign site and you will suddenly be the focus of attention of hundreds of pages on the World Wide Web reconstituted for the occasion. Women fans tell you how much they worship you, you're a star etc.
"This search engine lets you get a taste of the golden life! Have a look at your fan club, see what the papers are saying about you... and invite your friends to become 1 MILLION Men too!"


But they don't want you to feel like you are just made of hot air, so here comes the reality-check part,


"To give this experience a touch of reality, we are organising a contest. You or one of your readers could become the real 1 MILLION Man and win your very own online advertising campaign on the most visited sites and become THE 1 MILLION Man on Facebook. A day of fame, the ticket to go from popular to celebrity!

This is your chance to show what a 1 MILLION Man really looks like. Your style for the Paco Rabanne new perfume... exciting!"




To be honest, I initially thought it might be a hoax given the bareness of the design on the site but it's genuine apparently. It reminded me of my initial reaction to the Human Nature video for Hugo Boss XY and XX, which looked like it might have been shot by amateurs posting a spoof commercial on You Tube.

Via Paco Rabanne & Nurun press release