Social Creatures Frankfurt Kitchen for Women (2008) {New Perfume} {Fragrance News}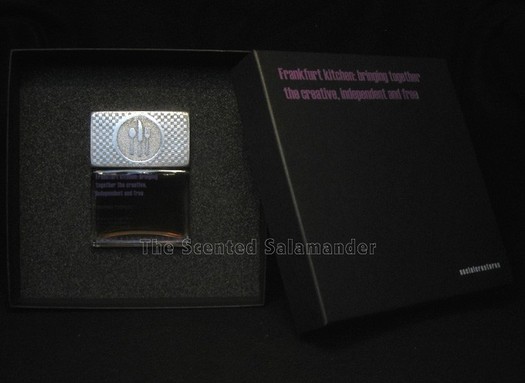 Last year, we announced the debut of Social Creatures
a new brand of perfumes
with a conceptual outlook, artisan sensitivity, and professing the manifest belief that perfume is imbricated within the fabric of society and history. They also believe in intuition,
"Trust your intuition: usually your first subconscious judgment about a new situation is based on how it smells."
The latest news are that they have finally launched the pre-announced
Frankfurt Kitchen
, a feminine fragrance "...
inspired by the progressist kitchen designed by Margarete Schütte-Lihotzky in 1926,
" It has taken them a total of 3 years to develop the composition and while it had been scheduled for release in December 2007, it has been introduced only this month...
The 30 ml EDP and the 10 and 15 ml travel sizes

Frankfurt Kitchen is described as " a rich gourmand fragrance built around Osmanthus flower absolute. You will also find lots of comforting notes such as Cocoa, Coffee, Honey and Vanilla. Available in 30ml EDP only."
In other news, Social Creatures perfumes have become easier to sample with new size options,
"For those of you who would like to try our fragrances or would like something you can keep with
you, we have developed our Travel Edition. Prices start at £18 GBP, and the sizes are 10ml &
15ml EDPs, or a 30ml EDT. You will get approximately 150 sprays per 10ml so they are good
value and a great way to get to know our products."
We have now created 30ml Eau De Parfums of all our fragrances. The fragrances are in the
higher concentration EDP. We have also created a bottle with same level of craft and attention to
detail of the 100ml EDT. £65 GPB.
This month we kicked off the SocialCreatures Tour in Greenwich Market, the heart of London's
maritime heritage. Over the next 12 months we will be visiting various locations around the
planet where you can meet our Perfumer, Russell Newell, and experience our products 1st hand."
Their site is an e-commerce
and the perfumes can be purchased online via Paypal