Maison Francis Kurkdjian To Open by Summer 2009: New Fragrance House Goes Beyond The Niche Concept & Opts for Pluralism {Fragrance News}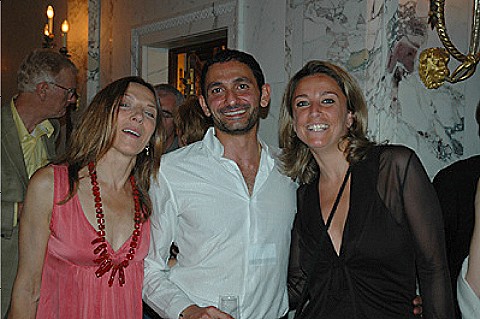 Francis Kurkdjian at the
French embassy
in Washington D.C. in June 2008
Renowned perfumer
Francis Kurkdjian
who already operates independently as a
bespoke perfumer
(also see his
malle du parfumeur
) aside from his Takasago corporate affiliation has announced that he will establish his own fragrance house in Paris by summer 2009.
It will be called
Maison Francis Kurkdjian
and will be located in the first arrondissement of the French capital city.
The name Maison Francis Kurkdjian promises to recover a new multi-layered reality of the perfume scene and perhaps inspire others in the future. One of the things it is not? A brand,
bien sûr
.
The interesting aspect of this non-brand project is the complexity and comprehensiveness of the concept that guides the foundation of the perfume house and its aim in particular to go beyond the by now classic concept of "niche perfumery"....
Serge Lutens recently quipped that he, one of the main creators of this concept, had to realize that by now niche perfumery was like a very pretty girl that had turned out badly. This unofficial implicit label of quality has become something of a milk cow for a number of people and does not necessarily guarantee a higher level of creativity and aesthetic experience, except perhaps as more often seen than not, in pricing.
Kurkdjian promises to cut through the notion of exclusivity that can be easily manipulated and to create a versatile high-and-low kind of perfumery, even giving pride of place to products such as detergents. How customers will react to this anti-snob pluralistic move will be interesting to watch.
He also marks his affiliation to the storied school of perfumery rather than the one that likes to create taking raw ingredients or natural elements of the world as departure points, often characterized as the Grasseois school of perfumery.
According to Cosmetic News,
"the Maison Francis Kurkdjian will not, its creator insists, mark the launch of a signature brand. "It's a [fragrance] house that has its owner and friends, but not a brand. And even less so a niche brand--I don't associate myself with what one would call niche," he says, underlining that he wishes to concentrate on creating scents "centered around an inspiration, a story [rather than] guided by [single ingredients like] rose, patchouli or mimosa"--although natural raw ingredients will be heavily emphasized. The Kurkdjian house will not confine itself to the prestige channel or even to fine fragrances--its founder intends to offer products in all price ranges and is considering the possibility of rolling out a detergent in homage to his debuts at Netherlands-based fragrance manufacturer Quest International, where he co-created a cleaning products line."


Via
Cosmetic News