Samsung E 250 Cacharel Cellphone Smells of Amor Amor...ou presque {Fragrance News} {Fragrant Shopping}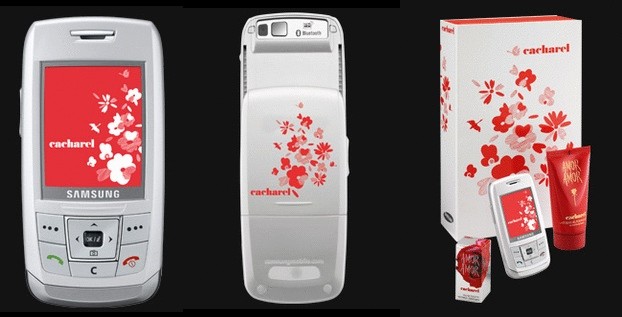 Samsung
is continuing to play the olfactory card and this time hopes to attract female customers that are attuned to the perfume and beauty worlds as well as brands. After their anonymous aromatherapeutic
lavender-scented cellphone
, the Korean brand now just launched in France a new cellphone co-branded with
Cacharel
, the
E250
, which comes together with a beauty coffret containing a Sensual Milk for the body and a bottle of
Amor Amor Eau de Toilette
. The design of the cellphone has been made to look the part, with a feminine, flowery decor,
"Samsung et Cacharel se sont associés pour concocter un mobile empreint de sensualité et de féminité. Ce E250 est en effet aussi élégant à l'extérieur qu'à l'intérieur (fonds d'écrans spécifiques). Mieux, ce mobile est fourni avec un coffret de beauté Cacharel. N'attendez pas la Saint Valentin pour faire plaisir à votre chère et tendre."...

"Samsung and Cacharel have associated themselves to design a mobile phone full of femininity and sensuality. This E250 is indeed as elegant on the outside as it is on the inside (specific wallpapers). Better still this mobile comes together with a beauty coffret. Don't wait for Valentine's Day to offer it to your sweetie."
The Cacharel cellphone includes the following features:
- A camera with a flash
- A music, photo and video player
- a compact and sliding design
- It comes together with a Cacharel beauty set
More details available (in French) on their site.
Via
Samsung in France