Nina Ricci Love by Nina (2009): Color Code Green, Smell Code Cherries & Almonds: The New Youth Theme {New Perfume} {Trend Alert}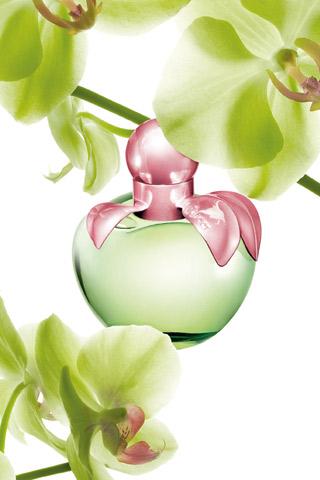 Nina Ricci
will launch a new flanker to its blockbuster French success
Nina
called
Love by Nina
in March of 2009. If the first fragrance featured a caramelized red apple, the new version goes for more freshness by replacing that central note with a tart and crunchy Granny-Smith one. The composition is by perfumer
Olivier Cresp
of Firmenich who is also the author of the original Nina (with Jacques Cavallier)....
Other notes included are almonds and cherry blossom blended with frangipani. The scent promises to be both creamy and a bit tart. Added: well, yes and no. It's mostly creamy and a loyal-to-the-death copy of Nina. See
review
)
The cherries and almonds notes are fast becoming the new smell du jour in perfumes for young women. This ubiquitous accord is to be found this season in
Guerlain
La Petite Robe Noire
but also
Lolita Lempicka Amrena Whim
, a limited-edition, which is much better than the
Lolita Fleur Défendue
of last year which also had those notes. Let us not forget
Britney Spears Hidden Fantasy
.
The red bottle turns green for the occasion making it look more like the original DKNY Be Delicious.
Love by Nina
is a limited-edition and is priced at 49 € or approximately US $ 62.
Via
Vogue.fr