Editions de Parfums Frederic Malle Geranium pour Monsieur (2009): Brash Masculine Floral or a Green Fougere Gone Black {Perfume Review}
As reported
last time
,
Géranium pour Monsieur
is the latest
Editions de Parfums
launch due out in May 2009. Evolving from a brash and super fresh opening to further green crushed freshness then floralcy and dark woodland obscurity, it is touted as an innovative take on the traditional showcasing of geranium (not the rosy kind, but the green leafy kind), a key note used in masculine colognes called fougeres (fern) in reference to their eponymous ancestor Fougère Royale by Houbigant (1882) a creation by perfumer Paul Parquet made possible thanks to the synthesis of coumarin by Perkin in 1868 with its freshly mown-hay nuance.
In a slight departure from the overall professed unisex creed for the house, it is the third perfume by Frédéric Malle to appear with a more marked masculine persona after Vétiver Extraordinaire and especially
French Lover
(French-market name)/Bois d'Orage (US-market name)...
This could not be just a marketing positioning as Géranium pour Monsieur presents itself as being primarily motivated by the idea of rethinking the aromatic fougère genre, one arguably inescapably perceived to belong to a masculine universe for most people in the beginning of the 21st century. It was initially inspired by Malle's working on his soap Antérénéa and his encounter with "neglected" geranium notes.
This type of scents is characterized by what has come to be identified as a fresh barbershop olfactory aura despite some "tweedy" feminine perfumes which appeared in the past such as
Jicky
, Alpona, Dana 20 Carats, Tweed, Tweed Bouquet by Lenthéric, or closer to us, the modern-traditional unisex fougère, Un Bois Sépia by Serge Lutens, with a more recent attempt by Sarah Jessica Parker at conquering the genre for women with the addition of cacao in
Covet
, "
a fougere on estrogen
"...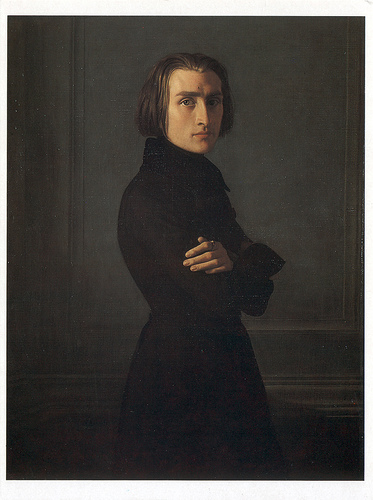 Portrait of Franz Liszt (1811-1886) by Henri Lehmann (1814-1882) © Musée Carnavalet (Ph. Pierrain)

Ingredients for the fragrance are: Mint absolute MD by laboratoire Monique Rémy, (by molecular distillation), peppermint essence, Chinese geranium essence, Rhodinol (only keeps the fresh facets of geranium), Anethone, Floralozone/cinnamon CO2, clove essence/white musks cocktail, Ambroxan, sandalwood, incense resinoid, Siam benzoin resinoid.
The brand calls the perfume "
deceptively simple
" and describes it as constructed around generous doses of natural ingredients. Malle adds that if offers "... a new form.."
The Masculine Side
The very first impression of Géranium pour Monsieur
au débouché
is that this is an intensely masculine fragrance. What the cologne suggests further in the course of its development however is that self-confident masculinity must rest, for Frédéric Malle and Dominique Ropion, on a deep-seated geological layer of femininity. Adam might be descended from Eve's rib just as much as Eve is officially descended from Adam. Frédéric Malle himself has said that he wanted to avoid an overly caricatural rendition of masculinity in this fragrance,
"Géranium pour Monsieur est à mes yeux une alternative aux fougères aromatiques, dans un genre moins bêtement viril, mais néanmoins furieusement masculin."

"Géranium pour Monsieur is in my view an alternative to the aromatic fougères, in a genre that is less stupidly virile, but nevertheless extremely masculine."


The opening is black, pungent, rather uncompromising with a strong citronella (geranium's main aromatic components are: citronnellol, geraniol, formiate de citronnellyle, formiate de geranyle, iso-menthone, linalol) and super fresh peppermint going in the direction of blue spearmint (the latter especially when sprayed on abundantly) emerging from a pitch dark, wet-leather oud-like and musky-amber-y pool of black. Main initial facets are minty, peppery and leathery.
With French Lover, there was an explicit attempt at capturing the smell of a man and I have to say that this one succeeds in that area in my view as I realized upon re-entering the "testing room": some men naturally smell like that, a bit oud-like which I decipher as something smelling akin to "wet leather" and, yes, "wet rum/tobacco".
The mint impression itself is not light and tea-like as in Roadster by Cartier but on the contrary is a bit savage, weighty, dissonant, dark and cold. On a blotter, the mint becomes almost surrealistically fresh and glacial as if wind cooled down by snow on a mountain top was blowing under the tip of your nose, with nuances of cold minerals. It is warmer on the skin. As the perfume evolves, the mentholated nuances of the mint diffuses slowly but at an even level. There is an oyster-smelling, Calone-like facet that adds a metallic tang to the brash first impression. There also seems to be ambergris as a salty-sweet fishy nuance appears. As the fresh mint dies away it is replaced by a high-altitude oxygenated feel.
The perfume is fresh without recourse to any obvious watery effect but rather through the sensations of bruising geranium leaves and thanks to the airiness of mint. Malle and Ropion were aiming for fresh, and it is, only counterbalanced by the sensation of some more opaque animalic presence in an obscure humid cave.
The lemon-grassy nuance of geranium was strongly underlined suggesting the intense pleasure of crushing sappy geranium leaves in one's fingers. Spicy undertones of clove suggesting carnation by association together with mace, star aniseed and anise, also add their masculine, exotic touch suggestive of Bay Rum effluvia. The perfume betrays a discreet undercurrent of vanillic creaminess to sweeten and soften the brew.
I was told a little unexpectedly that Géranium pour Monsieur smelled of bubble-gum. It is possible that it might recall cinnamon gum sticks to American users.
Dior Homme Sport
also played on a voluntary cultural association with its Red-Hots accord. Perhaps it is not by chance that it was hinted at in the mix, just like Musc Ravageur echoes to some degree the scent of Coca-Cola.
There is a recognizable dash of a certain hard powdery musky-ambery note that is ubiquitous across the market these days, which is also found in
Nuit de Cellophane
by Serge Lutens, Bobbi Brown
Almost Bare
and
Avon Flower
, for example. In the press material "modern musks" are mentioned.
At this point I think that Dominique Ropion working with Frédéric Malle is showing that side of
his work
that is more direct and bold, as apparent in his big compositions such as Ysatis, Amarige, Safari for Women, Pure Poison but also his dark slightly gloomy side as in Une Fleur de Cassie.
After a little while the perfume mellows down gaining on a slightly more balsamic, vanillic and rounder tonality but still maintaining this green-metallic-citrusy edge which is peculiar to geranium. One now picks on a fecal, Skatol-type nuance which offers a supplementary hint as to the identity and depth of this dark base that appears from the start.
The Feminine Side
The subtle floral nuances of the perfume make sure that a progressist, urbane message gets across and that men who will wear the scent are moved to evolve towards more sophistication, if needs be, or do not feel alienated by an obligatory display of right-thinking machismo in case they would prefer to let their perfume express their views. As Malle said,
"There have been many florals for men,Geoffrey Beene made a fragrance called Grey Flannel, which was a violet for men. Sophisticated men were used to wearing toiletries that were floral. I didn't invent floral for men, but I'm just bringing it back." (Fashion Wire Daily)

Despite its masculine dedication in the name and the genre reference, the composition, for me, invites women to wear it as well, who will be able to go past the energetic splash of re-conceptualized aftershave in the opening. The softly thrumming harpsichord-like subtle floral harmonies that inhabit the scent are again and again, divine, evoking to me the sweet indistinct scent of meadows in the springtime as if a still-green step away from being turned into
millefleurs
honey. It is a very faithful evocation of the much vaunted freshly mown hay nuance, with this subtle natural sweetish blended-in wild flowers nuances. Smelling such a meadow in the spring is literally drinking nectar through the nostrils.
The perfume is quite multifaceted as each wearing yields differing impressions although a core scenario remains. The place where I feel most "instability" is in the floral impressions, going from vernal meadow to Diorella by Dior to the woodsy saffrony rose in
Magnifique
by Lancôme.
I pick up on a discreet fruity peach nuance that I thought the first time was very much part of a quote of Diorella. In Un Bois Sépia one can find a similar slightly incongruous orange peachy nuance in the midst of a green fougère composition minus the Diorella impression, and even more apparent, if memory serves me well. Edmond Roudnitska described his creation Diorella (1972) as a perfume with "a touch of chypre" and Michael Edwards classified it as the first fruity-floral. Nigel Groom resolved the tension by calling it a "fruity-floral chypre". More recently we have seen Diorella being reactivated in chypre perfumes by Amouage in Jubilation for Women and Molinard/Aedes
Une Histoire de Chypre
. There is a certain sobriety to Diorella I think that could be used as a basis for a more feminine fougère idea, if pushed in a certain direction, but in truth I would need to go back to it to smell it from that angle.
Un Géranium pour Monsieur is more than the sum of its parts. In other words, as the composition warms up and liberates its personality, it starts smelling divine. The cologne takes on a peppery peachy nuance, sweetens, and betrays more floral overtones of rose and violet but as if they were held in check. You cannot visualize flowers but you can sense their presence, very close to the style of
L'Homme by YSL
, also co-created by Ropion. There is something here also that reminds me of
Magnifique by Lancôme
in this sensation of exotic woods coupled with rose and spicy saffron. A waft-back effect conjures up a fruity rose. This fruity-floral quality becomes evident after about half an hour. It smells familiar: I realize that it smells like the
chypre-replica that Molinard for Aedes
tried to be but did not achieve, in my view. There is this Diorella quote, but made woodsier.
What is New...
Women will be able to wear this fragrance as a fruity-floral woodsy scent. Men will enjoy the rush of sensations in the beginning, which seems to be the most blatantly masculine part of the scent, to be appreciated like the sensation of a rush of strong Dijon mustard. The drydown is woody and ambery, seemingly not complex at all until it lets out these almost invisible fruity nuances that seem to come from elsewhere. And then you smell, again, like a meadow in the springtime with nary a fern in sight. They just operate from a distance, invisible olfactive presences meant to cool down the atmosphere and cast an ambient green and here almost black sunless light. Fresh, yes, but clean, not really. Brooding, really.
Is Géranium pour Monsieur a "new form" of masculine fragrance? I am more certain at this point that it is a new atmosphere than a new form from start to finish, in part perhaps due to the high level of natural ingredients which give it relatively less stability and reproductibility. Experiencing variations tend to be perceived as atmospheric changes and shifts rather than instill the idea of a new form to my psyche. Perhaps a new form would require a more crystal-clear, repeatable structure. I don't know. What I feel however is new for this type of fragrance is the proportion of natural versus synthetic ingredients which conveys this idea of an organic form that evolves at each application.