Juliette Has a Gun Calamity J (2009): Fronted by a Naked Lou Doillon: "A Masculine Scent for Women" {New Perfume} {Celebrity Fragrance}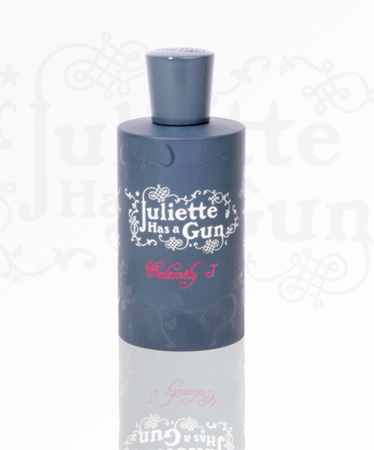 Juliette Has a Gun
is preparing to launch a new fragrance called
Calamity J
. Funny, because this time the confidential fragrance label is turning to French star power by hiring the daughter of popular actress Jane Birkin and movie director Jacques Doillon,
Lou Doillon
. When you say "Jane" in France, you don't think of Calamity Jane but rather of Jane Birkin, the ex-wife of singer Serge Gainsbourg, or maybe Jane Fonda too, the ex-wife of Vadim. It may also conjure up Jane, the companion of Tarzan.
Lou Doillon has a rocker charm that will go well with the gun-smoking, hold-no-barrels-in-the-domain-of-seduction imagery of the perfume house. In fact, the advert shows a bare-chested Lou photographed by
Sonia Sieff
, a sight that will probably fly better with the authorities in France than in some other countries. I would not have noticed it so much if the thought that a niche perfume house was not only taking the celebs route but on top of that counting on the eternal appeal of nakedness to boost its sales, made me smile. Niche fragrance houses are deemed purists and in principle destined to fulfill more than others the difficult mission of calling attention mainly to the jus itself.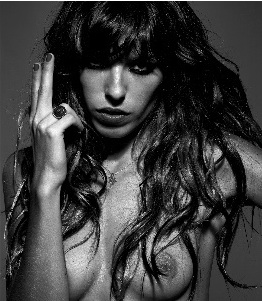 Another twist is that Calamity J is dubbed "a masculine for women" -- not a "unisex" mind you, what an ugly-fuggly word obviously -- in the sense, for founder Romano Ricci, that it rests upon a patchouli-musk accord evocative of "
the perfume of a dandy, masculine yet sophisticated.
" The dandy is quintessentially masculine but can teach a thing or two to women in his field, elegance...
The perfume is firstly defined by what it is not. It is not a floral, fruity or hesperidic fragrance. It puts the accent on a woody-ambery personality. Notes are: a masculine base made out of patchouli together with amber, iris and musk.
Romano Ricci said that he was not excluding the possibility of keeping Lou Doillon as the permanent face for the collection.
In the perfume-cum-celebrity news, you will also be able to contemplate the face of Lou Doillon's half-sister, Charlotte Gainsbourg who just won the golden palm for best actress at Cannes Festival and will be gracing the ads of the upcoming
Balenciaga perfume
.
Other alternative labels like Etat Libre d'Orange and Comme des Garçons have not hesitated to follow the very mainstream trend of celebrity fragrances, but as
I remarked earlier on
, the celebs selected are different, more in their image, more underground-culture and less full-on glam.
Via
Fashionmag.fr
;
flavor-magazine.com