Kate Moss Vintage (2009): Smells Familiar & Not Just Because It Makes Me Think of a Gibson-Girl Plate {Perfume Review} {Celebrity Fragrance}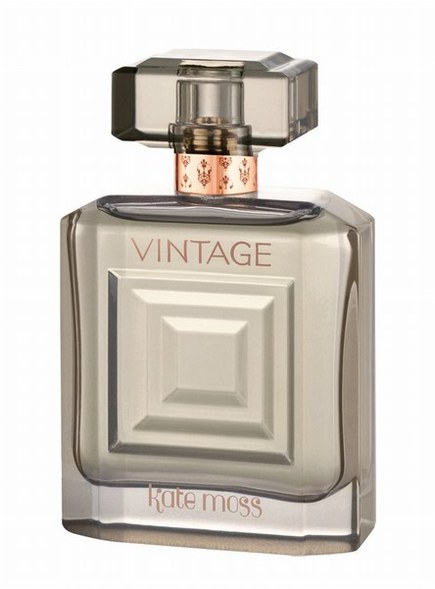 Kate Moss Vintage
is the most recent launch by the Kate Moss franchise after
Kate
(2007),
Velvet Hour
(2008) and Kate Moss
Summer Time
(2009), just introduced in September. It is billed as a "fruity-floral oriental" and...shock!...was created by perfumer
Olivier Polge
of IFF who, as it turns out, was hired to play the role of the invisible man because just about anyone with good plagiaristic skills could have performed the job.
The problem with calling attention to perfumers is that they do have their personalities and preferences but they often have to self-efface in order to be good listeners, to celebrities for example. In this case however I find that a threshold was crossed into the realm of odious copying. Honestly, if a perfumer cannot resist at his or her own level in the process of fragrance-making, they might just as well be replaced by robots and electronic noses.
Note are: pink peppercorn, white freesia, mandarin, heliotrope, jasmine, almond blossom, tonka bean, vanilla and musk.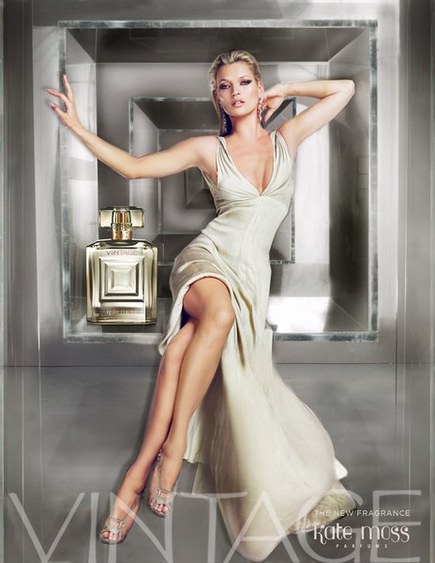 The main inspiration for the scent is Kate Moss's self-confessed love for anything vintage, except she quipped, for old men. If I were to find a time period and a style that encapsulates this brand of vintage olfactory form, I would have to say that it makes me think of a Gibson-Girl plate most, not even a photography, due to the sketch-like aspect of the perfume.
Vintage by Kate Moss opens on both a very powdery and fruity accord (mandarin) which seeks to be slightly innovative, with a woodsy and almond-y undertone. The composition readily smells familiar besides the Johnson and Johnson baby powder accord which dominates, but I can't quite put my finger on it at first.
I had to go on a little meditation retreat to reflect upon this puzzling sensation.
The result:
To me it evokes the olfactory ambiances of the following powdery scents: Teint de Neige by Lorenzo Villoresi...I Profumi di Firenze Talco Delicato...Hypnotic Poison by Dior...L'Instant Magic by Guerlain...Eurêka! It actually smells very, very close to Guerlain
Lights of Champs Elysées
(2006) with its plummy cherry-wood accord underlining a comforting powdery heliotropin. It is a simplified version of it using the main ideas from it. A travel exclusive, the perfume is not widely known and hence apparently safe for shameless plundering...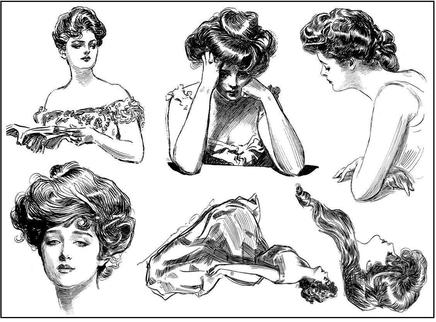 For the moment being I do not see any twist added to this composition and in fact there isn't as the perfume slowly -- well rather quickly in fact -- dies down. It was cheaply made and soon the scent lasts but in a very linear form.
A Tonka bean note emerges more independently in the drydown as the scent evolves from powdery to creamy and oh-so slightly resinous and sticky.
Going back to the premise of the scent - vintage fashion and vintage style in general - it seems that someone thought that the best shortcut to take in this case would be to tap into the retro persona of heliotrope, a popular
odor
in the Art Nouveau period. They then turned to baby talcum powder, a popular smell- to-scent note in the 20th century with nostalgic inflections which was first introduced in 1893 as Johnson Toilet Baby Powder. Finally they chose to take a copy-and-paste approach to a Guerlain reworking of one of their own signature accords. Indeed, Lights of Champs Elysées is one of those Guerlain fragrances that play a riff on one of their own classics and here pays homage to L'Heure Bleue. We know that Kate Moss loves l'Heure Bleue, so it all makes sense, somehow.
I have also ordered a bottle of Velvet Hour to get to the bottom of this. So now I am thinking that what I had speculated upon, the possibility of a Guerlain L'Heure Bleue quote, might verify itself for that one too.
I would consider Vintage by Kate Moss to be the poor man's version of a classic and a long good bye to one's baby memories rather than any serious take on the idea of a vintage fragrance. Where is the humor? Where is the style? Where are the ideas?
Vintage by Kate Moss thus cannot be admired for its innovative spirit and risk-taking but to be fair, the perfume manages to resolve itself into a nice-smelling skin scent with a gentle puff of powder and cherry intonations of wood (a bit olive-like) and flower and even a discreet trace of burnt wood and incense-y smoke which could come from the vanilla. There is a salty floral-musk effect too. I seem to catch a discreetly fresh aniseed note that would bring us back to IPdF Talco Delicato. The longer, slightly sticky musky-ambery drydown is also reminiscent of the whale amber in
Ambre Gris
by Balmain. If the smokiness had been pushed, it could have been cataloged as an honest twist on a standard, but here I have to conclude that the people who developed Vintage By Kate Moss cut their costs all too obviously by benefiting from the efforts of someone's else's R & D department.
Note that it does not smell like the retro powdery opera that Ombre Rose by Jean Charles Brosseau is, which is a relief given the crowded borrowings to be found in this scent. On the other hand, it does remind me of another scent yet,
Gap Velvet Bloom
, complete with the citrusy-musky facet in the drydown.