L'Occitane Labdanum de Seville, Mimosa de l'Esterel (2009) {Perfume Reviews}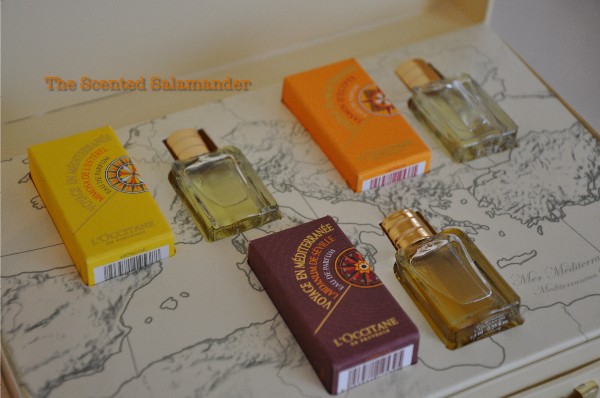 Labdanum de Séville
and
Mimosa de l'Estérel
are the two latest additions to L'Occitane Mediterranean collection previously named
Notre Flore
but which has now been re-christened
Voyage en Méditerranée
(Travel in the Mediterranean). There are new flacons as well; if you liked the antique compass-themed cap from the original bottles, buy them now because the plan is to phase them out when new batches will go into production (but the juices themselves will remain unchanged).
Voyage en Méditerranée now comprises seven perfumes.The original quatuor included Myrte (see my
review
), Néroli, Cèdre, Iris (2007). Jasmin d'Egypte was added in 2008 as
Le Jasmin
, then won a prize; it has since then been renamed Jasmin d'Egypte to cohere with the ensemble of the collection now preferring to make use of names offering combined references to both a typical raw material and a locale of the Mare Nostrum region.
At press time, I did not have the names of the perfumers. If I receive them, I will add this information.
L'Occitane visibly tries to offer decently made perfumes and value. When you look closer, you might realize that 55 € for 75 ml is maybe not as light a price compared to designer perfumes, but they very adroitly succeed in making you think that the brand is about simplicity. Their perfumes are like the next step-ups from what you would normally find in a bathroom, say an eau de cologne or an eau fraîche, yet are still reminiscent somehow of the no-froufrou vibe of these surroundings (at least in most homes)....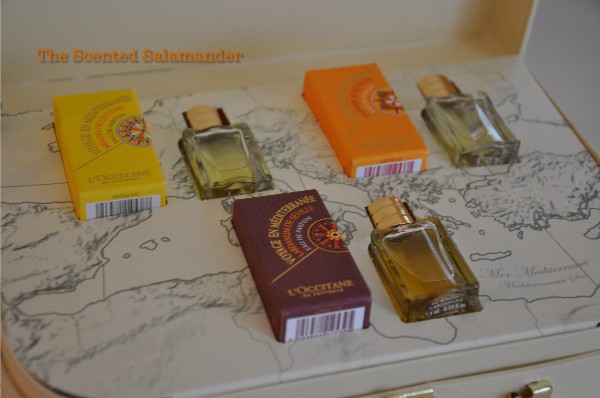 It seems that encouraged by the Marie Claire prize the brand received they have decided to be a bit more ambitious for their perfumes and I would say that both Labdanum and Mimosa are slightly more sophisticated than a number of other l'Occitane scents while maintaining an unpretentious approach
I find both new perfumes to be more subtle than and an improvement over Jasmin d'Egypte which to my nose although pleasant enough I find a bit migraine-inducing and certainly a bit heavy-handed on the vanilla pitch, a sure sign of a naïve demagogic approach when it stands out in this manner smelling too much of meringue. Instead of blending in, it calls attention to itself in a jasmine composition. Nice drydown though.
Labdanum and Mimosa seem to have gained confidence and to be more natural. They want to charm you rather than want to lasso you in and for example this time, the vanilla treatment in Labdanum makes sense with regard to the whole instead of feeling like a calculated addition.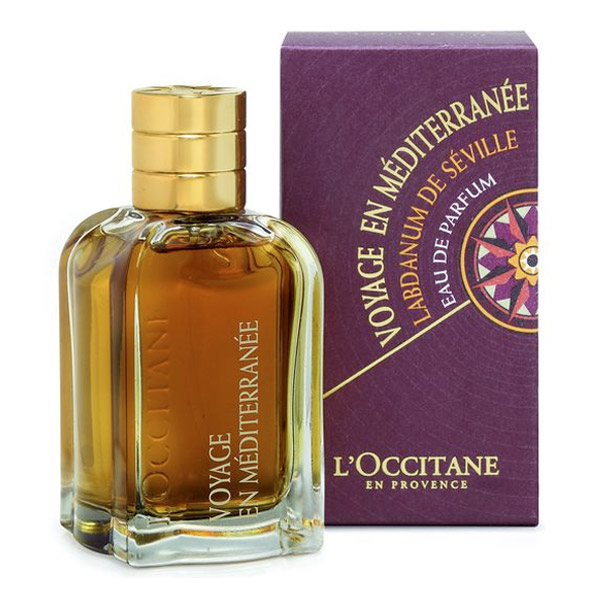 Labdanum de Séville
Notes: citruses, spices; labdanum; benzoin, vanilla
Labdanum is a soft oriental with both a linear and enveloping personality. It develops notes of sweet amber, vanilla, a hint of iris for softness and butteriness (understated), cedar chips, wood, ambergris, incense. The longer drydown is softly incensey, a facet of labdanum. The perfume now feels mellow and autumnal. I am sure that in the summer it would appear to be solar and dry thanks to a dry note like helychrisum. It has a shy dry-fruit edge.
Overall it is a nice, simple fragrance like a fruit-of-the-loom-tee-shirt version of the more ambitious orientals signed by Serge Lutens or again, a more honeyed and simplified version of Ambre Gris by Balmain. It manages to not be too simplistic thanks to the soft modulation of liquorishy golden notes that calls to mind Frapin 1270 but in a simplified, again, fashion.
As far as the labdanum note is concerned, it is not very marked to my nose, with the vanilla still taking over somewhat. It evokes a bit a warm clovey apple pie or maybe tarte tatin topped with vanilla ice-cream. It is rather nice in the way that there is a sustained, discreet intensity to the scent which gains momentum overtime. Labdanum might also have been inspired by Ambre Narguilé by Hermès.
It is an unpretentious, warm, sensual and discreetly gourmand perfume.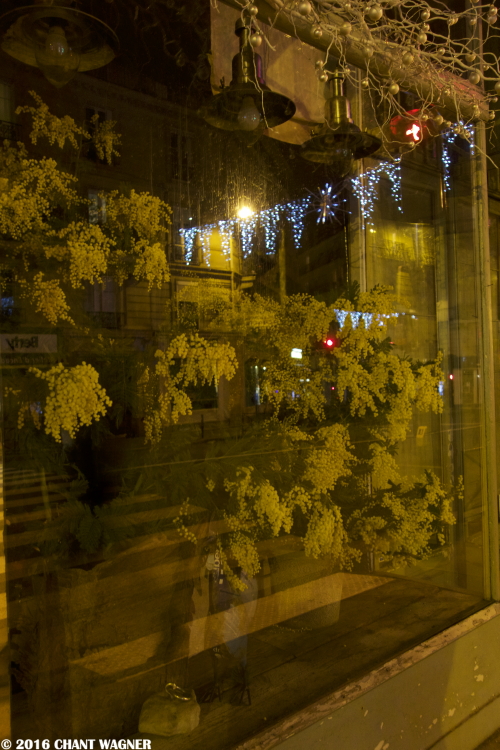 Mimosa de L'Estérel
Notes: violet leaves; mimosa; almond accord
Mimosa was composed as a realistic rendition of the flower called Silver Wattle in English. It is a genuine attempt at chiseling out the scent of mimosa. The perfume in some way is close to the mimosa composition by Guerlain Champs-Elysées, but with added realistic nuances and more green.
Mimosa or Acacia Dealbata is one popular winter bloom in the south of France: I can never forget the sense of intoxication experienced during the winter festival at Bormes-les-Mimosas with parade floats dripping with flowers and their scent permeating the air. I have to say that Mimosa de l'Estérel is probably the closest to a natural atmospheric scent of mimosa that I have come across with its ever so slightly green peppery powderiness. The composition is green, fresh, powdery, with hints of basilic, peach skin, prune, strawberry jam, mint, blanched iris root, aniseed. Smelled from afar it is a convincing and faithful rendition of the delicate scent of mimosa, with more nuances of it that were preserved than is the norm, even with this hint of musky decaying brown banana skin note and woody undertone. Closer up the illusion tends to fall apart into its different constituting elements like a seemingly tight pointilliste painting by Georges Seurat one would be looking at in a room lacking space and hence perspective for the eye. Suddenly the whole picture melts away and you are left with its constituting elements. The distinction here being that the perfume, like pointillist painting, is not completely "blended" but has to be blended at a distance by the nose. In other words, you can perceive the skeleton of the accord and I don't think that this was a desired effect because that other level of perception is a bit chaotic and eclectic rather than smooth.
I do not know if this is considered a minor technical flaw by most perfumers because it is rather unnatural to smell a perfume up close. At the same time, since perfumery is an art and a craft, I would not be surprised if just like in fashion where a clothing has to work whether you are moving or sitting or jumping, that it might be considered a technical hurdle to overcome.
How to create illusion while masking the illusion fully?
In conclusion I would say that I would recommend Labdanum de Séville more as a no-fuss, nice and warm ambery scent than one which captures the delicate nuances of cistus ladanifer. It is longer lasting than Eau d'Iparie or Ambre EDTs for example. As for Mimosa de l'Estérel, it certainly can satisfy your fresh mimosa cravings, in all simplicity.
Both perfumes tend to leave lasting impressions as one-note compositions or soliflores as was, I believe, the original intention.