Alexander McQueen RIP (1969-2010) - Updates {Fashion Notes}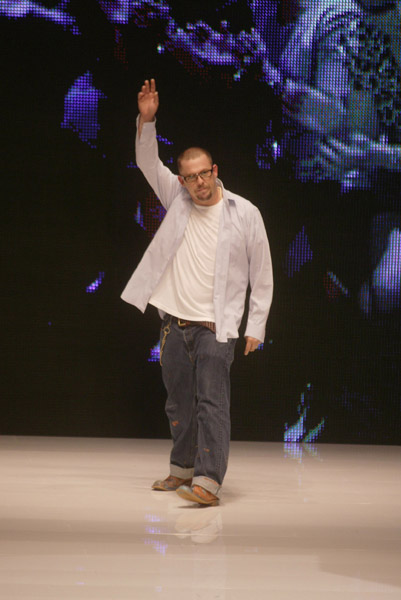 Alexander McQueen with Annabelle Nielsen on October 15th, 2009 in London
OMG -- Designer Alexander McQueen was found dead in his home in London on Thursday February 11th, 2010. He was only 40 years old. His death is reported as a suicide. His office said,
'It is a tragic loss. We are not making a comment at this time out of respect for the McQueen family.'...


Just this morning I was looking at his perfume Kingdom thinking I ought to review it and what a creative presence he is.
Kingdom was launched in 2003 as Alexander McQueen's debut fragrance. The designer was very conscious of its originality. The scent story evoked a kingdom only inhabited by women. In 2005, a second perfume followed called My Queen which was meant to be a tribute to childhood.
The fashion thinking-head used to be
fast friends with Isabella Blow
who discovered him and promoted him fresh out of Saint Martins. She too took her life in 2007. In 2008, Alexander McQueen paid homage to her by leaving a bottle of Fracas by Piguet on each of his guests' seats at his Spring 2008 fashion show.
The designer was due to make a presentation today as part of fashion week and was just a few weeks away from his fall-winter 2010-2011 fashion show.
One of his latest buzz-gathering contributions to fashion and arguably visual culture have been his visionary Armadillo shoes worn by Lady Gaga and
Daphne Guinness
.
Update:
The Sun
suggests that McQueen became depressed after the death of his mother Joyce a week ago. He was found hanged in his apartment.
2nd update: The NYT published an
obituary
.
Update: An
obituary on the BBC with a video
In a 2004 interview conducted by his mom Joy
, Alexander McQueen had answered at one point her question "What is your most terrifying fear?"
, "
Dying before you." To which she had replied,"Thank you, son."
Update:
His Body is Removed in London
Via
Vogue.fr
;
Huffingtonpost