Lady Gaga Struts Armani and Prada on Monster Ball Tour {Fashion Notes} - What Perfumes Celebs Love to Wear {Celebrity Fragrances}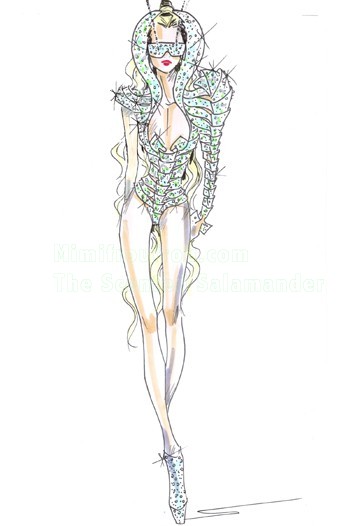 While Lady Gaga is preparing to launch
her own fashion label
with the support of Versace, she is counting on the talents of Armani and Prada to dress her for her Monster Ball tour. Turning to both Italian designers, she got contrasted propositions. I think we are seeing a trend called Lady Gaga loves Italian Fashion. And who could blame her? It's always been so feminine and sensual a fashion for women...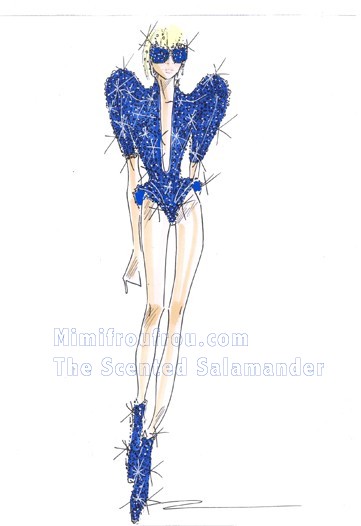 Designer Armani picked on her show-girl, bare-legged - not to say partially crotch-and-derriere-revealing - style proposing two body-suits appearing to be a cross between the movie Alien and the Radio City Rockettes. There is also a mini dress and a floor-length patent trench coat.
Lady Gaga's taste for extremes was duly noted, apparently.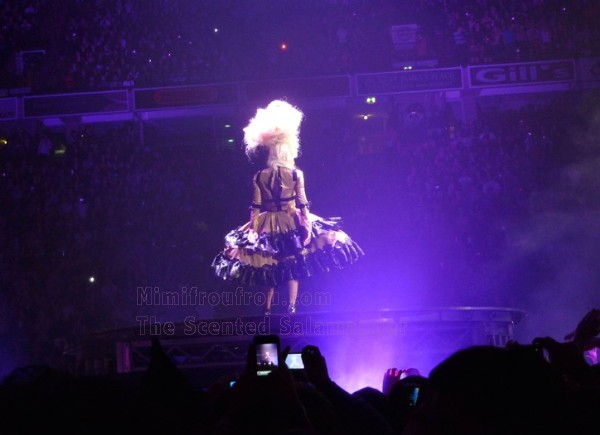 Prada proposed a completely different look based on a theatrical, oversized and slightly grotesque (in a good and cultivated way) take on 18th century courtly European fashion. The singer can thus be seen sporting a
panier
as well as a gigantic pouf reaching for the skies.
It's always interesting to take a peek at Lady Gaga because going further than Madonna who re-invented her look every few weeks or months, or at each show, Gaga seems to re-invent her look every day. Of course, there is a co-feeding phenomenon with the internet and up-to-the-minute blogosphere.
I hope they do a documentary on her sartorial habits and thinking because it is high-energy.
I'm also waiting to hear about an upcoming Lady Gaga perfume although her taste in perfume is not as wild as one might think, in fact not by any stretch of the imagination. The Lady Gaga prefers her scents to be fresh and not in-your-face. She is reported to have said that she favors Ralph by Ralph Lauren and Daisy by Marc Jacobs.
Pics via WWD.