Narciso Rodriguez Goes Iridescent (2010) {New Perfumes}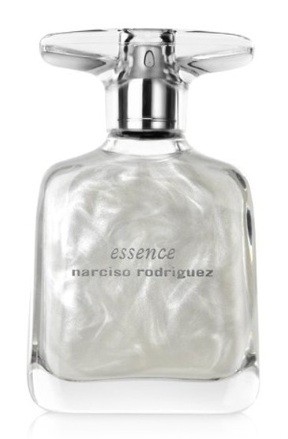 {A fragrance review of
Her Iridescent Fragrance
has been added to the blog!}
Fashion designer Narciso Rodriguez is following up on the 2004 and 2009 launches of Narciso Rodriguez for Her and
Essence
with new, lighter twists. The new scents are called Narciso Rodriguez for Her Iridescent and Essence Iridescent and are said to be true to the originals while making the compositions be more shimmering and luminous versions of those...
The brand seems to like to use this metaphor of light to convey the idea of a more delicate composition while most brands rely on less creative denominations such as "Light" and "Summer".
To further illustrate the originality of their own terminology, Narciso Rodriguez is releasing re-designed forms of the scent bottles.The pink glass block of Narciso Rodriguez for Her EDP is now nacreous.The
mirror flacon
for Essene was co-signed by designer Ross Lovegrove and couturier Narciso Rodriguez. Essence Iridescent is now contained in a bottle with a pearlescent coating imitating mother-of-pearl seemingly keeping in tune with a taste for pure, white scents this spring and summer 2010.
"The velvety fragrance leaves skin delicately scented and iridescent, like a veil of silk."


Both Eaux de Parfum are now exclusively available at Saks, $78 and $58 for 100 ml and 50 ml respectively.
Pictures courtesy of Saks