Marc Jacobs Apple, Biscotti, Pomegranate in the Pâtisserie Splash Collection (2010) {Perfume Reviews}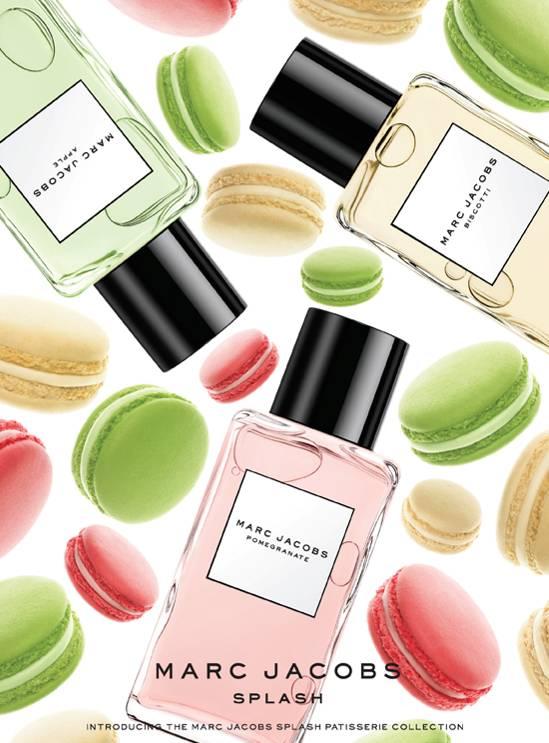 The
Pâtisserie Collection
by
Marc Jacobs
is a new limited-edition trio of perfumes in the Splash series which was inaugurated in 2006 with
Ivy, Violet and Amber
. In 2010, the inspiration are
macarons
, the trendy, ubiquitous, urban pâtisserie du jour. In Paris, they are everywhere, in all colors, one shape, and incessantly reinvented flavors. You can even wipe the muck off your shoes on their images with the new macaron doormats just out this spring. It was only a matter of time before a savvy perfumier understood that fragrances needed to express their inner macaron. The concept here is to evoke eating delicious pastries on a beautiful summer day.
The Marc Jacobs trio comprising
Apple, Biscotti
and
Pomegranate
($68 each for 300 ml) is actually not that literally about macaroons but rather uses the images of adorable macarons on the advertising as a sign of playfulness, gourmandise and trendiness. This is also exactly what takes place in Paris now: people use macarons to signal other things than just a bite of the dainty sweet sandwich. I even saw a modern painting gallery use those pretty signs to call attention to serious art.
Did you say "
macaron
"? You've got my attention.
Apples and Driftwood by
Rooted Harvest
Apple
The fragrance is signed by perfumer
Yann Vasnier
of Givaudan and is offered as a "fruity-citrus."
Top Notes: green apple, lemon, grapefruit; Heart notes: rosemary, jasmine, magnolia; Base notes: coriander, cardamom, driftwood.
The composition opens on the scent of a crisp raw apple slice cut fresh but is soon followed by a more gourmand, dessert-y development in which the apple has been sweetened with some sugar and even sugar cane syrup. It is not sticky-sweet but feels like the consistency of a lemonade with an extra helping of sugar (the lemon accord.) The sweet notes are counterbalanced by a more woodsy, mustard-y, almost prickly impression that cuts through the sweetness. This is the spiciness of coriander and cardamom allied with the driftwood note which comes across as close to cedar wood...
As you wait further for the scent to unfold, the driftwood note finally comes floating to the surface: it has that typical smell which is not too far from a hay note, with nuances of paper and papyrus but as if all this unusual woodsy bouquet were heated by the sun and washed out by the elements. It feels like eating fresh
chaussons aux pommes
or apple dumplings on the beach in the summer reclining against a driftwood log. This is a very summery composition and an unusual one: who would have thought that your vacation could smell of combined driftwood and green apple? The close-to-the-skin fruity-woody scent is winsome. I particularly like the way in which the perfume suggests a gentle seaside breeze bringing you the aroma of an apple-y dessert to your nose. Also I have to add that this might be the best - because it is the subtlest and most realistic one - rendition of a driftwood note I have been able to smell so far.
Perfumer Yann Vasnier would know, he was brought up in the coastal region of Brittany in France. I see the scent as an unisex fragrance as men, I think, will be able to appreciate its blond hay and light tobacco nuances which make up the driftwod accord.
Biscotti
The composition is by
Richard Herpin
of Firmenich and it's seen as an "hesperidic floral."
Top notes: bergamot, freesia, orange blossom; Heart notes: pistachio blossom, iris, muguet; Base notes: soft vanilla, creamy musk, vetiver.
Biscotti opens on an explosive, citrus-y, zingy and juicy note of bergamot made more dewy thanks to freesia. It is followed by white musks and immediately afterwards, there is a concentrated, intense note of orange blossom mingling with iris. This is not the wan orange blossom that scents baby toilet waters but the one that perfumes leather from Spain. Biscotti is actually almost leathery and animalic in its intensity at this particular stage. I find the white musks a bit on the harsh side but if you are a white soap devotee this should be a further draw for you.
Although I have consumed orange blossom in a number of desserts in my existence, I am initially surprised that this pâtisserie composition is not more on the gourmand side because this could be so obviously done. But perhaps I have spoken too soon. Indeed, now the vanillic, wheat-y scent of a biscotti drenched in orange blossom perfume surfaces.
I personally drink an orange-blossom scented coffee so if I dunked an Italian biscotti in it, I would probably get a similar sensation, minus the perfume-y intensity and the laundromat-like white musks. No, my orange-blossom coffee cup does not usually waft of Tide.
When the scent softens down, it takes on very pleasant, petaly-soft effect while retaining at the same time a floral-nectar-like intensity. For those in the know, it is not unlike
Beige
by Chanel and its honeyed honeysuckle note. Another comparison which springs to mind is the solar, very vacation-y
Tiare-Mimosa
by Guerlain.
The drydown is absolutely delicious with a good balance of flowers and woods (the vetiver, the iris and the pistachio blossom would be woodsy) and it only gets better overtime. I think that the counter-display of biscottis in an Italian cafe decided to transform itself into a bouquet of lush white flowers instead but with a trace memory of its former incarnation.
This perfume I see as potentially being the one most attuned to the famed taste for white flowers of the American market. Richard Herpin's knack for lush, round, superlatively blended juices (Badgley Mischka, Tom Ford Private Blend Oud Wood) and his ability to deliver sophisticated gourmands (Bond No.9 Coney Island) shows here. This feels like the Vuitton of biscotti scents (how apt, if I may say so, given it's a Marc Jacobs design who showed toons could be leather-chic.) It smells insanely good. I hope they add it to their permanent collection. A must-try for floral-vanillas lovers.
I'm now looking forward to a bottle of
Forbidden Fruit by Desperate Housewives
which I recently ordered after my enchanted outing at Chenonceau (will explain later) as I realize it's signed by the same perfumer.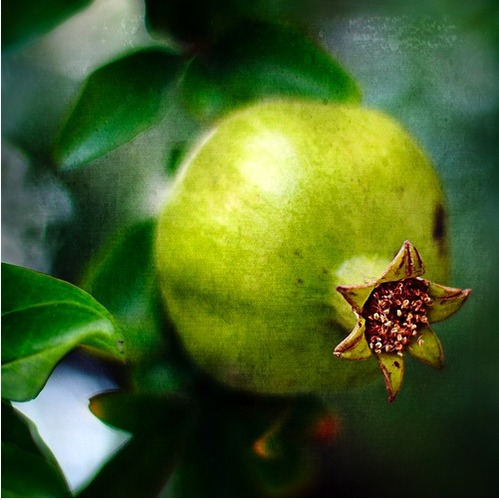 Seedy Apple by
toomanytribbles
Pomegranate
Notes: mandarin blossoms, lemon chiffon, bergamot; Heart notes: pomegranate, rhubarb, violet; Base notes: gourmand musk, amber, vanilla.
The perfume was created by nose
Patty Hidalgo
of Fragrance Resources; it's given as a "fruity-floral."
The perfume opens on a tart rhubarb note which is soon followed - like for Biscotti - by a bit of a harsh white musk note evoking the whiffs of a dutiful trip to the laundromat. I even perceive a nuance of cold burnt match. Fortunately, these are transient. The perfume becomes rounder, lemon-y, like a cross between a lemon sour and a glass of lemonade. Then the green, aromatic facet starts becoming more tangible.
Pomegranate is a soft, quiet, almost meditative scent, as if you were smelling it in a medicinal plant garden in an old-world convent. It's a green, leafy interpretation of the scent of the pomegranate more than a dark, powdery one, as is often done in perfumery, although it depends on how much you spray on. It evokes for me the vision of pomegranate fruits lying in a basket lined with fresh green leaves - the violet note here is leafy - with a handful of blackberries not far. Later on an aniseed nuance adds to the aromatic personality of Pomegranate.
What I find is one of the strong points of this perfume is the way in which the green notes mingle with the lemon-y one in a quiet, understated yet slightly gourmand way (gourmand musk and lemon chiffon.) The lemon chiffon note feels to me like a creamy lemon sour candy but it never comes across as juvenile or mawkish. The sillage is lovely, evoking, again, something like the foliage of a Florentine garden at dusk. It is a peaceful scent to wear in the calm of a patio in the summer or anytime of the year in the early morning or at dusk when life rhythms are a bit still and expectant. I suppose you could call it a restful pomegranate perfume. It is the most modest of the bunch, the one which would be best for people who are looking for the concept of a summer splash without too many ornateness and complication added to the basic idea. Your skin smells tart, a bit dark - if you apply several times - and fresh as if you had brushed your arm against a shrub. It's probably also the least gourmand of the lot although all three are never foody. The long drydown is pleasantly musky.
I find that all three perfumes have something to offer. If I had to pick just one, I would probably go with Biscotti, but I would miss the originality of Apple and the simplicity of Pomegranate. If you are looking for a day-to-night scent, I think that Biscotti too fits more that bill. Pomegranate is the most fleeting of the three - or at least the one that expresses itself longest on a hushed mode - and the one that needs the most to be reapplied frequently for a bolder effct, if lastingness is a top priority for you.