Miller Harris at the White House, in Perfumed Spirit Form {Fragrance News} {Celebrity Scents}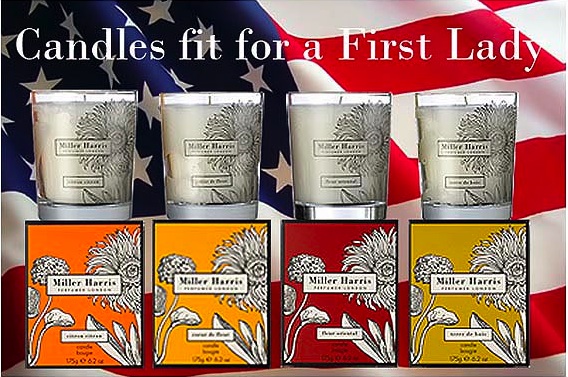 London-based
Miller Harris
are bouncing with joy today as the news have spread in national newspapers that four of their scented candles were selected by wife of British Prime Minister
Samantha Cameron
to offer to First Lady
Michelle Obama
.
Samantha Cameron is well-known in the UK for her sense of style and her taste developed formerly also as an artistic director for luxury stationary brand
Smythson
. It's further support for Miller Harris that she really does know a thing or two about style and follows her own advice instead of asking a shopping assistant to do the selection (please note that she could have also selected the Vogue pick,
Figue Amère
.)
So what were the Four Chosen Ones, in case you would like to emulate both 10 Downing Street and the White House to perfume your home?...
According to the Miller Harris press office, Mrs Cameron went to pick herself the following four scents at the original Notting Hill store:
Citron Citron, Coeur de Fleur, Terre de Bois
and
Fleur Oriental
constituting a collection of 4 candles from their Classic Fragrances.
All these scents incidentally are also available as personal fine fragrances.
Additionally, and going on a little retro voyage, if you would like to perfume your house getting inspiration from Jackie Kennedy and the Camelot era, you will have to turn to
Cyprès by Rigaud
. Jackie O loved it and the deep foresty green candles decorated with red ribbons and silvery lids famously wafted their balsamic scent from different corners of the White House.