Eat, Pray, Love...& Shop: Book Title Gets Stamped on Every HSN Item Imaginable {Beauty Notes} {Cultural Notes}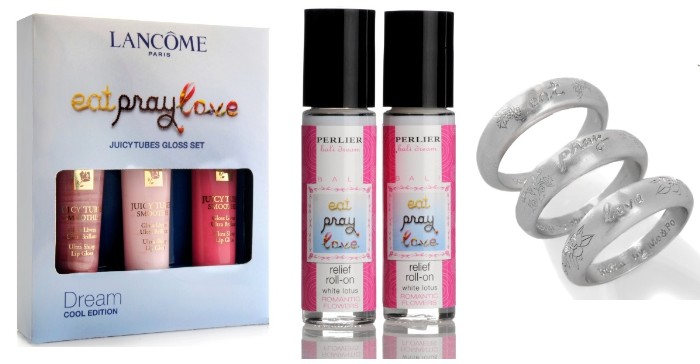 After announcing the
new Fresh trio of fragrances
inspired by Elizabeth Gilbert's bestselling book
Eat, Pray, Love
now adapted into a movie to debut August 13, 2010 and while watching the exclusive launch of
My Life by Mary J Blige
on the HSN site, I couldn't help but notice the all-out campaign which is taking place around the Eat, Pray, Love branding on the merchant site...
Do you need pillows? You can buy pairs of Eat, Eat, Pray, Pray, and Love, Love pillow cases. There are also bracelets and rings with the meaningful mantra engraved on them. Lancôme has also joined in the fun by releasing two boxed sets of 3 cool and warm Juicy Tubes under the same motto. T-shirts anyone? I should have started there.
Fresh fragrances will not be the only perfumes available which were infused with the spirit of the book. Perlier offer White Lotus Relief Roll-Ons to use on temples as well as an array of bath and body products.
It's also a good opportunity for HSN to sell items categorized as typical of Italy, India and Bali.
Who knew the full secret mantra only disclosed to initiates at the 23rd level of enlightenment was Eat, Pray, Love,...and Shop till your drop?