Revlon Bling Bling (2010): A Bling Fest is an Oh-So-Popular Concept These Days {New Fragrance} {Trend Alert}
Revlon
has launched a new perfume called
Bling Bling
which is especially targeting the Spanish-speaking markets judging from their Facebook page which details the information about the new perfume in Spanish.
The scent is said to be the love child of Hip Hop culture and that of the ostentatious luxury of Hollywood. It is about a world "
where more is better
."
The composition is given as a vanilla perfume with a touch of exotic fruit....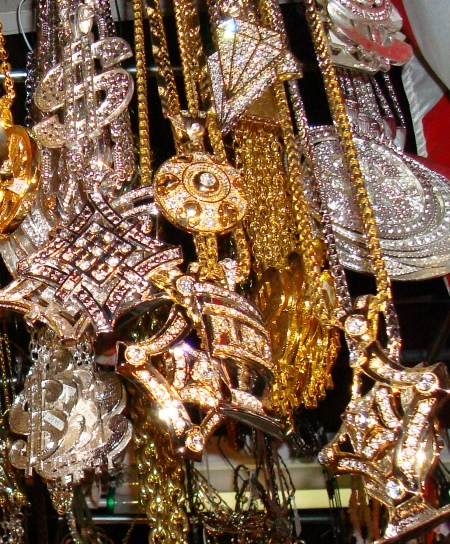 An original rack of Hip Hop and Rap bling jewelry, via dallasvintangeshop.com

The Eau de Toilette is also said to be sexy and sophisticated opening on notes of
bergamot, orange, cassis,
followed by heart notes of
jasmine, muguet and rose
. The base notes are
vanilla, sandalwood, musk and amber
.
The Bling Trend
in Parfums in the Fall of 2010
This fall we are seeing a number of references to
Bling and the cultural connotations of bling in perfumery.
Explicit ones appear with
Mariah Carey Lollipop Bling
,
Jennifer Lopez L.A. Glow.
, which claims in its ad copy that JLO and Bling cannot be dissociated - "
It wouldn't be Glow by JLO without some bling
" - and
Bling Bling by Revlon
.
On a less explicit level, you can certainly consider
Lady Million by Paco Rabanne
to hit the sweet Bling spot as well with its oversized diamond cocktail ring turned into a bottle of fragrance.
Fan di Fendi
is also singing the praises of nights of excess and shiny faux, sweaty gold.
Finally, if you're in Paris, you can go see an exhibition at the very serious Musée du Quai Branly from October 5, 2010 and until January 30, 2011 entitled
Baba Bling
about a Chinese community in South-East Asia known for its taste for lavish ostentation.