White Accords in Perfumery: So Long The 70s {Scented Thoughts}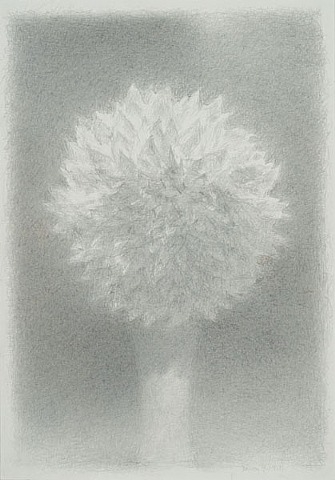 White Dahlia by Fred Dalkey, 2011
Lately, we have seen more and more of what can be neatly summarized as the new white accords in perfumery. Perfumers and fragrance creatives seem to be having a blast devising fragrance accords that they describe as "white patchouli", "white amber", "white leather," "white woods", "white moss", "white vetiver." Not to mention the inescapable, true and tried "white musk." What these terms signal to you in more down-to-earth fashion is that perfume notes which are traditionally dark, smoky and heavy, have been edited out of their dirty, earthy and animalic facets to make them feel more like Swedish design.
They are adaptative notes, born out of necessity to please the new sensitivities more than artistic statements, except in rarer cases....
We looked in the past at what it is that they call "white musk". But by now, white accords have become pervasive and more varied. In the November issue of Cosmétique Mag, in an article entitled in French "Le cuir s'éclaircit' (Leather Lightens Up) perfumer Emilie Coppermann of Symrise tallks about leathers which are "near-white" as the effect which is sought after these days. We are thus witnessing the passage from the unabashed use of Isobutyl Quinoleine (IBQ) - think Robert Piguet Bandit - to Isopropyl Cyclohexanol, which has more of a light suede effect - think Gap White Suede (discontinued) or Tom Ford White Suede.
White Florals
Before the great white musk trend, there was the denomination "white floral", which is perfumer's parlance for scents derived from white and yellow flowers. It has become associated as a genre with the idea of a wedding scent with its purity connotation conveniently ignoring the fact that this class of flowers comprises blooms such as tuberose, jasmine, orange blossom, lily, lily of the valley, tiare, frangipani etc. which can be as heady as it gets. Usually laced with indoles, the white floral bouquet in order to be called "white" in a widely accepted sense, has to be cleaned more often than not of its animalic notes.
White Musk
White musks are the scent of functional fragrances but have become beyond their origins a sign of the times. They have escaped the confines of the washing machine to be used in high-luxury perfumery not just as cheap fillers but because people really like them. Well, some people hate them still, but they are a minority.
White Luxury
If Chanel loved beige, white is unmistakably the color of privilege and of the leisure class. Guerlain in 2005 was inspired by the idea of olfacive whiteness before it was trendy because it connoted refinement and luxury, starting with Cuir Beluga in in the L'Art et la Matière collection and following up with Iris Ganache in 2007. Just like their Angélique Noire was made to feel paradoxically charcoal-like to convey a sense of exclusivity, Cuir Beluga and Iris Ganache turned to white variations of more commonly dark goods - leather and chocolate. Cuir Beluga was a reference to the luxury manufacturing of tanned white Beluga whale skin, while Iris Ganache made you dream of a white-chocolate ganache whipped up with costly buttery iris. The bland nuances of white notes also insure that the resulting sillage will not be loud but softly spoken as befitting an elegant trail for a certain school of thought. So while the whiteness of the Guerlain accords signified a quest for more refined sensations, it also translated as a by-product as a softening-down of traditionally robust notes.
White-Washed
The more recent white accords do not signify rarity anymore but an attunement to the Zeitgeist. Since everything tends to become white, the new white accords sound more and more paradoxical. They are no longer pretending to copy nature but on the contrary, they prefer to turn our sensations inside out. At this point in time, we are still noticing slight incongruities. is "white" used to lower our expectations? At any rate, it remains intriguing.
The phenomenon hinges on the turning point which was the regulation of the use of oakmoss. As a result, and as a side-effect, lighter base notes textures arrived on the market which were imposed before being sought out. Estée Lauder Private Collection Jasmine White Moss in 2009 embraced the change.
The most manifesto-like of them, White Patchouli by Tom Ford (2008) is actually quite strong as befits the aesthetics of the brand, but it nevertheless teases our sense of expectations with a white-washed patchouli housed in a white opaline flacon to drive the point further home. Traditionally smoky, loamy - and if chocolatey - preferrably darkly cacaoey like in Serge Lutens Bornéo 1834, the patchouli note in the Tom Ford interpretation becomes a paler patchouli by stealing some of the white thunder from a white-floral accord while having been redesigned by Givaudan as being of Orpur grade, i.e., edited out of its naturally more difficult facets, thanks to molecular fractioning. Then to further whiten the white-patchouli accord, sheer, transparent notes of peony, bergamot and jasmine were added. The patchouli there starts smelling more like the blonder papyrus.
We are light years away - conceptually at least - from the standard headshoppy patchouli of the 70s used by Hippies for its virtues at camouflaging illegal Marijuana consumption.
As perfumer Alberto Morillas notes, the retreat of Isobutyl Quinoleine is a distancing towards the era of the 1970s and so it is also for Patchouli Orpur and the prevalence of white musks. Even if we can still wear perfume like we were living in the 70s, by being individualistic, an invisible frontier has solidified over the past few years that cuts us off from that era, slowly but surely.