Simply Spring VII - Pied Bouquet & Young Shoots at Shakespeare & Co. {Paris Photo} {Scented Quote of the Day}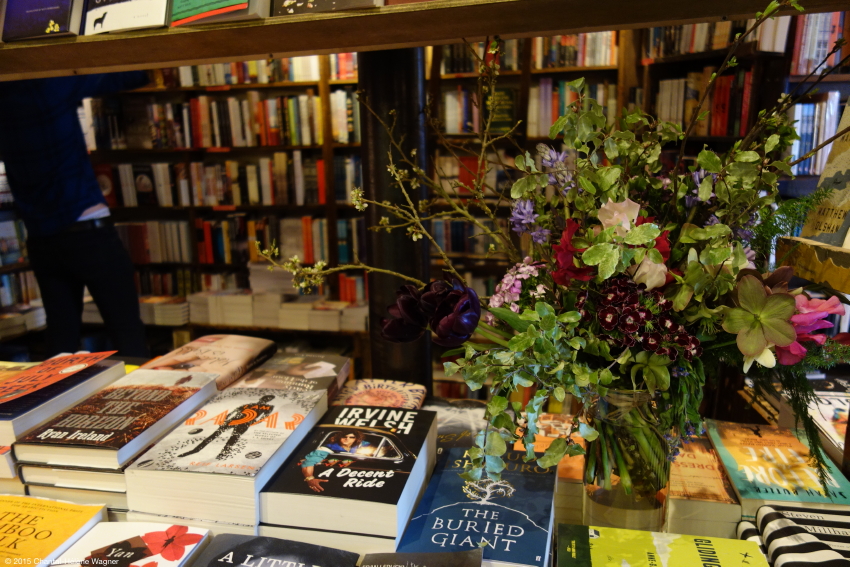 The Pied Bouquet - Springtime at Shakespeare & Co. © 2015 Chantal-Hélène Wagner
One of the most atmospheric places you can hope to visit in Paris is the hallowed literary book-store-cum-library located on the left bank of the Seine, Shakespeare & Co....
The place is full of nooks and cranies - besides being filled with history.
It is part house built from a shipwreck, part museum, part interior organs of a vast body. It feels almost exactly like when you visit Vincent Van Gogh's last bedroom at Auvers-sur-Oise: a place of resilience of the human spirit over prosaism, matter and decay.
It is a place which makes the book lover's heart beat faster, perhaps thanks in part to the smell of old books. There is that discreet scent of mustiness and old age to the place.
Spring was in the air at the librairie.
A rich bouquet placed amidst books seemed to have been inspired by the ghost of Shakespeare and of his Sonnet XCVIII in particular,

From you have I been absent in the spring,
When proud pied April, dressed in all his trim,
Hath put a spirit of youth in every thing,
That heavy Saturn laughed and leapt with him.
Yet nor the lays of birds, nor the sweet smell
Of different flowers in odour and in hue,
Could make me any summer's story tell,
Or from their proud lap pluck them where they grew:
Nor did I wonder at the lily's white,
Nor praise the deep vermilion in the rose;
They were but sweet, but figures of delight,
Drawn after you, you pattern of all those.
Yet seemed it winter still, and you away,
As with your shadow I with these did play.
Shooting Up Towards Spring at Shakespeare & Co. © 2015 Chantal-Hélène Wagner
And again, as Shakespeare expressed through Rosalind's mouth in As You Like It,
No, no, Orlando; men are April when they woo, December when they wed: maids are May when they are maids, but the sky changes when they are wives.
Previously: