Under Shock - Sous Le Choc - 130 Street Photographies after the Paris Attacks {Paris Street Photo}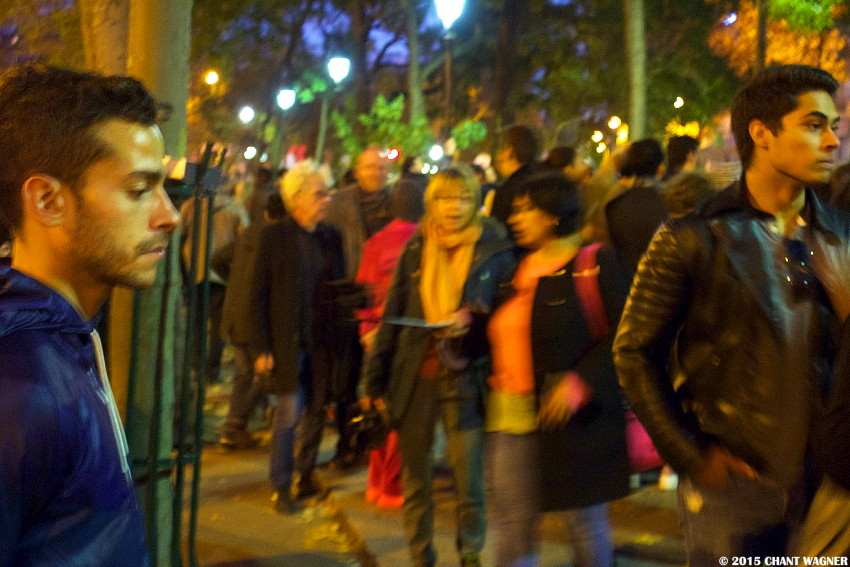 Under Shock - Sous le choc - 8/130 © 2015 CHANT WAGNER
130 Street Photographies after the Paris Attacks - 130 photographies de rue, après les attentats de Paris - In Memoriam
Less than two days after the November 13, 2015 Paris Attacks, and as Parisians were congregating in the vicinity of the cordoned-off Bataclan concert hall where 90 persons had been killed, you could read sheer shock on their faces...
Something unfathomable had happened, the irruption of barbarity in the midst of the City of Lights.
Another realization was also gradually taking shape: virtually everyone in the city knew someone in the first, second, third, fourth or umptieth degree who had been massacred that night, making the tragedy all the more tangible and part of a real-community experience, rather than that just of an imagined one, although the latter is very strong in this process of identification.
This photo is part of a series capturing the atmosphere of Paris after 11/13 in 130 pictures, one each day for each of the 130 Paris Attack victims.
Previously:
Bullet Holes at the Laundromat - Impacts de balles au Lavratonic - 7/130

A La Bonne Bière Reopens: Shades of Emotions - Une Palette d'Emotions - 6/130
Peaceful Day at République - Jour Paisible à République - 5/130
Eagles of Death Metal - Still up on the Marquee II - Les Eagles of Death Metal sont toujours là-haut sur la marquise II - 4/130
Eagles of Death Metal - Still up on the Marquee - Les Eagles of Death Metal sont toujours là-haut sur la marquise - 3/130
Woman with a Tricolor Turban - La femme au turban tricolore - 2/130