A La Bonne Bière Reopens: Shades of Emotions - Une Palette d'Emotions {Paris Street Photo}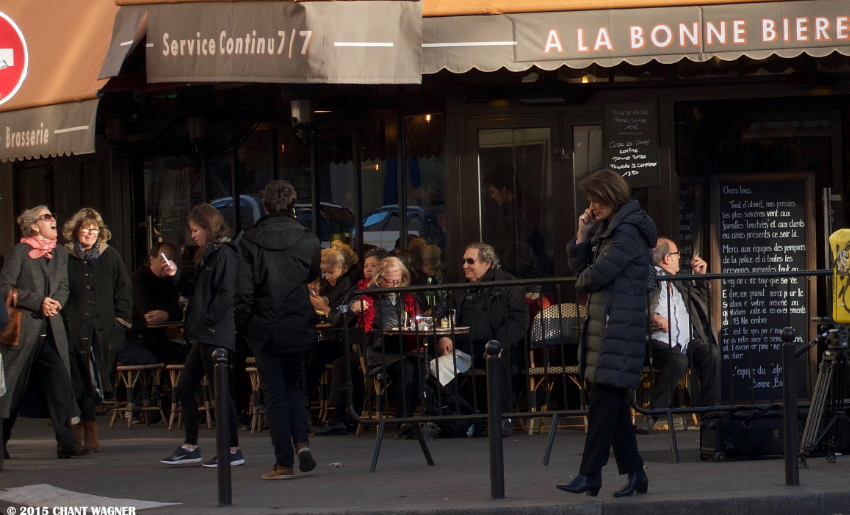 A La Bonne Bière: Shades of Emotions - A la Bonne Bière, Une Palette d'Emotions - 6/130 © CHANT WAGNER
130 Street Photographies after the Paris Attacks - 130 photographies de rue, après les attentats de Paris - In Memoriam
The brasserie A La Bonne Bière was the first of the synchronically hit cafés and restaurants to reopen its doors, three weeks to the day after it got hit by a gang of terrorists, leaving five patrons dead and several other wounded - with three still in hospitals in critical condition according to one of the managers of the brewery, Audrey Bily ...
People came back to show support, express resistance and pay a spiritual homage to the dead, in what has turned out to be a new type of war context.
It is a war which is particularly hard on urbanites and civilians who have become first-line targets in the more densely populated areas of cities in Europe and the United-States. Because they are defenseless they are easier to get and better material for provoking collective shock, since psychological warfare is an essential part of the new tactics.
On the faces of passers-by and patrons of A La Bonne Bière, you could read a whole gamut of emotions as people are hoping for the best, yet at the same time are now aware there is a war and it has not been won, just stalled. Many see the current situation as a lull.
This photo is part of a series capturing the atmosphere of Paris after 11/13 in 130 pictures, one each day for each of the 130 Paris Attack victims.
Previously:
Peaceful Day at République - Jour Paisible à République - 5/130
Eagles of Death Metal - Still up on the Marquee II - Les Eagles of Death Metal sont toujours là-haut sur la marquise II 4/130
Eagles of Death Metal - Still up on the Marquee - Les Eagles of Death Metal sont toujours là-haut sur la marquise 3/130
Woman with a Tricolor Turban - La femme au turban tricolore 2/130