Annick Goutal Un Matin d'Orage (2009): Elemental Gardenia {Perfume Review & Musings} {New Fragrance}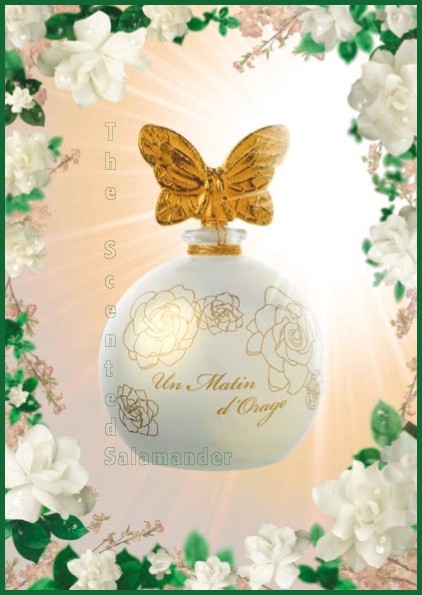 Annick Goutal Un Matin d'Orage
Perfume Review
Un Matin d'Orage, the latest Annick Goutal perfume to be launched, was offered with a dreamy soft-focused description of the newest creation in the press release lulling us into anticipating a scent of "delicate sensuality" illustrating a morning after the storm.
The description of the gardenia accord in the perfume makes it feel like it is arachnean and kissed by the dew: "Fragile and pure, it does not immediately reveal its voluptuous character."
That summary, we are now able to report, skipped on a whole section of the story of that gardenia, maybe the full first part and last part of a small novella broken down into three or four parts thereby significantly changing the meaning of the story and its scent.
For one thing, the storm has not abated fully it seems and still discharges some of its ozonic furor.

Initial clues had led me to wonder how different the new scent would or could be from Songes or Gardenia Passion from the same brand. Official notes include: Sicilian lemon, shiso leaves, ginger, magnolia, jasmine sambac, champaca.

Un Matin d'Orage is a completely different breed of "gardenia perfume" while still attempting to recreate the scent of the flower. It is as if the gardenia character were a main actor onstage motivating and anchoring the dramatic tension. This is not a gardenia soliflore, nor a bouquet of white flowers with gardenia in it, but a succession of long, dramatic natural moments in time and eternity captured through the olfactory lens and vision of a primeval gardenia battling against the elements...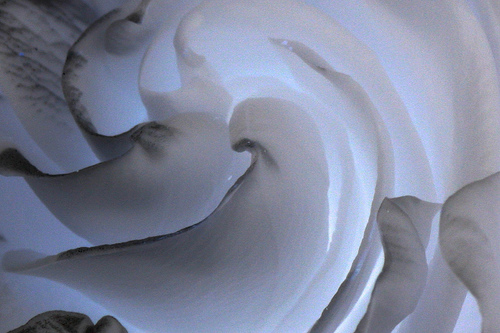 The initial description in the press release seems to just have wanted to prepare us to better register the moment a movement of revolt takes place, in a marked deaprture from how a gardenia scent ought to smell like, according to tradition. This is no Gardenia by Grenoville or Isabey, espousing the ideal contours of the pillowy petals of a plush gardenia, white and sensual or banana-like (Grenoville). It is an intensely reworked gardenia interpretation replete with ideas and tensions, again.
The very abundance of leads seems to construct a narrative dynamic like a silent nature-and-poetry documentary filming the scent of gardenia for very long hours as it unfurls in a garden.


At first, Un Matin d'Orage is not so much feminine, or intoxicating, or tropical or lush, or dewy or sensual, but initially and for a long time, "hard" and "volcanic", with mineral and dynamic airy accords included. The perfume is after all inspired by a Japanese garden in a country in which the danger of eruptive volcanoes and elemental forces is permanent and experienced on a regular basis.
Un Matin d'Orage is thus initially something of a feisty hard-girl gardenia - if we dare anthropomorphize it - with slashed jeans and spiky shoes - or a gardenia for a very masculine man. After the tempest has rumbled and died away, and despite the softness that ensues little by little, the tension and the contradictions remain turning the perfume into a convincing rendering of a morning in a garden, with all the universal life struggles it contains.

To the nose, the perfume opens on tropical white florals: gardenia, frangipani (champaca), magnolia with escorting green notes - shiso leaves especially - bathed in more general crushed sappy green notes. The green notes become more and more pungent, aromatic - with a hard soapy edge. The soapy suds seem a bit low-brow for Annick Goutal at first, but you soon realize that they are part of an atmospheric effect - and a rather uncompromising modernist effect at that too.

I was expecting something wholly soft and feminine - and I am therefore surprised. There is an immediately apparent aggressive overture to this composition as the scent unfolds in its top notes. As pure olfactory effect goes, what is noticeable is that this rather bold inaugural accord allows the freshness of the first impressions - which are typically short-lived in a fragrance - to linger on. This, we understand to be the morning after, not the moment after a tempest.

The sharp, cutting, knife-like opening is like a cold metallic blade slicing through orange and frangipani cream, mellowing down a bit, while maintaining an edgy and high-strung style. But that cold metallic accord flashes like the pangs of anger of nature - or the light refracted in a weaponized cooking pan.
There is something of the shrew in this perfume, of a woman who can get as mad as mother earth.

As in the case with another recent perfume release by MDCI, Péché Cardinal, I am compelled to make a parallel with ideas put forth by perfumer Germaine Cellier; Un Matin d'Orage contains some of the blasting green sensations featured in Vent Vert (the original formulation, not the reworking by Calice Becker) as well as the earthy kitchen-herbs aromas found in La Fuite des Heures/Fleeting Hour.

I have to say that my surprise endures as the pre-existing Songes by Goutal made me expect a more classically lush tropical floral evocative of fans indolently displacing the thick air of the tropics. I am made to recall however now that Isabelle Doyen has been doing more experimental and modernist perfumery with Les Nez.
This experience has apparently influenced her work for Annick Goutal, which has a niche positioning as well, but less overtly contemporary in feel. But then one realizes next that Annick Goutal perfumes have already prepared us to some not-so-pretty-and-girly scents, such as Sables. One remembers then also that the Goutal brand, despite its romantically harmonious packaging, has always contained that rebellious, counter-culture streak, courtesy of perfumer Isabelle Doyen.
The result is that Un Matin d'Orage is one of the less "pretty" perfumes that you will be able to find on the brand's boudoir-like perfume counters. It is a compromise between tradition in appearance and creativity in reality, which has often been a winning combination in the art and commerce of perfumery.
Un Matin d'Orage seems to borrow more readily from some of the masculine olfactory codes of the house, making it strangely androgynous, half-floral, half-elemental (a wet silex rock hit by the rain and drying slowly, with some masculine bilge accord going on; check our reviews of Sécrétions Magnifiques and Méchant Loup).
The scent possesses, like Terre d'Hermès, this dual aspect of a sensual and mineral scent, a soft-skin-and-hard-stone contrast, with an implicit idea of violence (the silex of weapons and the violence of a mineral-scented storm).

Un Matin d'Orage obviously borrows part of its inspiration from the herbaly, aromatic lineage running through some of the best-loved perfumes from the house, like Duel, Eau d'Hadrien, Mandragore. So one of the elements of surprise here is to see the Shiso accord be not just one of the facets of the gardenia accord, but becoming a reigning presence, as much as that of the flower.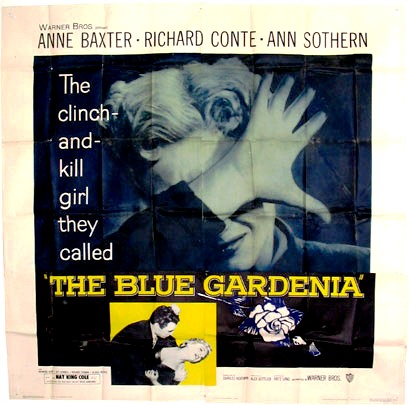 The Blue Gardenia by Fritz Lang (1953)
One is tempted to dub Un Matin d'Orage an "angry gardenia" - a gardenia revolting against conventions and facile expectations. It is, for example, really more in the spirit promised by the name of the Guerlain gardenia - Cruel Gardenia (check out our review) - but which turned out to be less shocking than expected, despite a few hints at danger. Could we go as far as call it a "feminist gardenia"? Possibly so, when we think that the project was co-directed by two women, Camille Goutal and Isabelle Doyen.

The topos of the morning after a tempest then takes on a wholly different meaning when smelling the scent. It is not so much an evocation of dewy morns and virginal dawn-of-the-world impressions (in fact, absolutely not) than a conjuring-up of elements charged with electricity, tension, and betraying an inclination for destruction. It could have been a gardenia angrily invading the air after the hypothetical giant prehistoric meteorite hit the earth and wiped out the dinosaurs.

The perfume's style is not so much round and multifaceted as simple and spare, but also complex over time in its evocation of three main atmospheres: white tropical floral + dry green notes + an ozonic/mineral hardness, with the surprise of a fourth scene, a very original musky accord in the base.

One of the promises made is literally respected; indeed, the voluptuousness of Un Matin d'Orage becomes unleashed only very late in the development, smelling of a slightly disorienting floral vapor of musk conveying the texture of light Japanese rice steam, except that the pungent hyper-sensual animalic notes are unmistakably present, smelling of ancient Chinese Tonkin musk at the same time. At that later stage it is a musky floral of a new kind, with transparent and exotic Asian references. It smells all at once aqueous, ethereal, floral, musky, mineral, different. It is extremely diffusive. What you will smell on your skin is different from what you will smell away from it. This is a very pronounced trend one can discover in the latest perfumes appearing on the market, which have revealed killer sillages (check out our reviews of Hermès Vanille Galante and Serge Lutens Nuit de Cellophane in particular).

Un Matin d'Orage is rather surreptitiously pushing the boundaries of the creative agenda of the house of Annick Goutal in a more challenging direction (by mainstream and sedate niche standards). Although it presents some classic facets of gardenia: whiteness, creaminess, pepperiness, softness, it adds new sensations to the mix with effects of gossamer-like transparency, steam vapor, mineral hardness, electricity - and a glorious and exquisite musky-floral drydown that is both intensely animalistic and ethereal.
This to me is the third composition by Isabelle Doyen where musk plays a significant role, after l'Antimatière and Musc Nomade. Each of these three scents showcases a very different kind of musk.

It is a bit of an OVNI gardenia composition really, perhaps more so than a volcanic, mineral and elemental one. But even more importantly, Un Matin d'Orage is a marked departure from a certain brand of classicism carried by the house of Annick Goutal and cohabiting with its more counter-cultural, original proclivities.
To date, it feels like this perfume is the one by Annick Goutal most susceptible to be hanged onto the cymas of a contemporary art gallery. While it smells simply exquisite in the end, it is closer in personality to the experimental L'Antimatière by Les Nez than to, say, the classically beautiful, iris-y L'Heure Exquise by Annick Goutal.