Mariah Carey Forever (2009): The Lady is a Gardenia {Perfume Review} {Celebrity Fragrance}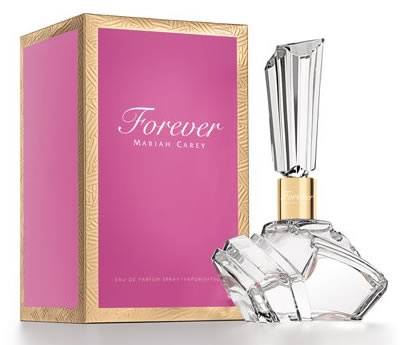 Forever
by
Mariah Carey
is the newest fragrance release by the pop singer who is also preparing to launch a new album,
Memoirs of an Imperfect Angel
on September 29, 2009. You will also be able to see her in Lee Daniels's movie
Precious
based on the novel
Push
by Sapphire this November. In it she appears virtually without makeup and unadorned to play her role as a caring and frumpy social worker.
As the artist already stated when her second fragrance Luscious Pink was launched and in what sounds like a leitmotiv that she likes to rehash, Forever, like Luscious Pink "...
reflects where I am in my life now
." This appears to be her most natural and no-brainer way to relate to perfume as well as a non-too committal existential quote. No need to bring up aesthetics or anything really complicated like that but what it is saying in the end is that personal meaning is too complicated to be adequately explained. The mystery of Carey's personality and her perfume can thus be equally preserved except that the name Forever seems to allude to her marriage to Nick Cannon as well as her relationship with her fans.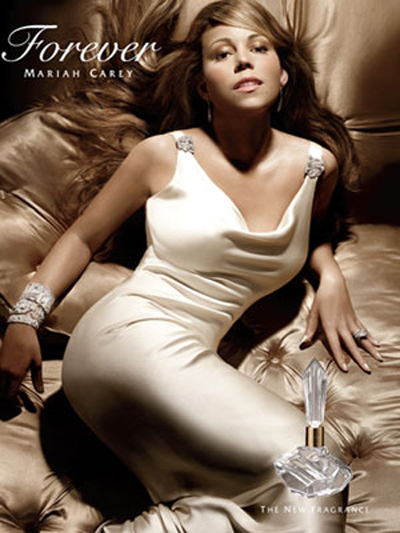 From her debut fragrance
M
to the extrait version
M Gold
, to
Luscious Pink
and now
Forever
, Mariah Carey's perfumes like her ballads seemingly deliver pages torn out from her diary, or yours for that matter. It is a minimally honest proposition for this type of perfumery creation. One of the critiques plaguing the genre or marketing category -- some will prefer to say -- of the celebrity perfume is that they are sheer mercantile Trojan horses without any soul to them nor a drop actually of the personality of the celeb that gave her or his name to a perfume.
The initial
M
however was built around some of her favorite smells, like the meeting of roasted marshmallows and sea air and incense from Morocco. Who would want to blend that if not for her? Carey's perfumes target her fans and she does not seem to be shy about letting out some particles of her intimate memories through the evocation of collaged impressions from the past...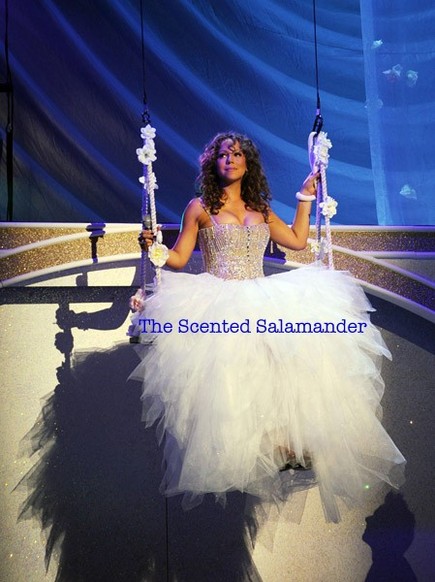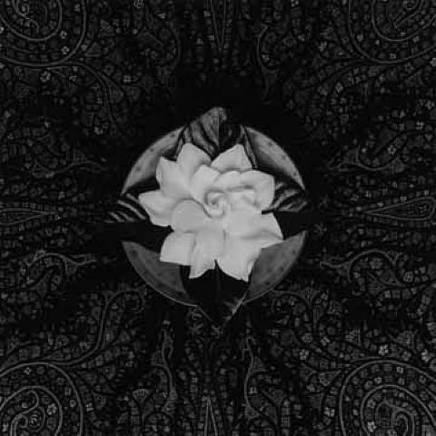 Gardenia by Robert Mapplethorpe, 1987

With Forever, composed this time by perfumer
Olivier Gillotin
of Givaudan and not by Carlos Benaïm and Loc Dong, there is somewhat of a departure from the scents that preceded it. Forever is described as "a modern opulent floral" but I tend to see it as "a modern American soliflore."
Gardenia here is the name of the game. It is a flower which to my nose and mind is one of the most iconic in American olfactory culture. Carey said in the past that gardenia reminds her of one of her favorite vacation spots.
According to the Elizabeth Arden website, the fragrance's structure is built around some of the facets of Carey's personality. The top notes echo Mariah's "sensual appeal" and they are:
Neroli, Lotus Blossom and Dewy Green Apple. The mid notes
reflect Mariah's "warmth and sophistication" with "a symphony of tuberose and gardenia." The white musk and bright exotic woods in the base remind the wearer of the "depth" of "Mariah's incredible voice."
Forever is a feminine, soft, and warm white gardenia scent with an updated vintage feel. It is a bit retro -- and here the scent is made to feel stylistically that way -- to resort to a soliflore or near-soliflore composition in this day and age but gardenia certainly can sustain the attention when complex enough. The risk however that soliflores carry with them is that they can be a bit boring overtime.
The composition offers a rather accentuated green-yellow banana facet (a traditional trait of gardenia scents) and the right hints of overripe fruit and creamy floral wilting under the sun. In other words, it is not an emasculated gardenia perfume considering its commercial thrust. It is however not as dramatic and sulfurous as, for example, a blue gardenia perfume would be and by that I mean one that would smell of indolic blue cheese, another traditional facet of gardenias.
Gardenia by Robert Mapplethorpe, 1978

In Forever, the headiness of gardenia is freshened up and even dewy. The scent is floral-y-sweet without being sugary. The sexy aspect of the fragrance is modernized in that it owes its clean-vixen -- I should say clean-minx -- appeal to white musk and an abstract custard-y vanilla. Custard-y, crème-brûlée vanillas are the new men-trap civets in the 21st century judging from the string of flirty feminine releases with this accord.
Forever evolves into a sweet and salty, light white creamy and musky blend contrasted in the base notes by a woodsy accord that feels retro, again. I am reminded of Byzance by Grenoville launched in 1925. There is almost like the scent of a Chinese lacquer box in the scent that makes it feel a bit, subliminally vintage, and I think might be supported by a rather raw streak of jasmine unleashing some fumes. A discreet indolic blue-cheesey accord was added like a shading in a drawing, just enough to give some complexity to the perfume but without making it stand out. Later on, the longer drydown becomes even more evocative of a photograhic-like rendering of musky perspiration, while the white musk-vanilla decidedly turns sexy.
I should say that I see this composition as a gardenia hiding a tuberose rather than the contrary. The tuberose emerges more on its own later on, revealing what was bringing a faintly camphoraceous and spicy facet to the perfume; I am reminded of Passion by Annick Goutal for this tuberose rendition.
Forever resembles to my nose -- by some of its aspects like the green aqueous feel and the banana note --
Bond No9 Saks for Her
, a gardenia fragrance.
The perfume could have been worn by a sly dame from the 1940s who would have wanted to keep up appearances. It is both proper and carnal.
The latest slice of Carey's olfactory existence presents -- I realized after re-reading my previous review of M -- the same sultry-vixen-sweet-girl mix, a duality that struck me anew after having forgotten this impression from M.
Forever is however different in that this time the sensuality of the blend does not rest upon literal gourmand notes like for M (caramel, marshmallow) and Luscious Pink (condensed milk, vanilla ice-cream, caramel). Where Mariah Carey is in her life right now after having married actor Nick Cannon last year is apparently a more femme and well-adjusted person, with more focus and a higher level of commitment, hence perhaps the soliflore. She said that for the first time in her life she is in love and apparently true love needs to be celebrated with a one-note gardenia, it just makes sense.
The ad campaign is set to start in October but the perfume can be purchased now on the
Elizabeth Arden site
for $55 and $65.