Balenciaga Paris Eau de Parfum (2010): Fronted by Charlotte Gainsbourg {New Perfume} {Celebrity Fragrance} {Sniffing Suggestions}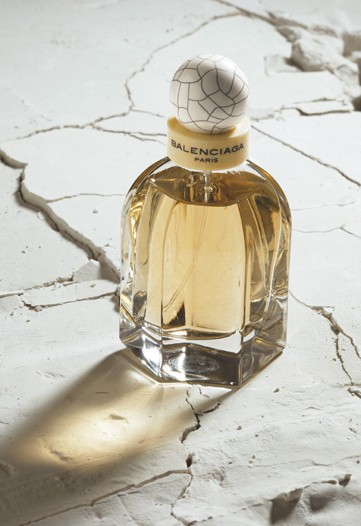 As
announced earlier
,
Balenciaga
have decided to revive their perfume label reportedly left fallow for some 15 to 20 years (they might be thinking of their more classic feminines with either Rumba (1988) or Talisman (1994) as representing the cut-off dates; Cristobal was launched in 1998 and Cristobal pour Homme in 2000). In February 2010, the fragrance
Balenciaga Paris
will launch in Europe and the US. It is described as a contemporary violet chypre and was created by perfumer
Olivier Polge
of IFF who just won the Grand Prix International du Parfum.
The new perfume will be fronted by actress
Charlotte Gainsbourg
but the perfume will have much more to do with the universe of artistic director
Nicolas Ghesquière
. Gainsbourg is a friend of Ghesquière, the ad will reference Spain, his home country, the bottle is his idea, and the composition itself attempts to incorporate his favorite smells...
"He mined his memory for smells he liked. They included floor wax and flowers, such as violet and carnation, plus more urban odors, like gasoline,"


Violet has been used in the fragrance industry for years, but normally more for the powdery effect," said Javoy. "What Olivier did here was use the fresh, natural effect of violet leaves, and what's new also is that the violet is really at the core of the fragrance."


Balenciaga Paris is said also to be a violet with an urban, metallic edge.
Of course, one cannot not be reminded of
Le Dix by Balenciaga
, a violet/orris beauty launched in 1947 which is one of their most memorable perfumes (only in extrait please.)
Other pointers,
sniffing suggestions for comparison
would be:
Frederic Malle Dans Tes Bras
, a futuristic violet
John Galliano Eau de Parfum
, a quirky violet scent with a hot iron facet
Stephen Jones Eau de Parfum
, a violet hit by a meteorite
Yves Saint Laurent Parisienne
, a rose-violet with a vinyle and stiletto accords.
Also, of course, it would be interesting to go back to
Dior L'Homme
created by Olivier Polge, which is well-known for its orris (close to violet) accord.
"In France, the 30-ml. eau de parfum spray will sell for 57 euros, or $84.45; the 50-ml. eau de parfum, for 75 euros, or $111.15, and the 75-ml. eau de parfum, for 94 euros, or $139.25. Ancillaries include a 200-ml. shower gel and a 200-ml. body lotion, for 37 euros and 40 euros, or $54.80 and $59.25, respectively."
Via
WWD