John Galliano by John Galliano (2008): Edgy Violets {Perfume Review & Musings} {Violet Notebook}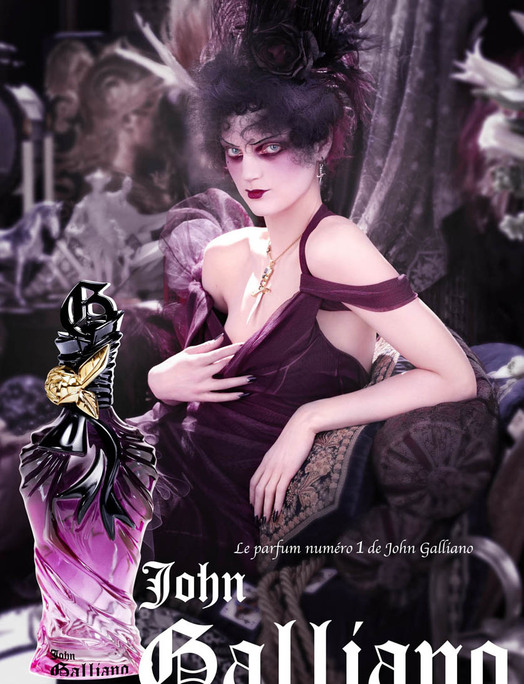 John Galliano perfume ad featuring his muse: the fragrance just launched in Europe. Expect to see it in 2009 in the US and the Middle East


John Galliano by John Galliano


The Skinny:

Perfumers: Christine Nagel and Aurélien Guichard
Artistic Director: John Galliano
Fragrance company: Selective Beauty
Gender label: feminine; could be worn by a man in the spirit of a 19th century men's floral scent thanks to its tobacco and hay nuances; perfect for a modern dandy
Notes: aldehydes, violet, iris, rose, musks, woods
Characteristics: classic florals perceived through the filter of memory meet real-life realistic atmospheres = arty superimposition of freshly ironed couture dress on powdery lipstick-y floral bouquet and more
Personality: soft, tender, romantic and edgy
Wearability: easy - the "edge" might be too much for some
Price point: $$
Perfumes discussed: Berdoues Violettes de Toulouse, Borsari Violetta di Parma, Creed Love in Black, Editions de Parfum Dans Tes Bras, Guerlain Insolence EDP, Penhaligon's Violetta, Stephen Jones, Lalique Eau de Parfum, Caron Aimez-Moi
The Review:

The Larger Context: Violets Then & Here & Now

Major fragrance and flavors producer Symrise said in February 2008 that the scent of violet would be one of our notes of predilection in the future, and indeed we have seen this forecast, or perhaps better put, industrial push come to realization. They announced, amongst other things, that there would be "...a redefinition of classic notes like vetiver or violet..." I was mildly surprised to have to imagine that one of the signature trails of the 19th century bourgeoisie, when floral bouquets and soliflores were overwhelmingly in was supposed to waft anew in the near future as if reflective of our deep hidden meaningful unconscious need for it, only it just had to be brought to the surface. Why a violet "craze" redux now? What could its meaning be? Is it simply the tail end of the 2007 iris comet (see Galore of Iris Perfumes), a note often associated with it? Was this just a fashion diktat we ought to disobey like the violet, purple and plum colors trend of this fall 2008? And are we really begging to tattoo violet perfume, metaphorically speaking this time, into our skins as was fashionable for some at the peak of the violet mania?

The mid 19th century and early 20th century perfume-history chapter is full of excess and passionate addiction to this scent which was considered to be the epitomy of what "delicate" is meant to express. Violet was perceived to offer an "unsurpassed delicacy", an ideal and naturally refined aroma although many formulas were in fact attempts at capturing the illusion of the real thing. It is thus important to note that despite the label "violet" (soliflores) a good number of people were in fact aware that in many cases violet perfumes were illusory renditions of it. What I find very interesting in this case is that these original sources show that the so-called naturalism of 19th century taste in perfumes was actually linked to a higher level of perception of the abstractness of floral fragrance compositions than our contemporaries commonly think. The idea of a simple violet scent might sound charmingly naïve in retrospect but in fact 19th century perfumistas were much more astute consumers of it than we think...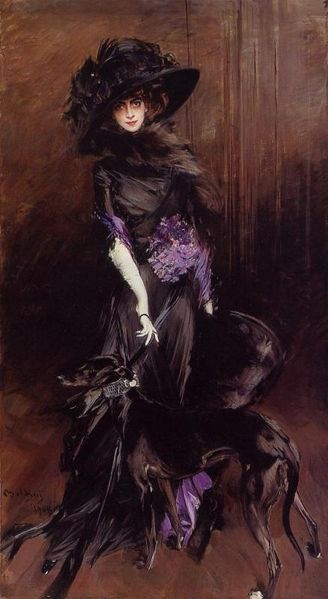 The Marchesa Casati by Giovanni Boldini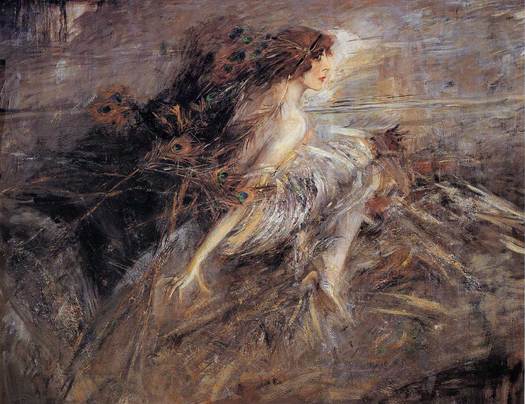 The Marchesa Casati with peacock feathers

We can still remember that infatuation today because those who were brought up in Europe in the 20th century have received many vestigial cues from that era, going from dainty Flavigny bonbons to powdery sachets to staple household names in the realm of violet scents such as Berdoues's, Penhaligon's or Borsari's. The jus sometimes colored a rare amethyst color also thus reveals its distinctiveness and blued-blooded pedigree. No wonder that people wanted to recreate violet rivulets in them just like they wanted to pencil their skins with blue to represent for all to see the branches of an aristocratic genealogical chart on their bodies.

I cannot answer the questions above in any positive fashion but I am ready to feel enthusiastic about the many variegated nuances created around the scent of violet and succumb to its soft appeal after having smelled a few of the latest 2008 fragrances. What I find interesting is the fact that the violet note in the cases encountered has never been lazily drawn, self-sufficient (the anti-thesis of the violet soliflore), but on the contrary has tended to be cast against type. The proverbial shrinking violet flower has seemingly met contrarian minds and pushed creators to turn it upside-down making it part of bold, even daring and even sometimes outright modernistic compositions. In the midst of this upheaval and no matter what, the violet keeps its air of softness and its reassuring nostalgic appeal, so tricky it is to get rid of secular associations. At any rate why should we completely sever that tenuous link to the past? When we smell a violet-based perfume in the beginning of the 21st century - I am talking only of those that reveal an ambition to be of this century rather than reproduce familiar patterns, then we are still irresistibly translating in our minds a note of nostalgia, of fin-de-siècle Belle Epoque moment in the flow of time. For me it can be at one time the impression of a foggy gray day in Paris or London, a typical street scene dimly lit by gas lamps reflected upon the glistening pavement, vague black silhouettes crossing it and then something else, something more recent.

The scent of violet thus seems lately to have been particularly called upon to build an olfactory bridge across time as the imagination turns towards what the unknown 21st century ahead of us might become and as we relinquish progressively our hold of the 20th century. We might be experiencing right now another Belle-Epoque rite of passage. We are in a way logically mirroring that period, only it has not received a name for lack of an easily recognizable identity.

I may forget a few less characteristic ones but off the top of my head we have seen so far in the most recent crop several less-than-run-of-the-mill compositions: Creed Love in Black, Guerlain Insolence Eau de Parfum, Frederic Malle Editions de Parfum Dans Tes Bras, Stephen Jones (also see perfume launch party), and now John Galliano which launched on October 10th in Europe (see previous announcements here, here, and here).






John Galliano Eau de Parfum


John Galliano EDP in particular epitomizes for me in the simplest way this dual tension and interpretation of the violet. That duality was already perceptible in Dans Tes Bras but it was more complex there. In John Galliano, and thanks also to the explanations of the designer who says that he loves the Marchesa de Casati portrait, we know of the central reference to portraitist Giovanni Boldini (1842-1931) known for his close association with the 20th turn-of-the-century high-society of Paris. Even before thinking about this connection John Galliano the perfume strikes you with its impression of pearly grey hues, gauzy streaks of evanescent grey (the iris). It is therefore a delight to discover that impression as a visual one in the picture of the Marchesa Casati half-blending with vaporous peacock feathers. It is another thrilling moment to see violet appliqués on the Marchesa's jet-black gown in another portrait of her by Boldini. The Belle Epoque referent is indeed contained in this violet perfume but then made something new too with its insistence of recreating the scent of hot irons gliding on fresh material.

Galliano said in an interview to L'Express that it took 336 tries to complete the perfume. He said "Tout était très passionné. J'avais en tête une fragrance romantique, avec une rose très anglaise et une note poudrée. Son nom de code était au départ "Cocotte" et, après toutes ces étapes, on est finalement revenu à cette idée." ("Everything was very passionate. I had in mind a romantic fragrance with a very Englih rose and a powdery note. Its code name in the beginning was "Cocotte" and after all these stages we finally went back to that idea".)

John Galliano EDP offers a clear meshing of four main notes: aldehydes, violet, rose, orange blossom. The perfume opens on a steaming laundry accord and a rush of raw aldehydes softened by the mellow tinges of vanilla and orange blossom. My nose feels like it is exploring a freshly ironed clean cotton bag full of fresh Madeleines through its draw-string opening.

The composition softens further becoming velvetier but always keeping this note of fresh "biscuits", of pastry made with eggs. The aldehydes are quite sharp up-close. The scent as perceived more casually evokes this couture workshop scent that Galliano wanted to capture. To others I wager it will evoke more prosaically yet pleasantly the scent of clothes just picked up at the neighborhood dry-cleaners.

It is this particular aldehydic nuance that brings an edgy style to John Galliano EDP. Since Chanel No. 5 we know that aldehydes can signal modernity; here the hyper-realistic touch makes it current. The classic violet, iris and rose accord is also made more original thanks to a hefty dose of something orangey, tangerine (?), and orange blossom. It creates a bit of a décalé effect, not entirely harmonious, or rather just distinct enough from the classic harmony that it feels different and unusual. In the end the blend is harmonious and calls attention to it as this indefinable yet convincing, somehow, scent. Tertiary, not even secondary, nuances of tobacco and hay appear making you realize the composition is more complex than what it appears to be due to its relative linearity and clarity of structure. The drydown has an appealing understated resinous character with a tad of thyme thrown in, at least there is a passage that reminds me of Lalique Eau de Parfum. The longer drydown is plain romantic powdery violet, gently done.

The perfume is very lasting and as the hours slip by it makes me think more and more of Caron Aimez-Moi, a wonderful violet fragrance.

Despite its overall cautious sense of innovation, very much in the spirit of an "edgy designer fragrance" that is, within limits and without losing a certain conservative bon ton in the end, John Galliano EDP offers an appealing sense of discreet seduction and softness. It smells good, even intriguing at times, with just the right hint of olfactory risk to attract people who want an arty signature to their fragrances but also do not wish to get noticed too much for their perfume and prefer understatement. I know, it sounds like making a split leap, but the perfumers manage to do it.