Parfumerie Générale Gardénia Grand Soir (2010): Gardenia Garden Party {Perfume Short (Review)}
A girl helping friend pin a gardenia on her dress before the Smith College Super Dance, 1937 © Time, Inc/Alfred Eisenstaedt
Gardénia Grand Soir is one of the two latest limited-editions by French niche perfumery Parfumerie Générale to appear this spring, along with Bois Naufragé. It is described as "
the white sigh of a gardenia supported by a vibration of sandalwood
." My take on it fluctuates from being quite critical to being at long last charmed by it. The issue might be - and this is a problem I can perceive from the start - that the scent is not consistent enough.
My initial title for the article was "Gardenia Cameo" to emphasize this aspect. As you can see, my second title is more positive giving more room to that commonly accepted notion that a perfume's true personality is revealed in its longer drydown. But at the core, I must say that I disagree with this idea although I can enjoy and wear a perfume that abides by this ethos. But I don't think, precisely, that Gardénia Grand Soir follows this ethos. And personally, I think that the whole perfume ought to make sense from start to finish, simply because it has been shown that it can be done and that it indicates mastery...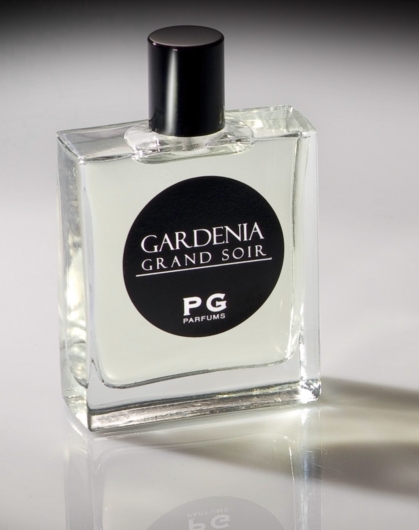 The perfume starts as both a very leathery and succulent, intense gardenia interpretation. It is grassy then sweetly intense, as if it were hanging onto a life line of honey pumping vitality into it. It is indolic. There are subtle grapey overtones which contribute to the thickness of the floral texture, its nectar-like quality. It's the methyl anthranilate I referred to before, used in many white bouquets to make them more
fatale
.
It seems to me that one finds in Gardénia Grand Soir a familiar accord of sweet honeyed leather that perfumer Pierre Guillaume used previously in his collection. Here it is used to add a nocturnal facet to the gardenia.
The orangey camphoraceous facet of Tubéreuse Criminelle by Serge Lutens is here but sweetened in a different register with the transparent caramel of
Beyond Love
. Both are tuberose scents but since gardenia is to be found on the olfactory spectrum of tuberose they are references for each other.
The perfume dries down fairly quickly to a linear sensation in which the honey becomes a bit more like the caramel-sweetness of ethyl maltol (Aquolina Pink Sugar), but subdued. A fruity-floral note which smells of rose, tuberose and orange, which must have been used to add roundness, is efficient in making the scent more alive, more naturalistic and pleasant. The gardenia note does not unfold like a blooming flower but, for some reason, falls into a whispery mode on the skin.
We are faced now with a blend that is pleasant as a sweet skin scent, for those who enjoy these kinds of sensation.
I cannot say that Gardénia Grand Soir initially strikes me as a gardenia composition to be remembered, except perhaps for its forceful opening.
It feels like you saw the grand entrance of a super diva, but that for some incomprehensible reasons, she deflated entirely afterwards and only let out the sorry smile of a child caught with sticky fingers. It turns out, she was not a real diva, she was just pretending to be one. It was pretense play. Of course this could not happen in real life to a real person. It could only be the perfume incarnation of an inflated carnival doll glittery and sparkly at first and then shrinking with time as the air escapes the rubber chambers and the carnival sweets get stuck on it as it was handled by too many in the crowd.
Beyond that critique about the lack of consistency of the personality of the scent, I would say that the drydown as a sweet skin scent is not unpleasant. I do see a sense of felicitous and imaginative accords, a bit undermined by the difficulty to access top quality raw materials for a niche perfume house, but again, as in Bois Naufragé, there is the issue of a real sense of composition through and throughout.
A perfume which starts like a bang, then fiddles, then settles for a subdued skin scent is still in search of mastery and technique. It is paradoxical that it is the release of the natural side of the perfume in the longer drydown which is the most convincing part of the composition. It seems then that the materials are better quality. The longer drydown, as it turns out, is where the elusive soul of the perfume is hiding. This is where the greenish tuberos-y gardenia (a common association) finally, at long last blooms and takes flight albeit in a more casual fashion than advertised.
One of my gold standards for the smell of a gardenia is Pur Désir de Gardénia by Yves Rocher and I have to say that Gardénia Grand Soir is more on the side of its cousin, tuberose.
I have not yet tested
Papyrus de Cyane
, a recent release, which I also have and is part of the permanent collection. But smelling the two latest limited-editions including
Bois Naufragé
, which might have been concocted more in a rush, I have to wonder whether it is wise to release scents that still offer tentative qualities?
Parfumerie Générale has a good internet fan base and they crave novelty. But apart from feeling a sense of communion and sharing with their beloved Pierre Guillaume - and thinking here about a wider public which might be outside of the loop - one has to wonder if niche perfumeries, just like corporate brands ought not to soft-pedal their launches? The criticism which is most commonly aimed at department stores brands is that they are out only for the money, hence the quick churning out of new releases, flankers especially.
Niche perfumeries rely quite a bit on an image of higher creativity than design labels. It is, it seems, this constraint which pushes them to prove their creative spirit. But perfumers cannot play the game of fashion collections and their designers although they might be tempted to do so when they see Galliano, Marc Jacobs, Ghesquière, Lagerfeld etc. who create like they were all 20 years old and taking amphetamines. And indeed, there is creativity in Gardénia Grand Soir, especially in the departure point which must have been the initial inspiration for the scent and is reflected in the name of the composition. But a perfume is not just about creativity. The medium which carries the idea must be good, at several levels. A perfumer could only with much difficulty convince with his or her art using cheap canvases like Picasso did. Flimsy canvases still support the visual representation, maybe not as durably (This is one of the Picasso legacy issues, the fact that his paintings are materially often fragile.)
A perfume is also about sound architecture and construction, which requires a heavy amount of fine-tuning work, which can be bypassed more if you have experience. It is for this reason that intelligent and gifted sons and daughters of perfumers who want to work in the same profession, have an advantage. Not just thanks to connections, but because of the cumulative perfumery experience that will be transmitted to them, if the father, mother are sharing.
One of the reasons not just any new accord can be inserted into a fragrance is that it has to physically work out, not upset requirements of evolution, diffusion, sustained personality. In other words, classicism as meaning the form of the perfume which has already attained some peaks of perfection in terms of historical references of evolution in time, arc of diffusion, depth of sensations, lingering quality etc. cannot be pushed under the carpet that easily to leave room to just interesting, creative accords.
If I could have said in the first minutes that Gardénia Grand Soir was a noteworthy twist on the gardenia perfume, I cannot say it overall. But I can quickly add that there is something lovely in the longer drydown that is well-worth experiencing. The perfume starts as an artistic statement and ends up as a sartorial scent.
I don't think in principle that a whole production ought to be set up for a big star to make only a cameo appearance and then let the supporting actors take over for 80% of the time in the middle before the diva returns, but already out of character.
A subtle, low-key gardenia skin scent ought to be named Gardenia Oil or perhaps, Gardenia Garden Party, not Gardénia Grand Soir, which means something like Big Gala Gardenia. As a sweet, bashful garden party gardenia, with its green accents, it makes sense. I could see it there, in the perfect setting of a summery lawn, discreetly wafting off the naked shoulders of a woman wearing a sun dress who was looking for a scent like her skin but better with shadings of gardenia and woods. It's a sweet and charming but not naive tuberos-y gardenia scent with freesia accents and it makes me think of white dresses rather than opera gowns sweeping marble steps with their trains.